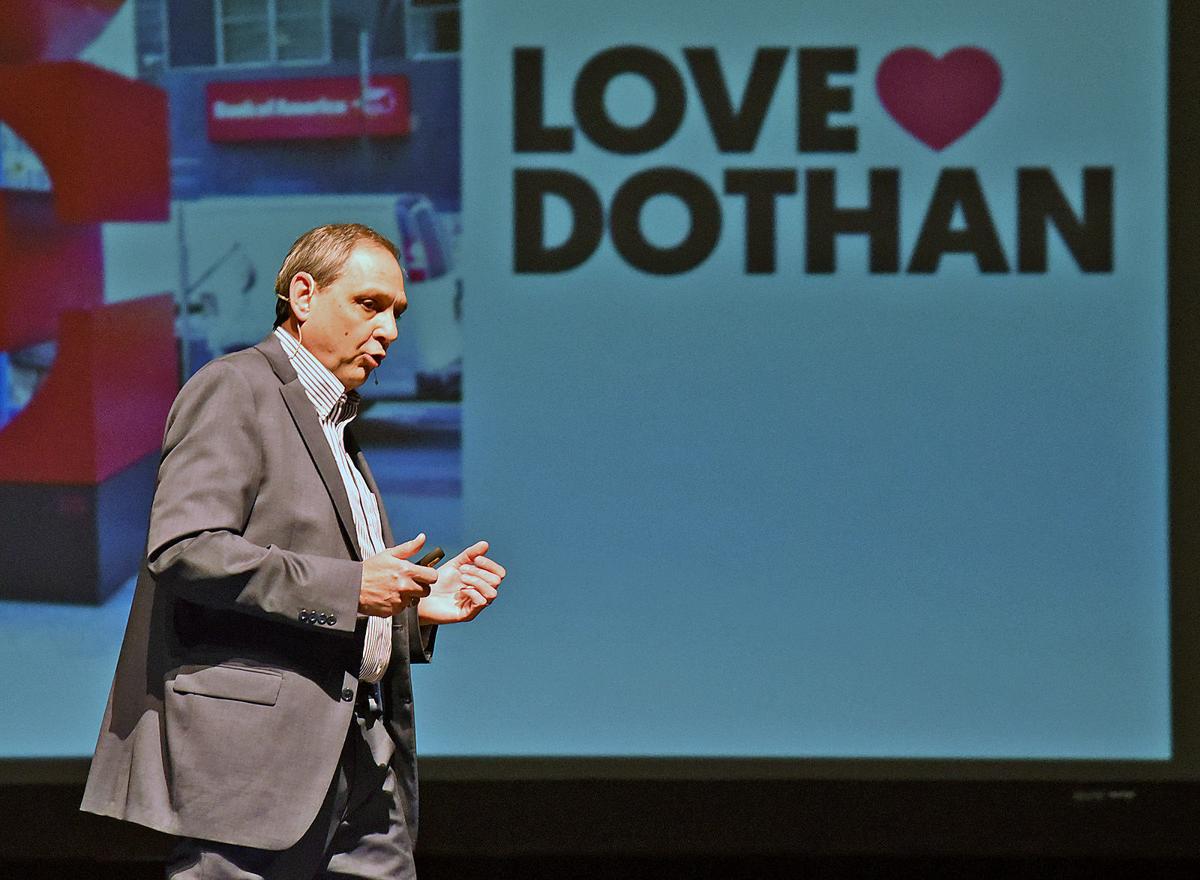 The city of Dothan wants its residents to love where they live.
Thursday night, Dothan kicked off the community campaign called "Love Dothan," which focuses on enhancing the quality of life.
"There is a sense of hope and optimism in Dothan, and most importantly, people in Dothan have an emotional connection to this city," City Manager Kevin Cowper said at the beginning of his presentation.
The program has eight segments that focus on areas that city officials would like people to change their perspective on.
"Love your city employees" is about building a transparent, high- performing, customer-focused city organization.
"Love your neighborhood" is about improving the condition and appearance of mature, declining neighborhoods in Dothan, many of which are in the inner circle.
Cowper said he'd like to avoid tearing down houses that are the fabric of some of Dothan's older neighborhoods, but instead change the way the city handles code enforcement.
He envisioned nonprofit groups, volunteers, churches and other people belonging to various organization and pooling resources to help clean up some of the mess. He also said the city is looking at what it can do to contribute to the improvement of blighted areas, and expects to see a lot of movement on that front over the next year.
"Love your neighbor" is about improving neighborhood relations and communication by encouraging inclusivity and creating a system with which to have exchanges with people living in various parts of the city. He mentioned a "neighborhood academy" where leaders can learn more about codes in the city and create a way to communicate with city officials about the needs of their neighborhood.
"Love your businesses" is building on some of the momentum of revitalizing old commercial corridors — something the city has already worked on by creating incentives for developers and rebuilding infrastructure.
The objective of the phase "love your downtown" was about spotlighting the heart of Dothan. For this, Cowper had already developed several ideas he was excited about sharing.
Building on the momentum of small-business growth that has taken off downtown in the last couple of years, he said he believes there's still much that can be done to improve the blighted areas and attract attention.
He had several ideas of how to spotlight "the hump," a popular structural element on South Oates Street downtown, including building an arch over it, installing signage to bring more attention to it, making the area pedestrian-friendly and improving nearby building facades.
"We have got to be creative," he said.
In the third block of North Foster Street is an alleyway. Cowper said the alley could be turned into a cool space to hang out, similar to what other cities have done to improve the appearance of their alleys that are sometimes passages to businesses like in downtown Montgomery.
Anything, he said, that would add to Dothan's "sense of place."
He showcased how Auburn, where he was formerly assistant city manager, protected its "War Eagle" brick wall that had become a popular Instagram-able location in its downtown.
He compared how other cities have showcased what makes them unique with Dothan, which put a gravestone on the "World's Smallest Block" at Appletree and College streets.
"That is not a very Instagram-able location," he said.
He continued with "love your orange barrels," which is simply a change in the way people think when they see construction taking place around the city.
He quoted Mayor Mark Saliba: "We need to embrace the barrel."
Although the barrels can be unsightly, they are a sign of growth, Cowper said. Moving forward, the city is also going to focus on enhancing the function and appearance of existing infrastructure and consider different kinds of transportation like bikers and pedestrians when renovating roadways.
"Love your work" is about preparing for the future economic development of Dothan and about creating a competitive economy.
"Love your schools" is about preparing for the future needs of workforce development and education. Cowper acknowledged shining stars in the community, like the Alabama College of Osteopathic Medicine, which churns out doctors to feed into local hospitals and health care providers.
The public school system poses the biggest challenge, he said. Strides have been made, but he said it needs a concerted effort to manage the direction of the public education system in Dothan.
Together, he said, the community can build that high-quality place that attracts people to "come home," a reference to its "Come Home to Dothan" campaign.
"Love where you live. Love what you do. Love Dothan," Cowper said, ending the presentation.