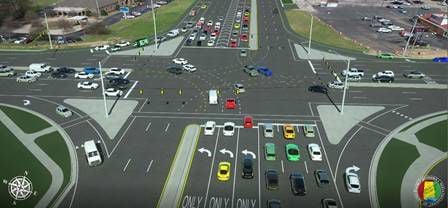 The ongoing Ross Clark Circle expansion will include triple left turn lanes onto U.S. Highway 84 to move traffic more efficiently.
The Alabama Department of Transportation provided a video animation to show how traffic would move with the improvements.
Travelers can expect construction on U.S. Highway 84 West as Alabama Department of Transportation crews prepare for additional lanes over the next few months.
The feature is part of ALDOT's second phase of the Ross Clark Circle expansion project, which began in early January.
The second phase consists of installing additional lanes on the Circle from south of U.S. Highway 84 to south of Meadowbrook Drive and U.S. Highway 84 from Bel Aire Drive to North Englewood Avenue.
Since January, contractors have been building additional lanes on the outside of Ross Clark Circle and have recently begun on the inside of the Circle.
ALDOT expects the triple turn lane won't be open until the beginning of 2021 at the earliest.
The first phase of the project added additional lanes to Ross Clark Circle from south of the intersection of Bauman Drive to south of the intersection of U.S. Highway 84. This phase is expected to be completed by fall 2020 after new signals are installed and final wearing layer and striping are in place.
ALDOT awarded phase two of the project to Midsouth Paving, Inc., of Birmingham at a cost of $16.2 million. The entire second phase of this project is contracted to be complete by June 2022.
The third phase will extend the expansion from Meadowbrook Drive to U.S. Highway 231 North (Montgomery Highway). The timeframe for that project has not been announced.
The six-lane project will eventually conclude at where the Circle intersects with North Cherokee Avenue. It also includes some expansion of Montgomery Highway