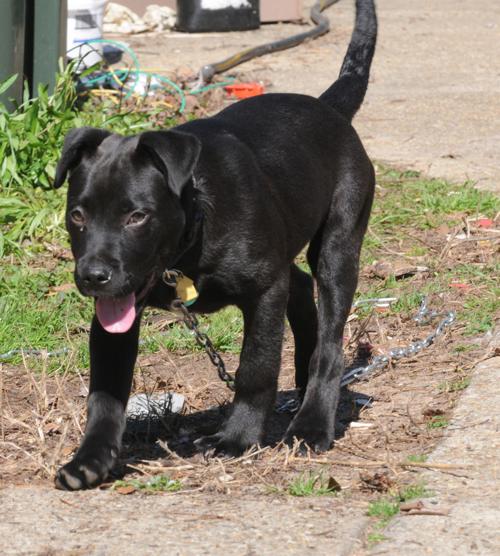 Dothan's new animal control ordinance has some bite. The Dothan City Commission unanimously approved a rewritten animal control ordinance Tuesday, which provides specific expectations for the tethering and sheltering of pets.
The previous ordinance provided less detailed requirements, making it difficult to prosecute violators without specific violations listed in the ordinance.
"You won't have situations anymore where a dog is tied to a rusted-out car in the middle of the yard with an iron chain and not be able to do anything about it," District 5 Commissioner Beth Kenward said. "You can tell a lot about a community by how it treats its animals."
It is unlawful for any owner to allow his or her dog to be at large on another's property without permission or on public streets or rights-of-way without a leash or chain.
Every enclosure in which animals are kept shall be not less than 25 square feet per animal or a minimum of four square feet per pound of body weight for each animal kept to a maximum of 100 square feet per animal, or as determined by the animal services officer or health officer.
A shelter for an animal must have enclosed sides, complete roof and doorway. The shelter should be placed where it will provide the best protection from the wind and cold weather.
An animal's tether shall not be less than 10 feet in length and shall not allow animals to approach within four feet of the owner's property line. It is unlawful to tether a dog if the dog is sick, less than six months old or if the dog has not been spayed or neutered unless you are outside with your dog and the dog is in visual range.
It is unlawful for the owner of any animal kept within the city limits to permit loud and frequent barking, meowing, howling or yelping to the extent that it annoys and disturbs others.
Owners may redeem their animals from impoundment within seven days by paying a daily impoundment fee of $3 per day, plus a penalty fee of $15. A fee of $10 will be assessed for each previous impoundment, not to exceed $50.
Also Tuesday, City Manager Mike West announced the city commission will hold a work session Thursday, Feb. 19, at 10 a.m. in the second floor board room of the Dothan Civic Center to discuss stormwater drainage and sewer system progress.
The commission also took the following action Tuesday:
» Confirmed the costs incurred in notification and abatement of certain properties determined to be nuisances by Resolution Number 2016-283 and Resolution Number 2016-324 and turned the costs over to the County Tax Collector so that the amount can be added to the next regular bills for taxes levied against the respective lots and parcels of land.

Documents: weed abatement cost assessment 1.pdf

» Confirmed the costs incurred in notification and abatement of certain properties determined to be nuisances by Resolution Number 2016-326 and Resolution Number 2016-335 and turned the costs over to the County Tax Collector so that the amount can be added to the next regular bills for taxes levied against the respective lots and parcels of land.

Documents: weed abatement cost assessment 2.pdf

» Declared certain properties which are overgrown with weeds, scrub, wild bushes, grass and other vegetable growth as injurious to the health, safety and welfare of the community as nuisances and called for a public hearing to be held on the matter during the regularly scheduled commission meeting on February 7, 2017.

Documents: weed abatement setting public hearing.pdf

» Submitted an application to the State of Alabama Department of Education for participation in a Summer Food Service Program for Children, entered into an agreement with the United States Department of Agriculture for administration of the program and entered into an agreement with the Dothan City Board of Education to provide food services.

Documents: application summer food program.pdf

» Entered into an agreement with the U.S. Department of Justice through the United States Marshals Service, to accept funding in the amount of $11,500.00 for reimbursement of overtime costs for officers working Gulf Coast Regional Fugitive Task Force cases.

Documents: agreement us dept of justice.pdf

» Entered into a contract with the Southeast Basketball Officials Association to provide a clockkeeper and bookkeeper to officiate during the 2017 South Regional Tournament at a cost of $45.00 per game.

Documents: contract southeast basketball officials assoc.pdf

» Appointed Mike Palmer as a member of the Planning Commission and Neil Holloway as a supernumerary member of the Planning Commission.

Documents: board appts planning commission.pdf

» Approved payment of invoices for the month of December, 2016 in the amount of $14,762,386.84.

Documents: invoices.pdf

» Approved other purchases over $15,000.00 by the City.

Documents: other purchases.pdf

» Approved advance travel requests for City employees.

Documents travel requests.pdf