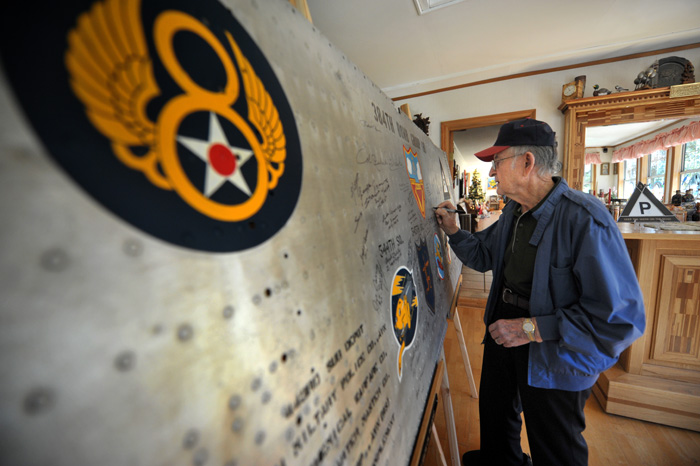 OZARK -- About 70 names fill the space on the aluminum wing panel taken from a B-17 bomber. Some are written boldly with a John Hancock-like flourish, while others are small and sketched out in a shaky hand. Many have the nicknames of soldiers or their aircraft beneath the signatures, while others list the number of missions their authors flew or other aspects of their service.
One more name was added to the panel Wednesday, when Arthur "Ozzie" Osepchook signed it.
"That ought to do it," Osepchook, 90, said as he finished writing his name and his status as an ex-prisoner-of-war to the wing.
Osepchook was a member of the 384th bomber group. Surviving members of that group - once about 9,000 strong - are being asked to sign the panel, which will eventually be displayed in a museum at Hill Air Force Base in Utah.
Keith Ellefson, a member of the 384th Bomber Group Next Generation Association, an organization of descendants and other connections of veterans of the bomber group, said the wing is being sent around the country for surviving members to sign. It's been to 22 states and will soon travel to Mississippi, Florida and Georgia. Ellefson said having 384th veterans sign the wing is a novel way to honor their service.
"It's just our way of honoring the service and sacrifice of these guys," he said.
Osepchook's story of service is exceptional. He is one of two survivors of a B-17 downed by friendly fire on a bombing run over Berlin in March 1944. Osepchook's plane was descending after dropping its payload when bombers behind it dropped their bombs on his plane, blowing off the tail section.
"It ain't nice to say, but our own outfit did it," he said.
Osepchook was a ball turret gunner and was somehow able to get out of the turret and get his chute on before being sucked out of the tail end of the plane. He actually was caught in wreckage at the end of the plane before getting loose and out of the plane. Once in the air, Osepchook parachuted down to earth, landing close to a Russian POW camp in Germany.
"We had no training, the only thing we had jumped out of before was a tower," he said.
Osepchook then spent 14 months in POW camps before being released in 1945.
Osepchook said he was happy with the opportunity to sign the wing.
"I'm pretty proud, it brings back memories of the men I served with," he said.
Charles Warren, Osepchook's son-in-law and a Vietnam War veteran, said he was glad to see Osepchook and other World War II veterans honored.