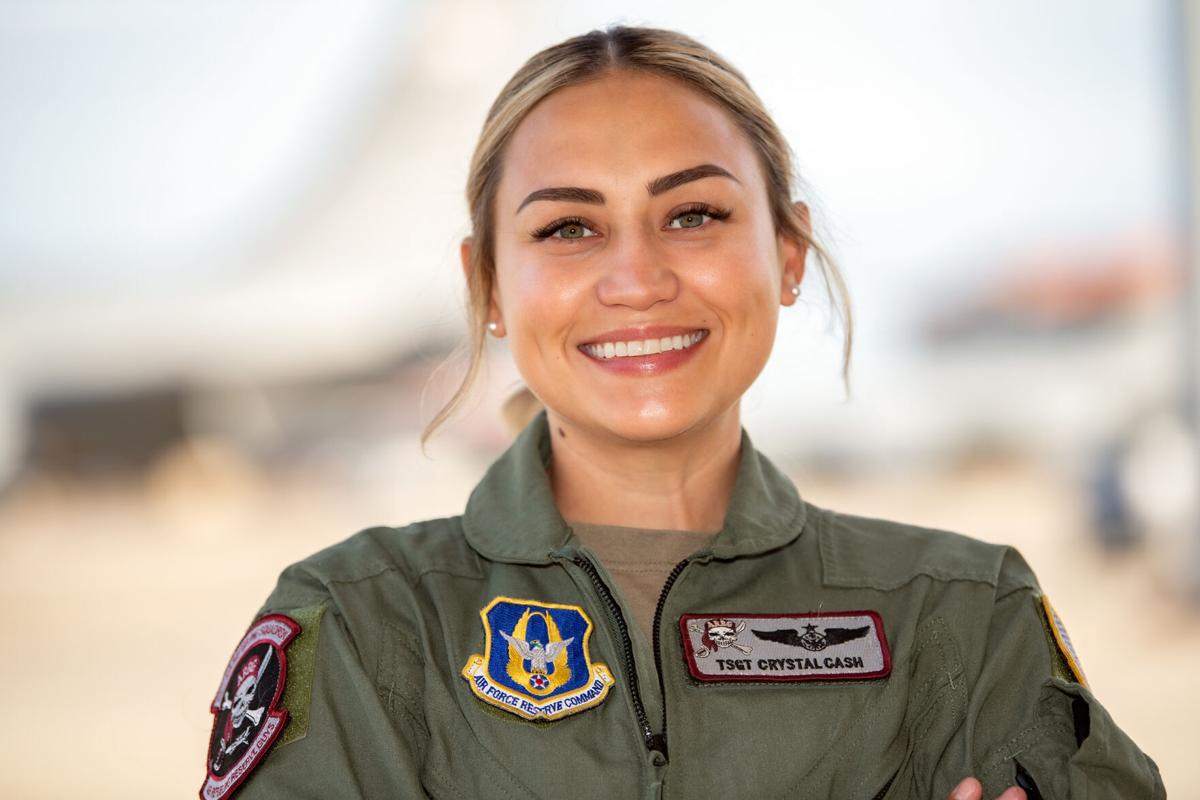 The U.S. Air Force Reserve provides combat ready air forces and for some, is a way to continue serving after active duty.
Following her initial enlistment, Tech Sgt. Crystal Cash, 63rd Air Refueling Squadron boom operator, found her new home as a Citizen Airman in the 927th Air Refueling Wing.
Growing up in Dothan, Cash sought to see more of the world than her small southern town. Along with that, her choice to join the Air Force was also sparked by a desire to grow personally through education. She landed on the boom operator job while looking through the Air Force Specialty Code listings at the Military Enlistment Processing Station.
"When I asked about in-flight refueling, they described it sort of vaguely." said Cash "When they said that two planes would meet to refuel in mid-air, I knew that was my number one choice. It seemed challenging and it turned into a huge opportunity to experience the full scope of the Air Force."
During the first six years, Cash honed her skills as a boom operator for the 6th Air Refueling Wing. Her job involves carefully positioning the boom for receiver aircraft flying behind the KC-135 Stratotanker to connect mid-air and top off their gas tank. Minutes later, they carry out widely varied missions such as reconnaissance or long-range precision bombing. In addition, Cash is responsible for any cargo and passengers on-board as well as assisting the pilots during in-flight emergencies.
While on active duty, Cash achieved the rank of Staff Sergeant and faced a decision as her commitment neared the end. She had aspirations to quickly finish nursing school and the active duty life-style with its high operations tempo through training and deployment meant delaying that. Cash found the answer in the 63rd Air Refueling Squadron.
"There was a definite shift when I joined the Reserve." said Cash. "I had a lot more time to focus on my goals outside of the military. I finished my nursing degree and even started piloting civilian aircraft. Being a boom operator allows you to see and experience a lot but being in control of the aircraft is incredible. Demanding, but incredible."
Airmen who come from active duty have invested countless hours developing their skills and come fully qualified in their AFSC. The Reserve force is able to recruit talent that otherwise may disappear as separating Airmen return to civilian life.
"Active duty Airmen transitioning to the Air Force Reserve is essential to mission readiness." said Master Sergeant Shane Hogan, Air Force Reserve In-Service Recruiter. "These Airmen are fully trained and mission ready when they arrive. They're able to provide a wealth of knowledge and train younger Airmen who serve in a part-time basis."
With four deployments behind her since she began, Cash, now a Citizen Airman, has promoted to the rank of Tech. Sergeant, become an instructor for other boom operators, and graduated from the University of South Florida with a Bachelor of Science in Nursing. Moving from one challenge to the next, Cash now has her sights set on commissioning and becoming a pilot.