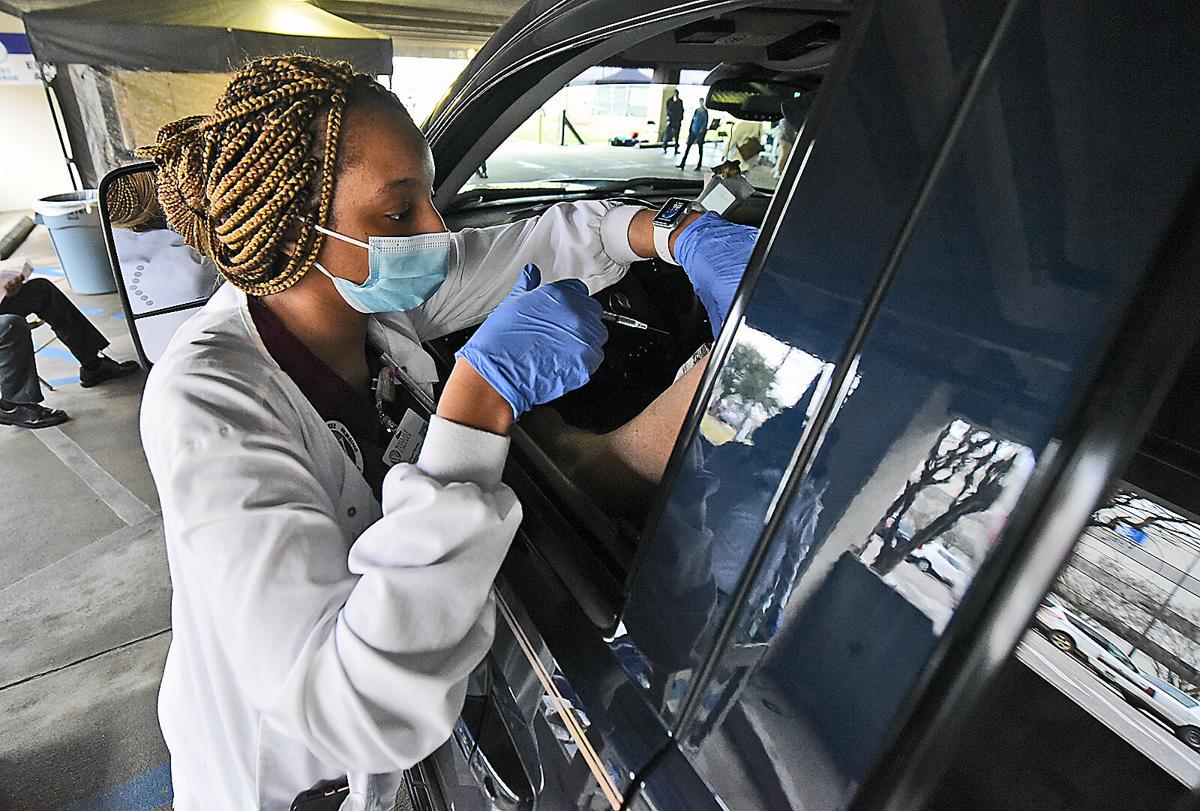 Nearly 717,500 COVID-19 vaccinations, including more than 150,000 doses during the recent statewide vaccination clinics, have been given in Alabama, but unless the state receives more doses, it's unlikely that officials will be able to expand the vaccine eligibility to the next category anytime soon, the state's health officer said Friday.
Dr. Scott Harris said that relative to its population Alabama still has a significant shortage of the vaccine and it is not likely the state will move forward to Group 1c on the state's eligibility list until the demand for the current groups goes down significantly.
"We need about three million doses to cover those who are currently eligible, and we haven't gotten anywhere near that yet," Harris said.
Currently, vaccine eligibility includes essential workers such as teachers and public transit workers as well as those ages 65 and older. Previously, only those 75 and older as well as healthcare workers, first responders and those with serious existing health conditions had been eligible to receive the vaccine.
Although the process is not moving as efficiently as hoped, Harris is currently the most optimistic about the fight against COVID-19 since the start of the pandemic.
The hospitalizations, new cases, and the percentage of tests coming back positive have continued on a downward trajectory over the last week, showing numbers similar to that of early summer.
Harris attributed the decrease to the end of the holiday season, along with vaccinations and temporary natural immunity from people who have been exposed to the virus.
"We aren't out of the woods yet, but we can see how to get out," Harris said. "This is not the time to ease up wearing your mask. It's not the time to go be in large groups of people. Continue to think about those who are most vulnerable and help protect them."
Because of the recent inclement weather in the South, shipping delays were present throughout the state, halting approximately 10,000 doses. Harris said the doses are now being shipped and anyone who had to miss an appointment this week should be able to reschedule.
According to Harris, the new CDC guidelines concerning quarantine protocol for individuals who have been vaccinated now states anyone who has had both rounds of the vaccine no less than two weeks and no more than three months prior to exposure would not have to quarantine unless showing symptoms.
Harris said the state's objective now is to continue working to even out the distribution of the vaccine to ensure that it is reaching all areas of the state where it is most needed, including smaller rural areas.
Another week of mass clinics is currently planned for March for those who participated in the first to receive their second dose. At the first mass clinic, Southeast Health in Dothan vaccinated more than 6,000 residents.
The Associated Press contributed to this story.
Sydney McDonald is a Dothan Eagle staff writer and can be reached at smcdonald@dothaneagle.com or 334.712.7906. Support her work and that of other Eagle journalists by purchasing a digital subscription today at dothaneagle.com.