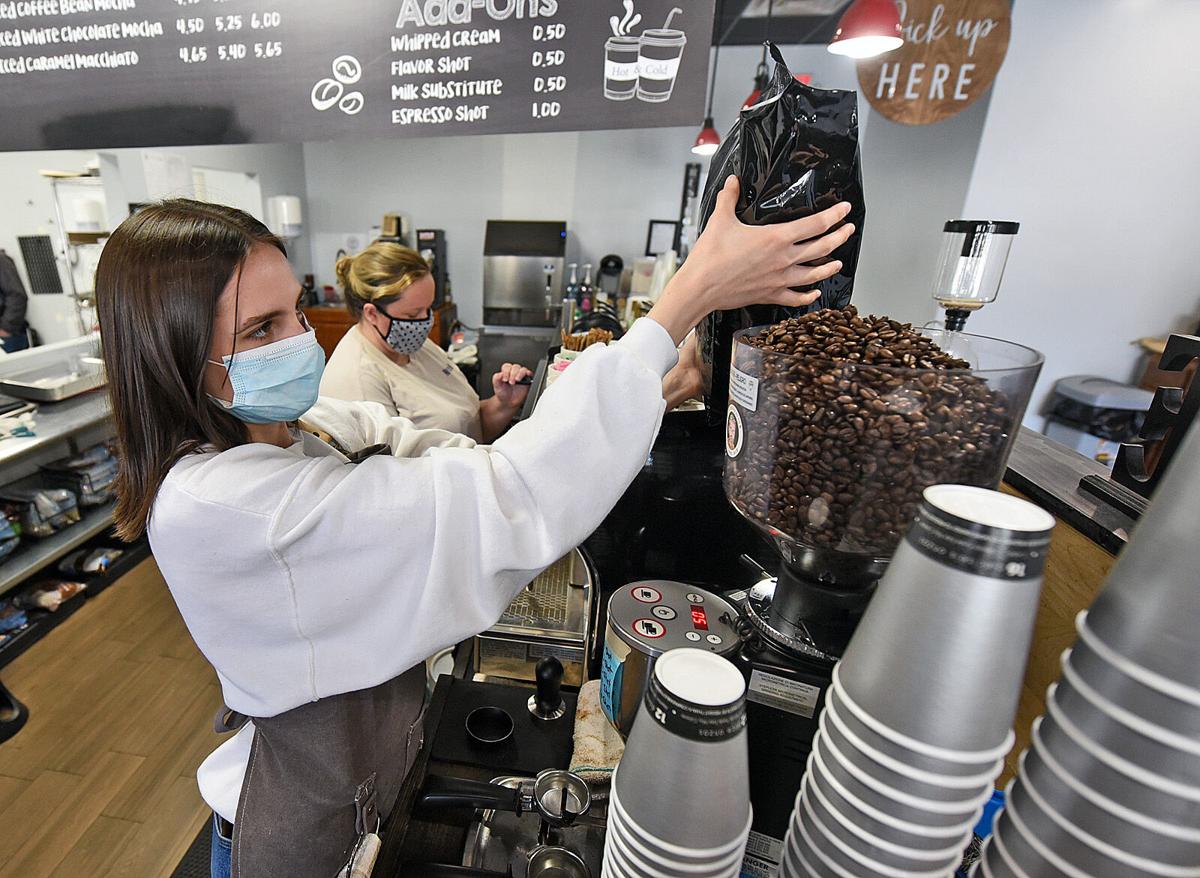 Chris Green believes in being safe and in personal choice.
It's why he wears a mask when he's out and about at places like Walmart. It's why he hung Plexiglas at the register and pick-up station at his Dothan coffee shop, Mr. Coffee Bean, and why he keeps seating to 35 even though his occupancy is 70 people. It's why he plans to keep offering customers ways to place orders online or by calling ahead. DoorDash, TakeoutStar, Grubhub – he signed up for them all during the COVID-19 pandemic. There's a Mr. Coffee Bean website and even a Mr. Coffee Bean app that can be used to order ahead.
"I have molded my business to the landscape of, really, the future because I can't see me stopping any of those services because each one of those services brings in business," Green said.
But Mr. Coffee Bean doesn't have social distancing markers on the floor and there's no sign telling customers they must wear a mask to enter. Green expects people to behave responsibly. And, Green said, the vast majority of customers do behave responsibly and wear a mask when they enter.
"People genuinely use common sense," Green said. "… I trust that people are going to make the right decisions."
Alabama Gov. Kay Ivey has said the statewide mask mandate that's been in place since July will not be renewed when it expires on Friday, although both Ivey and the Alabama Department of Public Health have repeatedly emphasized that masks are still an important weapon in fighting COVID-19.
Of course, the state's "Safer at Home" public health order – amended and extended about two dozen times since last year – includes more than the mask mandate for individuals. The order covers everything from schools to fitness centers, entertainment venues and hair salons as well as athletic events and visitations to hospitals and nursing homes. Ivey is expected to provide an update on the Safer at Home order ahead of Friday.
Ivey has said its time for the state to return to personal responsibility over government mandates, encouraging residents to practice good hygiene, social distancing and wearing masks. The governor said as much when she announced Friday that vaccine eligibility will be extended to anyone over the age of 16 starting Monday.
"Truly, this vaccine is our ticket back to normal life," Ivey said during a visit to an Alabama National Guard vaccine clinic in Wilcox County. "We are so close to getting COVID-19 in the rearview, and until then, we should all keep wearing our masks, get vaccinated and use the common sense the good Lord gave us."
So, while the statewide mask mandate may end, don't throw away your masks just yet.
Masks will still be required at both Flowers Hospital and Southeast Health. Long-term care facilities, which must adhere to federal requirements, will likely still require masks.
Businesses can still require masks or they may simply encourage customers to wear them.
Outdoor clothing retailer Eagle Eye Outfitters announced in a news release that it will not require customers to wear masks when the state mandate expires but that masks are "highly encouraged" when visiting the store. Employees will continue to wear masks. The local retailer plans to keep up cleaning procedures and will continue to have checkout line markers to promote 6-foot spacing.
And those customers at higher risk to exposure can schedule an early-morning, in-store personal shopping session. Eagle Eye also has a website, shopeagleeye.com, for online purchases and free curbside pickup.
"The health and safety of our Eagle Eye Outfitters community – our customers, our staff, and our staff's families – is our top priority," the Friday release stated. "We have made the decision to continue precautionary measures to help reduce the spread of illness while still continuing to serve the Wiregrass community."
In Houston County schools, both students and staff will have the option to wear masks but won't be required to. Dothan school teachers and staff will be required to keep wearing masks for the rest of the school year but students will have the option to wear or not wear a mask.
Dothan and Houston County governments plan to encourage those visiting government buildings to wear masks.
"We are going to encourage people to wear them; we're not going to require it," Houston County Commission Chairman Mark Culver said.
Houston County commissioners recently adopted new building policies that take effect Monday, April 12. Along with no longer requiring masks, the commission lifted restrictions on entering the building with children and will open commission meetings back to the public.
But social distancing will still be required at meetings, Culver said.
Dothan City Manager Kevin Cowper said the city will follow the governor's lead on masks and is waiting for more direction from state health officials.
"We'll continue to encourage people to wear masks if they're coming to city facilities and they're going to be around a lot of people; I don't see that changing," Cowper said.
The city will continue to restrict access at public meetings at least for the short-term, Cowper said. Currently, the public can speak before the city commission but can only come into the commission chambers one at a time. They can watch the meeting from a large monitor set up in the second-floor lobby of the Dothan Civic Center. The city will also keep live streaming meetings.
"It's just such a confined space," Cowper said of the city commission meeting chambers. "At this point, inviting the public in there fully is probably not a wise thing to do. It's a balance between access and maintaining health."
Cowper expects the city will phase out restrictions as things improve.
"Things are certainly encouraging and getting better," he said. "But people do need to remain vigilant and particularly when they're around other folks. So, we're going to continue to do our part in the city."
Peggy Ussery is a Dothan Eagle staff writer and can be reached at aussery@dothaneagle.com or 334-712-7963. Support her work and that of other Eagle journalists by purchasing a digital subscription today at dothaneagle.com.