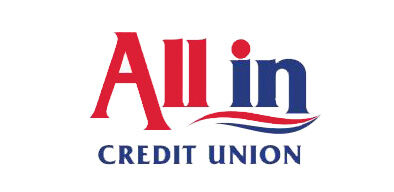 All In Credit Union demonstrated its thankfulness for essential workers by participating in the Credit Unions Care Challenge.
Following donations to local organizations by All In Credit Union employees, All In received donations from the Southeastern Credit Union Foundation to continue its support of local businesses.
Lisa Hales, Senior Vice President of Member Experience for All In Credit Union commented, "Giving back to the community is a core value of our organization, which is why the Credit Unions Care Challenge was a cause we wanted to support. In doing so, our employees had the opportunity to effectively help us distribute funds in meaningful ways to those on the front lines.
Employees chose to use the money to purchase food, merchandise or other items from their favorite local businesses. Some branch locations decided as a whole to donate the funds to local organizations or by buying lunch for their staff. All In donated a total of $8,750. Local organizations that received donations are listed as follows:
• Andalusia, Ala.: Andalusia Police Department, Andalusia Fire Department, Andalusia Distributing Company
• Crestview, Fla.: Emergency Management Services
• Daleville, Ala.: Boys and Girls Club of Daleville
• Defuniak Springs, Fla.: Walton County Sheriff's Office, Walton County Animal Shelter
• Dothan, Ala.: Wesley Place, Westside Terrace, Pilcher's Ambulance, Houston County Sheriff's Department, Dothan Police Department
• Enterprise, Ala.: Enterprise Medical Center
• Fort Rucker, Ala.: Lyster Army Health Clinic
• Marianna, Fla.: Marianna Police Department, Jackson County Sheriff's Department, Walmart Workers
• Midland City, Ala.: Helping Hands Clothing and Food Pantry
• Mobile, Ala.: Ronald McDonald House, USA Women's and Children's Hospital, Fuse Project, Mobile Fire and Rescue, McKemie Place
• Opp, Ala.: Opp Health and Rehabilitation
• Ozark, Ala.: Ozark Fire stations, Ozark Senior Center, Oakview Manor
• Santa Rosa Beach, Fla.: Food for Thought
• Troy, Ala.: SARHA Clinic
"By providing essential workers with something as simple as a meal, we were able to show our support and gratitude for the work these individuals perform," stated Kathy Scarbrough, All In Credit Union Vice President of Marketing. "We are truly fortunate to give back to our community, especially to those that are working harder than ever to keep us safe and healthy during this crucial time."