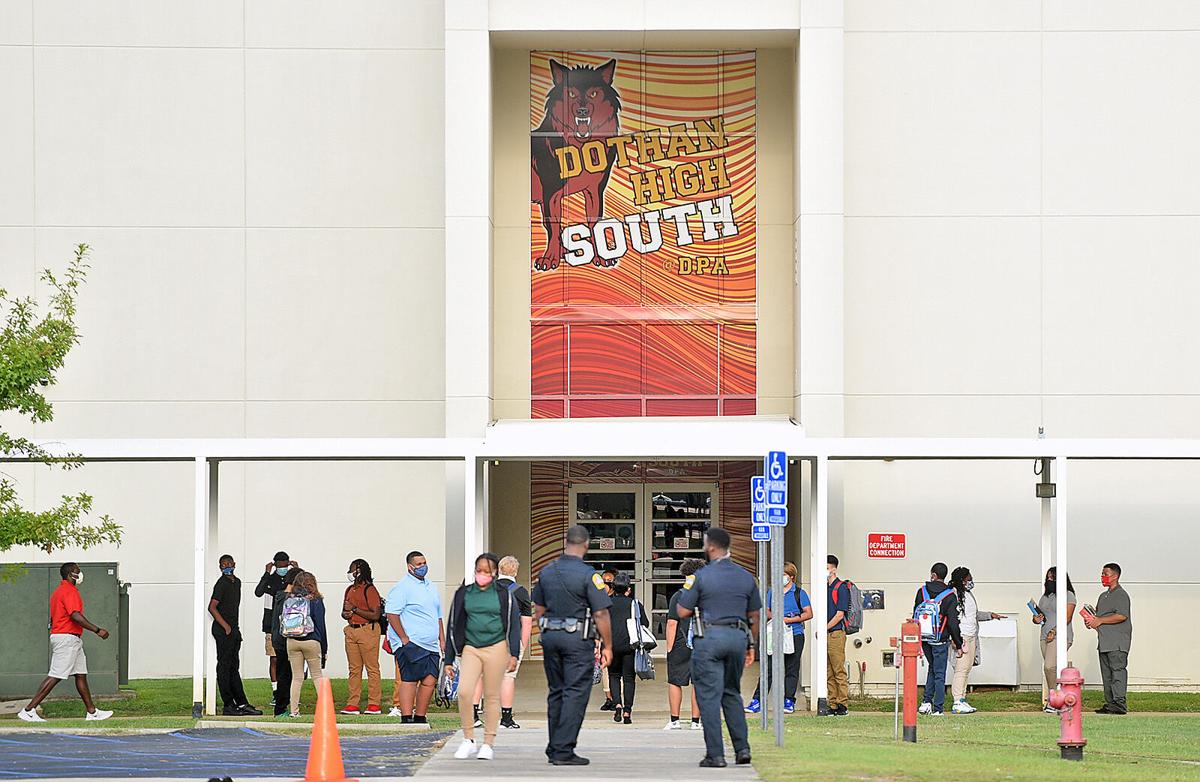 Dothan schools have lost another 645 students this year that school leaders are largely attributing to the coronavirus pandemic.
This year, the number of students enrolled fell to 7,891 students – a 7.5% loss, according to information provided by Interim Superintendent Dennis Coe during Monday's school board meeting.
This is the second year in a row the school system has seen a large exodus of students in a year-to-year comparison.
Last year, the number of students enrolled in DCS fell to 8,536 students – a 3.7% loss from the 2018-2019 school year when the Alabama State Department of Education recorded the system had 8,867 students.
"While we anticipated a sharper decline immediately after the restructuring, the COVID crisis has amplified the decline in enrollment of students this year," Coe said in his superintendent's report.
The downward trend is widespread, based on Coe's initial investigation; 104 out of 139 school districts in the state have seen fewer enrolled students this year, especially in grades K-5.
Compared to last year, Coe reported that the system experienced a 50% increase in the number of students withdrawn to be homeschooled and a 23% increase in the number of students who withdrew to attend school in another state.
The school most affected by enrollment loss is Girard Primary School, which has 22% less students than in fall of last year. The school is now the least attended school in the district with 307 enrolled students.
The only school showing an increase in enrollment is Carver School of Math, Science and Technology, which has seen a 5.59% gain bringing the student population to 491.
Attendance at the remaining city schools and the change in percentage of students is as follows:
• Beverlye Intermediate, 516, 19.12% less
• Dothan High, 1624, 4.08% less
• Dothan Preparatory, 1690, 3.65% less
• Faine Elementary, 384, 9.86% less
• Girard Intermediate, 350, 13.37% less
• Heard Elementary, 316, 13.19% less
• Hidden Lake Primary, 429, 11.55% less
• Highlands Elementary, 553, 1.95% less
• Kelly Springs Elementary, 523, 3.68% less
• Morris Slingluff Elementary, 308, 6.67% less
• Selma Street Elementary, 400, 15.25% less
This number is a screenshot of enrollment as of Oct. 6, 2020. The total is different than the average daily membership (ADM) that averages daily attendance over the 20 school days after Labor Day. ADM, which should be reported soon, is the only figure used to issue foundation funding from the state.
Each year, the school system's funding is based on the student count taken one year prior. Next year, regardless of new enrollment, the system will likely lose out on more than $2 million in funding for teachers, principals, assistant principals, counselors, and librarians as well as other funding that is associated with ADM like textbooks and technology.