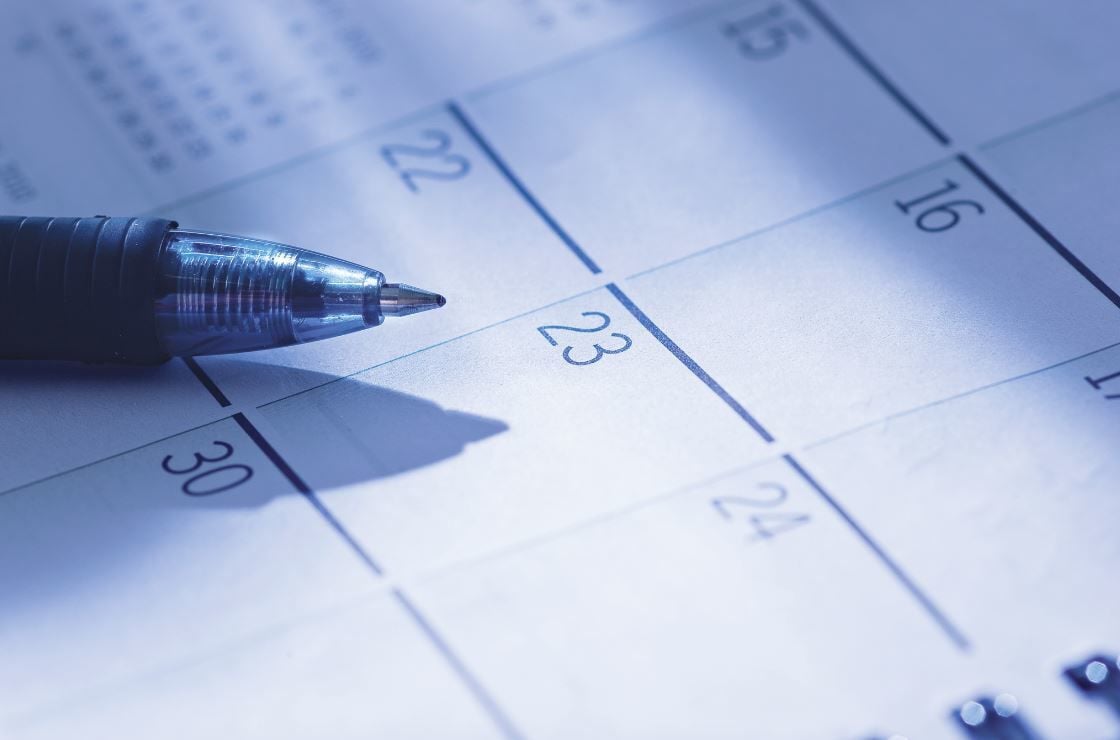 The Dothan Chapter of the National Active and Retired Federal Employees (NARFE) will host its monthly meeting at 11:30 a.m. on Nov. 9 at the Old Mill Restaurant located at Murphy Mill Road and U.S. Highway 231 North in Dothan. Marc Hall, author of "Pursuing Spiritual Wealth: 40 Principles that Make Your Life Richer," will describe how contentment and peace can be achieved through the application of Biblical wisdom and principles when making personal financial decisions. Call Dr. Angela Allgood, president Chapter 1609, at 334-803-0405 for additional information.
NOV. 10 The Above the Best Silver Chapter of the U.S. Army Warrant Officers Association will be holding its in-person, monthly meeting on Wednesday at 11:45 a.m. on Nov. 10 at Swartworth Hall, 5302 Outlaw St., Fort Rucker. A meal will be served. Please observe Fort Rucker COVID protocols. This meeting is open to all warrant officers or those interested in warrant officer issues.
The Southeast Alabama 4-H Chick Chain Show and Auction will be held Nov. 12 at the National Peanut Festival in Dothan. Chickens were raised by 4-H youth from Barbour, Crenshaw, Coffee, Covington, Dale, Geneva, Henry, Houston and Pike counties. The Wiregrass youth participated in the Chick Chain Project, raising pullet chicks for 20 weeks with attention to guidelines for diet, housing and biosecurity. The poultry breeds will include Dominque, Rhode Island Red, Buff Orpington and Easter Egger. Prior to auction, the birds will be inspected and evaluated to ensure healthiness and youth will have to demonstrate their knowledge of poultry. Those who plan on bidding will need to bring a kennel for transport. All proceeds from the auction go directly to students.
Grimes Gospel Lighthouse, 1512 County Road 25, Grimes, will host 3 Days Out of Dothan, Nov. 13; and The Byrd Family of Newville on Nov. 20. A Thanksgiving and Christmas dinner with a local sing will be held Nov. 27. Music starts at 7 p.m. A love offering will be taken. There will be no December performances. Call 334-983-4654 or 334-714-4658 for more information.
Thanksgiving with the MaChis Indians will be held Nov. 13 at 2 p.m. at the Church on Boll Weevil Circle, located at 2017 Boll Weevil Circle in Enterprise. The event will include wagon rides, roasted corn, roasted chestnuts, Native American exhibits, Native American vendors, celebration of friendship, heritage and worship. Contact 334-894-6411 or 334-406-7982 for more information.
H.O.P.E. Ministries Community Day of Giving will be held Saturday, Nov. 13, from 10 a.m. to 2 p.m. in the lot next to the Enterprise Housing Authority's Nance Circle Apartments in the Coppinville Community. There will be many free items to choose from during the event. Attendees are asked to wear a mask. For more information, call Allie Bell-Reddick at 334-494-0479 or David E. Reddick at 334-494-0308.
A car show fundraiser for Wiregrass 2-1-1 will be held Saturday, Nov. 13, from 2 to 6 p.m. at Keel & Co. Distillery, 119 W. Church St., in Headland. There will be music, food, activities, raffles and cold beverages. Vehicle entry is $15 and all trucks, cars, Jeeps and motorcycles are welcome. Vehicles must pre-register by Nov. 8 and must in place by 1:30 p.m. for judging on the day of the event. Forms and fee can be turned in to the distillery or by email to tinakey81@yahoo.com. For more information, call Gene Sims at 334-350-0876, Stacey Holland at 334-726-9153 or Tina Nowlin at 334-726-1802.
The Dothan Area Botanical Gardens will offer a special hands-on children's program in the garden's Demonstration Garden on Nov. 14, 9:30-11 a.m., and participants will gather in the picnic pavilion. The program will be led by members of the Wiregrass Master Gardeners Association and is designed for kids ages 7-11. Cost is $5 per person and registration must be in advance by visiting www.dabg.com or by calling the garden office at 334-793-3224. All visitors to the Gardens will enter through the Botanical Center. While masks are not required on the Garden grounds, visitors will need to wear a mask to enter the building.
Hartford Aglow will meet Tuesday, Nov. 16, at 6:30 p.m. at Ketchum's Ice Cream Parlor in Hartford. Speakers will be AJ and Chelsey Warren, associate pastors of Connect Church in New Brockton. AJ serves as vice president of David's Tent Alabama in Montgomery and is on the board of directors of United Community Worship in Dothan. He currently works for Emmanuel Christian School as the academic and college advisor. Chelsey works at Walton High School in DeFuniak Springs and is pursuing a master's degree in educational leadership. The couple also serves as foster parents in Geneva County.
The Disabled American Veterans Wiregrass Chapter 99, located in New Brockton, will meet Thursday, Nov. 18, at 6 p.m. at the New Brockton Senior Center. This will be the chapter's holiday meal with the main course provided by the chapter. Everyone is asked to bring a covered side dish. All active duty military and veterans are invited. For more information, contact Charles Lobdell at 334-718-5707 or Mike Doran at 334-406-6700.
The 15th Annual Toys for Tots registration is underway and will end Nov. 18. The Marine Corps League Wiregrass Detachment is partnering with 15 local organizations to provide Christmas gifts to children up to age 12. Donations of new, unwrapped toys will be accepted at participating drop sites. Residents of Coffee, Dale, Geneva, Henry and Houston counties can register children for the program by calling 2-1-1 or 1-888-421-1266. A Wiregrass 2-1-1 community resource specialist will review qualifications and let you know when and where to sign up your children. To learn more about Toys for Tots and how to make local donations, visit thewiregrass.toysfortots.org and click on "Get Involved/Volunteer" or email dothan.al@toysfortots.org.
The Dothan/Houston County Education Retirees will meet Thursday, Nov. 18, at the Wiregrass Rehab Center in Dothan. The meeting will begin at 11 a.m. with a buffet lunch at a cost of $14, which may be paid at the door. Program will highlight 100 years of American Education Week (Nov. 15-19) with John Paul Jones, State AERA president, as the guest speaker. Contact Karol Tyler at 334-794-6205 for more information. Attendees are asked to bring food items for a local charity.
The Wiregrass-Enterprise Chapter of the National Active and Retired Federal Employees (NARFE) will hold its monthly Lunch Program at 11 a.m. on Thursday, Nov. 18, at the Enterprise Country Club. Due to the Thanksgiving holiday, the NARFE Lunch Program is a week earlier than the monthly programs would normally be held. Guest speaker will be Chris Alexander, Blue Cross and Blue Shield of Alabama federal employee insurance representative. He will speak about the BCBS Federal Employee Open Season for 2022 and explain the benefits of Medicare Parts A and B and the various options. He will take questions after his presentation. All current and retired federal employees and guests are welcome to attend. Reservations are not necessary but recommended and can be done by emailing the chapter's president Frank Zerbinos at zerbinos47@hotmail.com or send a text to 334-447-8092.
Wallace Community College in Dothan presents the fall theatrical production of "The Magic School Bus" with performances on Nov. 18 and Nov. 19 at 7 p.m. and Nov. 20 at 2 p.m. and 7 p.m. in the Bencze Theater on the Dothan campus. Ticket prices are $5 for students and $10 for general admission. Tickets can be purchased at www.wallace.edu. The production is directed by Charles Simon with musical direction by Cameron Weiler. For more information, call 334-556-2379 or email csirmon@wallace.edu.
Aglow International Community Lighthouse in Enterprise will meet Saturday, Nov. 20, at 10 a.m. at The Gathering Room. Guest speaker will be Katelyn Thomas from Enterprise. For more information, call 334-406-9683.
New Beginning Christian Church presents a pre-Thanksgiving gospel concert at Brantley High School in Brantley on Sunday, Nov. 21, at 3 p.m. Vendors will be on site and groups from Elba, Dothan and Chilton County will perform. For information, call 334-488-7575. Tickets are $10 in advance and $15 at the door.
The Junior League of the Wiregrass (formerly Dothan Service League) will host the Christmas Tour of Homes on Sunday, Dec. 5, to raise proceeds and awareness for the Wiregrass Hope Group, a local organization that provides pregnancy and parenting resources to families in the Wiregrass. Visit festive and beautifully-decorated local homes and gardens and share in the Christmas spirit. For more information or to purchase tickets, go to thewiregrass.jl.org or find your local Junior League of the Wiregrass member. Tickets are $20 per person.
Girls Inc. presents the 10th Annual Mother Daughter Tea on Sunday, Dec. 5, at Windmill Station on Headland Avenue in Dothan. Guests enjoy tea style lunch provided by Pans & Petals, as well as two Christmas crafts to take home and enjoy, visiting Mrs. Claus and Santa, edible Christmas tree decorating with elves, candy kebob activity and a photo booth to capture these sweet memories. Tickets are $60 for a couple, $35 each additional adult and $25 each additional daughter. To purchase tickets, call Girls Inc. at 334-793-2321 or buy online at https://girlsincdothan.org/tickets/. Ticket prices increase $15 per couple after Dec. 1. There will be two separate events on Dec. 5. The first will be held from 1-2:30 p.m. and the second will be from 3:30-5 p.m. Proceeds from the event benefit Girls Inc., specifically the outreach and center-based programs that serve over 200 girls in K-8th grades. For more information, call 334-793-2321.
The Wiregrass Steel Wheels Annual Model Railroad Show has been rescheduled for Dec. 11-12. The event, originally set for Sept. 18-19, will be held at the National Peanut Festival Fairgrounds on U.S. 231 South in Dothan.
Land of Cotton Smocking Guild meets the second Thursday of each month at 10 a.m. at Piney Grove Assembly of God Church, 206 County Road 9 in Newton. The guild, created at the first of year, has begun a Wee Care Project, creating preemie gowns, garments for infants in NICU, and bereavement pouches. For more information, contact Carol Ann Pileggi at 850-516-9960 or Joann Carpenter at 334-790-8328.
The DAV van service for local veterans will make runs to Montgomery and Tuskegee on Mondays and Fridays. The van will leave from the Hardee's restaurant on Rucker Boulevard in Enterprise at 5 a.m. and from the Dothan Civic Center at 5:30 a.m. Due to COVID restrictions, there is only space for four riders each trip. Veterans who need rides to VA hospitals in Montgomery or Tuskegee can call 334-308-2480 to reserve a seat on the Enterprise van or 334-446-0866 for the Dothan van.
Square Dancing will be held every Monday from 6 to 8 p.m. at the Enterprise YMCA, located on Highway 27 across from Hobby Lobby in Enterprise. Singles and couples welcomed. Never danced? They'll teach you. For more information, call 334-237-0466 or 334-347-4513.
Dothan Newcomers Club, a social organization, meets the first Thursday of the month in the Cultural Arts Center, 909 S. St. Andrews St., in Dothan. Social time begins at 9:30 a.m., followed by the business meeting at 10 a.m. The group is open to individuals who have moved into Dothan or the Wiregrass within the past five years or who have faced a change in status (retirement, death of a spouse, divorce) within the past five years. For more information, visit www.dothannewcomers.com, or Facebook @DothanNewcomers, or contact Elaine Brackin, president, via email at dncpresident3@gmail.com. Due to COVID-19, masks are required to be worn, and social distancing is observed.
The Gen. William C. Oates Chapter No. 1342 of the United Daughters of the Confederacy meets the second Thursday from September through May. Women ages 18 and older who have ancestors who fought in the Civil War are eligible for membership, and help will be provided to prove your first Confederate ancestor's lineage. For meeting locations and information, call Ceya Minder at 334-794-7480 or email ceya.minder@gmail.com.
The Disabled American Veterans Auxiliary Dothan Unit #87 will meet every third Thursday of the month at 6 p.m. at Harvest Church, located at 2727 Fortner St. in Dothan. The group will meet in the Main Café located in the church's Building A. Call 334-596-9610 for more information.