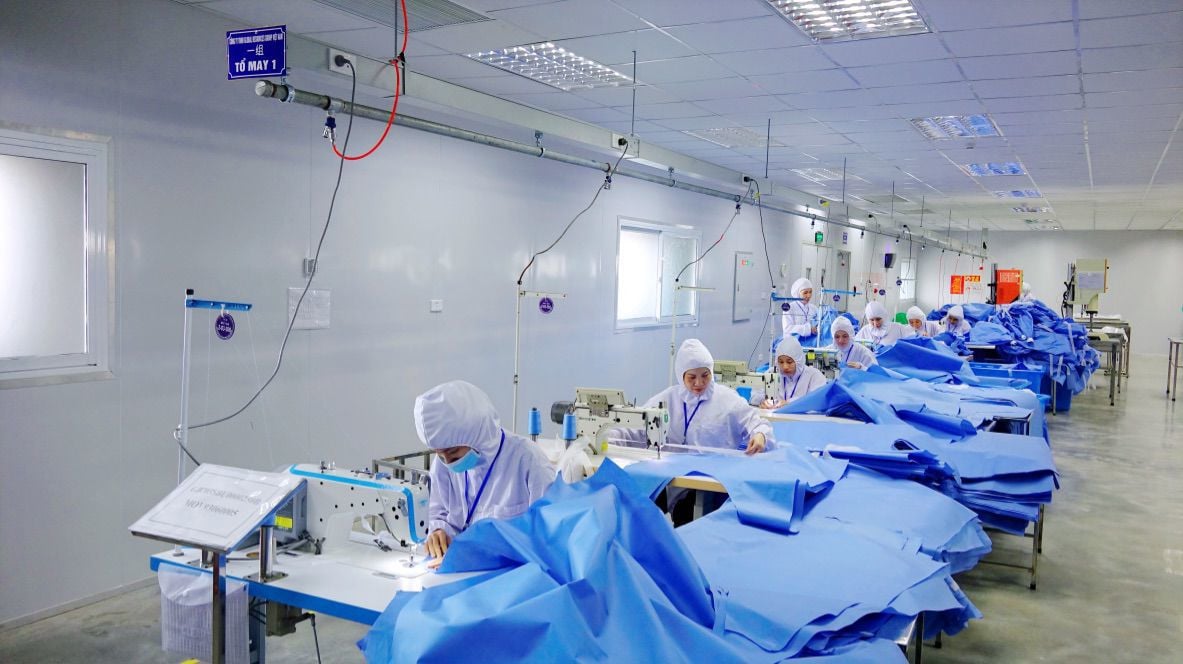 An Ashford company has played a vital role in the global effort to combat COVID-19 by providing personal protective equipment to hard-hit areas in the U.S. and around the world.
Eastern Technologies provides warehousing and distribution services for its global entity Global Resources International, which makes PPE for a variety of industries.
GRI has ramped up production of surgical gowns, isolation gowns, surgical packs, surgical instrument covers, needle counters, face masks, and a whole host of other operating room related products and components. Business has expanded to keep up with demand.
"Our volume of sales for many PPE products expanded greatly since the emergence of the COVID-19 virus," Mark Fellows, vice president of Eastern Tech, said. "To keep up with demand we have expanded production through overtime and adding additional night and weekend shifts. We have also added several new manufacturing lines in our overseas facilities."
Its single-use products, manufactured overseas, are delivered to large medical, industrial, safety supply, and nuclear product distributors in European countries such as Germany, France, Spain, United Kingdom, and Denmark, in addition to South and North America. Its industrial PPE has been used in Hong Kong and other places in China, South Korea, and Taiwan, and likely other countries via its many distributors.
As the number of virus cases began peaking in the U.S., the amount of PPE provided to the U.S. surpassed its supply to any other region or nation with regard to COVID-19-related PPE sales.
GRI began moving its production out of China a few years ago — a departure Fellows said was greatly accelerated with the onset of the tariff situation. Now, most of its industrial and nuclear product manufacturing is located in Vietnam, which Fellows said has helped insulate GRI significantly from interruptions in supply chain.
ETI provides products typically oriented toward the nuclear power, Department of Energy, Department of Defense, nuclear research facilities, petrochemical industry, refineries and/or related industries, and the food processing industry.
The products ETI provides include but are not limited to a wide variety of protective coveralls, head coverings, foot coverings, industrial rubber gloves, and industrial rubber shoes.
Its product offerings are separated into two lines, products specially designed for the nuclear industry carrying the brand names PolyZolv and Comfort Guard, and products designed for the industrial market carrying the brand names Xposure Guard and Pure Blue.
Its PolyZolv line of protective clothing is made from a special polymer that when treated by a patented process converts the clothing items into carbon dioxide and water. Fellows said this process eliminates roughly 98% of all waste associated with the clothing, thus making single-use clothing a green environmental option.
With some of GRI's industrial product lines, the availability and price of raw materials have changed dramatically.
One of the main components of the fabric for GRI's medical product line of coveralls has increased in price over 70% since the beginning of the year. Ocean freight prices have not seen dramatic cost increases but air shipping costs have increased well over 100%.
"We are very vertical in our manufacturing and we control much of the raw materials that go into our finished goods. However, with the current global demand for PPE and facemasks our raw materials production capacities have exceeded maximum as well," Fellows said.
ETI currently has 53 U.S.-based employees. Its global entity, GRI, has over 3,000 employees worldwide.
With the current U.S. demand, Fellows said GRI is weighing the option of moving of several of its medical products manufacturing to Alabama.
"This will likely include surgical gowns and isolation gowns in addition to other PPE-related products," Fellows said. "We have not yet made a final determination on such a move but we are working closely with many agencies and departments to make the move a reality."