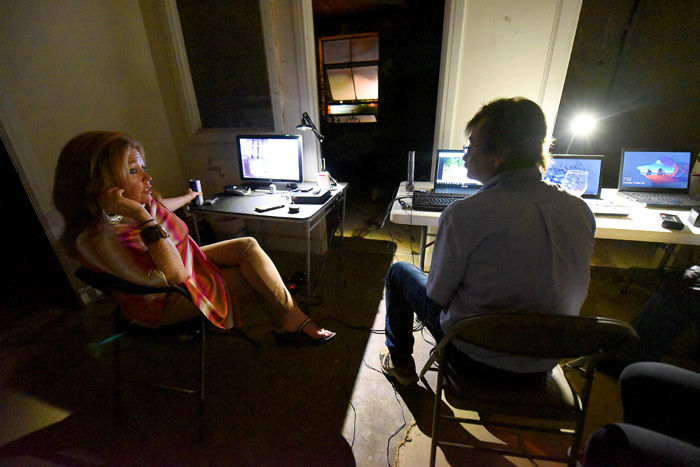 When Circle City Ghost Hunters contacted Robin Thagard about doing an investigation at Dothan's historic Penney Building, she was happy to oblige.
Weird things have happened, she said, and "we kinda would like to know" if any of it can be attributed to paranormal activity.
Thagard said she moved into the 31,000-square-foot structure, also known as the Colby Building, in downtown Dothan about six years ago and bought it about two and a half years later.
She and her employees noticed strange sights and sounds as she operated Bella's and Colby's restaurants on the lower floors.
Lights would go on and off. Dishes would fall onto the floor. Lamps would sway when there was no wind.
"You'd hear your name being called," Thagard said. "We made light of it because it was always just too much stuff going on. It's an old building."
Then there were the sightings.
"You know you've got a ghost here," a customer said as she was checking out of Colby's a few years back. "I've seen her in the bathroom mirror."
Mary, one of the employees, said she was alone in the building working at her station when she kept seeing something walk past out of the corner of her eye.
"It went by me three times," she said. "I never saw a face, but it had bright colors."
Thagard said they named the ghost Rachel "because all kinds of crazy stuff happened."
The occurrences have made some staff members wary.
"Half of them are scared to go to my office (on the second floor) at night by themselves," Thagard said.
Stories about the disturbances focus on a woman who supposedly was killed in one of the offices on the top floor, probably in the 1950s.
Thagard said the building, at the intersection of North Foster and Troy streets across from the federal courthouse, opened in 1938 as a J.C. Penney store. It has three floors, but the third floor that served as offices for attorneys and others is no longer used.
John Shelley is one of the co-founders of Circle City Ghost Hunters, a group organized six or seven months ago to conduct paranormal research in Alabama, Georgia and Florida. The eight members use a combination of electronic equipment and observation skills to conduct investigations.
"We look at this from a scientific point of view," Shelley said. "Myself, I'm a debunker. I'm looking for reasons that what's happening is not there, but there are things that I can't prove."
The investigation that began on the building's third floor Thursday night will take weeks to complete. Hours of recordings will have to be gone through and information analyzed before conclusions can be reached.
While some anomalies can be traced to rattling pipes or loose electrical connections, others can't be so easily explained.
"It seems like everywhere we go, we come up with something," he said.
Shelley has respect for the historical significance of the Penney Building.
"Somebody once upon a time put their heart and soul in the building," he said. "This was their dream. There's history here."
Members of the group come from different backgrounds. The tools they use enhance their observation skills.
"If there's anything here, we've got the equipment to catch it," Shelley said.