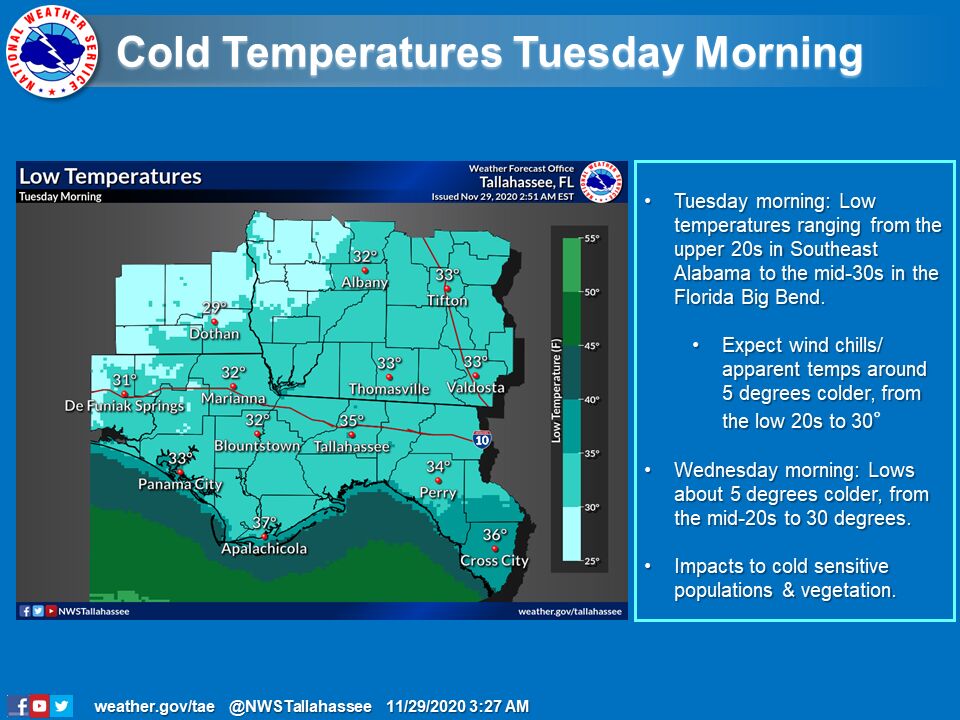 The coldest temperatures of the 2020 fall season are in the Wiregrass prompting the National Weather Service to post a freeze warning for Tuesday morning and a freeze watch through Wednesday morning. 
Freeze conditions can kill crops, other sensitive vegetation and possibly damage unprotected outdoor plumbing. Precautions to keep outdoor pets and livestock should also be taken.
After weeks of mild November weather, forecasters believe temperatures will remain below freezing until Tuesday morning in the Wiregrass. Parts of North Alabama were forecasted to see some snow flurries. The freezing temperatures are expected through Wednesday morning.
Dothan-Houston County Emergency Management Agency posted online that the freeze warning would likely be required for Tuesday night with an anticipated low of 26 degrees with the threat of sub-freezing temperatures remaining until Wednesday morning. Temperatures are expected to remain freezing on Wednesday night.
"A strong cold front is currently pushing through the area early this morning," the Dothan-Houston County EMA said Monday. "Breezy winds will continue to push much colder air over the region with temperatures falling throughout most of the day today."
Breezy winds Tuesday night will cause wind chill values to drop into the mid- to upper-20s.
"While still cold, low temperatures should warm just above freezing for Wednesday night," Dothan-Houston County EMA said.
The First Baptist Church Dothan, 300 W. Main St., will open a warming station for the homeless and unsheltered on Tuesday in the Family Life Center directly behind the church.
Sign-in will be from 7 to 9 p.m. Tuesday. Dinner, snacks, and a warm place to stay for the night will be provided. Once signed in, people who leave cannot be readmitted.
The warming station will open at 7 p.m. Tuesday and close at 10 a.m. Wednesday.
A warming station in Dothan opens when temperatures are 28 degrees or lower.
Temperatures are expected to increase later in the week, according to NWS.