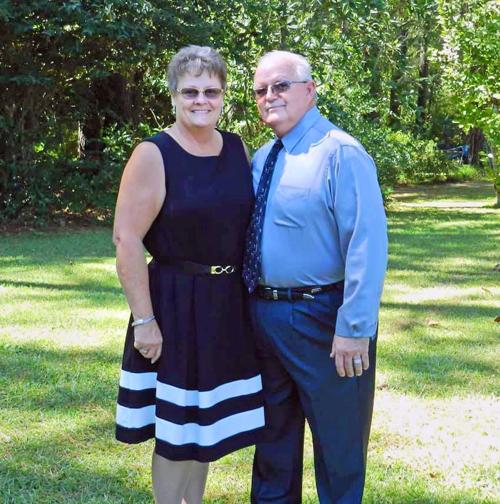 Lauri Rogers had a contagious laugh and a heart of gold. Wayne Rogers was known for his hugs.
"They were both just really down-to-earth, country people," said Tiffany Davis, one of the couple's three children.
Hospitalized with COVID-19, the husband and wife from Houston County died on the same day last week. Lauri, 61, passed first; Wayne, 65, followed an hour later. Tuesday, family and friends will gather to celebrate their lives.
Funeral services for the couple will be held at 10 a.m. in the Sunset Funeral Home Chapel in Dothan.
The couple died Thursday in a local hospital following complications of COVID-19, the respiratory illness caused by the novel coronavirus that has led to a global pandemic. After they became ill, they visited a local emergency room on July 13. Davis said she's not even sure they got tested at that point. They went home with medicine and quarantined just in case. Their children kept checks on them, leaving supplies outside the door of their home.
Over the next few days, their symptoms worsened. By that Sunday, their oxygen levels were low. Wayne Rogers was losing his vision and having chest pains that radiated down his left arm. Davis spoke to her father over the phone as she drove to their home. Her father was having trouble breathing and talking.
Both Wayne and Lauri Rogers were admitted to Southeast Health and placed in ICU. They're conditions didn't improve and eventually they were both intubated and placed on ventilation. They were in the hospital for nearly two weeks before they died.
The couple had been married around 30 years. Members of Bethlehem Baptist Church in Dothan, they loved to ride their Harley Davidson motorcycle together. Facebook photos show a couple who smiled warmly and weren't above being silly with family.
"They were genuinely good people that would do anything for anybody," said Davis, a nurse for Kindred Hospice who had kept her distance from her parents as a precaution during the pandemic.
Lauri Wood Rogers was born in Waterloo, Iowa, living the early part of her life there. She moved to Dothan in the mid-1970s and graduated from Dothan High School in 1978. She worked at Plaza Pharmacy, Doctor's Center Pharmacy and then at Herff Jones before retiring in 2010, according to an obituary published in the Dothan Eagle.
"My mom, she was always life of the party, laughing and smiling," Davis said. "Everybody knew she was in the room. There was always laughter around her."
Wayne Rogers was born in Marianna, Florida, and lived his early years in Malone. He was a sergeant with the Jackson Correctional Institution where he had worked for more than 25 years up until his illness. He also operated his own lawn care business.
"My dad, he was just a really hard worker," Davis said. "He worked up until he got sick. He worked two full-time jobs."
Davis, a single parent, and her children had the flu back in February, and her father came over to care for them, making them soup and cleaning the house.
"He would fix my car – he would just do anything for anybody," Davis said.
And he really loved to give out hugs, she said.
"Both of them were just loving, caring people," Davis said.
They are survived by their three children – two daughters and a son – and five grandchildren. Survivors also include Lauri's parents, her brother and sister, and several nieces and nephews.
Alabama first saw cases of COVID-19 in March and now has 89,927 confirmed cases, according to the Alabama Department of Public Health's COVID-19 Data and Surveillance Dashboard – an online tracker updated daily. The state has seen 21,469 new confirmed cases of COVID-19 in the last 14 days. To date, there have been 10,521 people hospitalized due to the virus.
Wiregrass counties have 5,222 confirmed cases. Houston County has the highest number of cases with 1,319.
There have been 72 deaths in the Wiregrass and 1,580 deaths statewide linked to the illness.
"I guess it doesn't seem real until it affects you," Davis said. "I just wish that a lot more people would take it seriously."
Concerned about COVID-19?
Sign up now to get the most recent coronavirus headlines and other important local and national news sent to your email inbox daily.