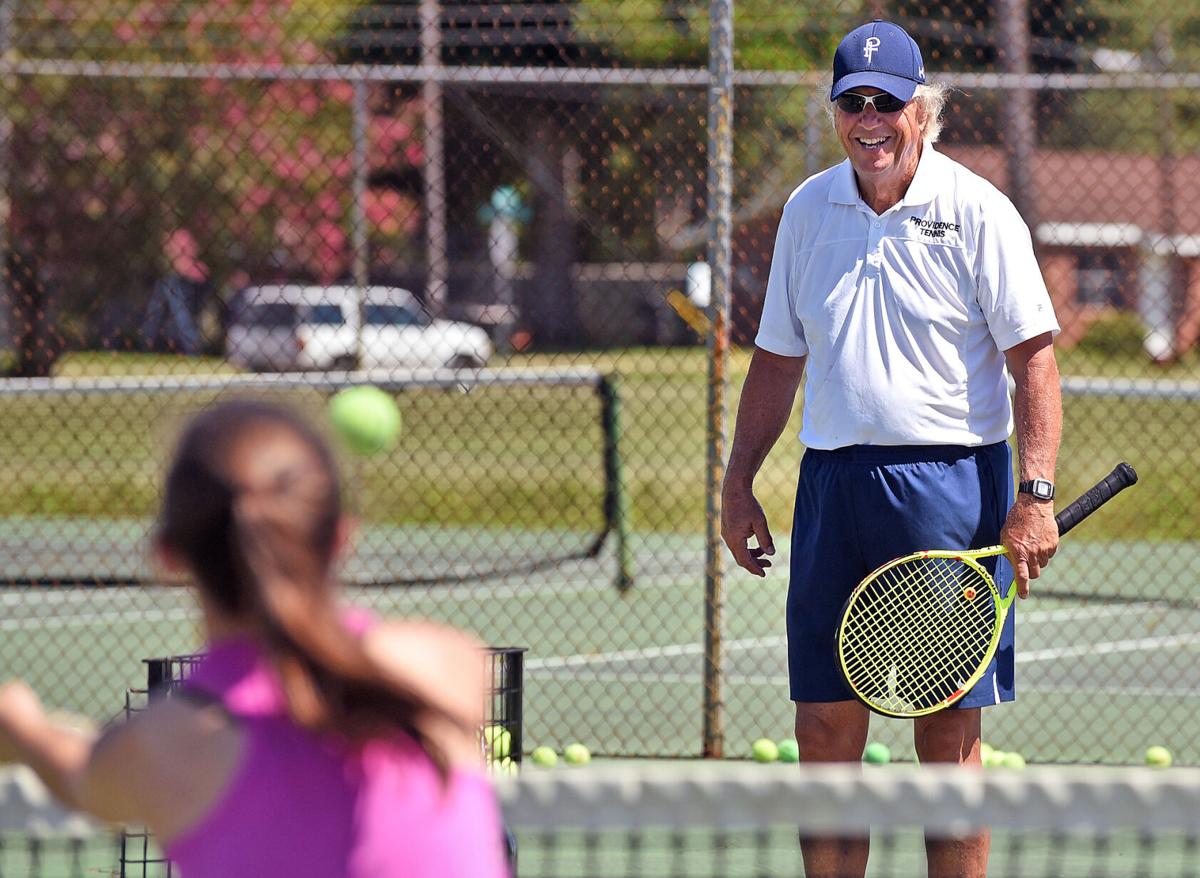 Clayton Jordan's quick smile would light up a room.
His calm demeanor was the perfect approach in teaching tennis lessons to countless children of all ages for more than 40 years.
Loved and well-respected by many in Dothan and surrounding communities, Jordan, 69, passed away on Wednesday morning at a local hospital after a three-week battle with COVID-19.
For the past 25 years, Jordan served in a variety of roles at Providence Christian School in Dothan. He spent time as a P.E. teacher, tennis instructor, junior high basketball coach, scorekeeper and even a bus driver.
Emory Latta, the head of school at Providence, calls Jordan a servant.
"He was the heartbeat of our school in the athletic department," Latta said. "He's the kind of person that knows everybody and everybody knows him. There probably never has been a man who has loved kids – and especially watching kids play sports – more than Clayton Jordan.
"I think the first time I ever saw him was at Azalea Tennis & Swim Club. He was teaching tennis lessons there and he walked down the sidewalk and about five or six children all yelled his name and waved at him, and he waved at them and he knew their names. That's just typical of him."
His quick wit often eased stressful situations.
"He had a joke for every situation," Latta said. "When everybody was tense and tight, he had just a little funny. He'd have that little grin and shrug his shoulders and walk off. That was him."
His two children, Crisina and Clay, created a Facebook page tagged Updates on Clayton Jordan during his time in the hospital. Hundreds of friends responded and offered their thoughts and prayers.
"It's mind-blowing to look at this page and see how many people are following it," Crisina said. "It's in the thousands. I think the last post that I put up yesterday it said this post had reached like 10,600 people. We knew he was a popular guy, but we didn't know to the extent."
Jordan's latest of five grandchildren, a baby boy named Cohen, was born last week to Crisina in the Washington D.C. area, where her family resides.
Since Crisina was not able to travel to Dothan due to the birth, she kept a check on things through the phone and was able to FaceTime with her father on Tuesday morning.
"Clay was up at the hospital with Mr. Charles Kite, my dad's friend, and they let them into the COVID unit to see my dad and they FaceTimed me," Crisina said. "The nurse was holding the phone, and I was talking to my dad and I saw him open his eyes. I had the baby and I immediately put the phone right up to the baby's face.
"I was like, 'Dad, look. Look at Cohen.' I knew if he opened his eyes it was going to be quick. I saw when his eyes opened up they were a little unfocused, but then I saw him zone in on the phone. So he saw Cohen and he just got this huge grin. It was so awesome."
Providence basketball coach Mark Wright has a hard time imagining sports at the school without Jordan being there.
"Just today, I've been thinking about the different ways he's impacted our student body and our coaching staff," Wright said. "A couple of words that jump out to me about him is that he's such a faithful guy, dependable – just somebody you can always count on to be looking to serve others.
"He always has the right words to say. I'm just thinking how much we're going to miss that and how much of a void is going to be there for our coaching staff and our students as well.
"He'll come find our kids after a tough game and he'll encourage them and put an arm around them. People have sent me pictures over the past few weeks of memorable times with him."
George McClintock, who has three sons who attended Providence, calls Jordan, "One of the finest men that I have known" and stressed how much he meant to the children of the school.
"The PCS family absolutely loved him," McClintock said. "He was a staple at almost any Providence athletic event. He would keep the scorebook at basketball games and stand on the sidelines at football games. All three of my boys loved Clayton and so did their classmates and teammates."
Jordan became a fixture on the Dothan tennis scene after moving here in 1979. He came to Dothan after being hired as minister of youth recreation for First Baptist Church and has worked at several different churches in the city over the years.
He also played a variety of musical instruments and offered lessons to those interested, but it's tennis that was his keen interest after taking up the sport in his early 20s in his hometown of Valparaiso, Fla.
An avid sports fan, Jordan could often be seen as a spectator at games throughout the Wiregrass.
"I would see him at the Troy games, and he followed the Wiregrass Cardinals all the time," said Sammy Frichter, the coach of the Cardinals AAU baseball team. "Whenever we were playing here in Dothan, or in Troy or Enterprise, he would come to the ball games. He was a great friend and great person."
Jordan played college basketball at the University of West Florida. He spent two years in New Orleans attending a seminary school to earn a master's degree in religious education. He was then hired as a minister of recreation for a church in Brookhaven, Miss., and from there he took a job in Gainesville, Ga., before coming to Dothan.
Crisina said there would be a celebration of Jordan's life in Dothan at a yet to be determined time before he is buried in Niceville, Fla. Funeral arrangements are pending.
Get local news delivered to your inbox!
Subscribe to our Daily Headlines newsletter.