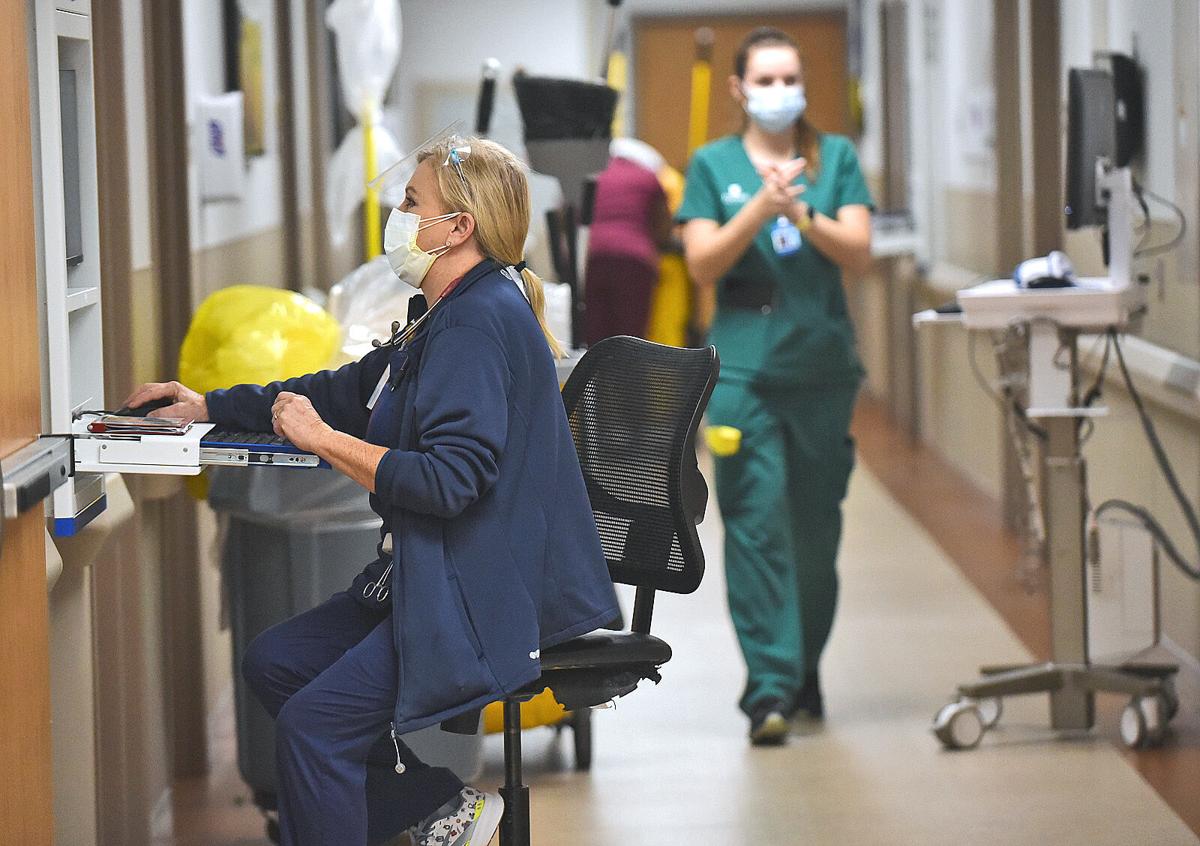 More Wiregrass counties have been downgraded from a high transmission risk for COVID-19 as the delta surge appears to keep easing.
As of Thursday, only Covington, Dale and Geneva counties locally were still labeled as having a high risk of overall level of community transmission. While Barbour County is considered to have a moderate transmission risk, all other Wiregrass counties are listed as having a substantial risk.
Alabama is now listed as having a substantial overall community transmission risk, although a good portion of counties are still considered to have high transmission risks.
Hospitalizations statewide have dropped down to 793 as of Thursday.
An overall level of community transmission is considered high risk – indicated by the color red on the state's COVID-19 dashboard – if over the past seven days a county has a percent positivity rate greater than 10% and a new case rate that is greater than 100 cases per 100,000 persons.
Percent positivity is the rate of positive results among the total number of COVID-19 tests conducted.
A substantial risk – indicated by orange – would be a percent positivity rate of 8-9.99% and between 50 and 99.99 new cases per 100,000 persons over the past seven days. Moderate risk – indicated by yellow – would be a percent positivity rate of 5-7.99% and between 10 and 49.99 new cases. Low risk would be 0-4.99% positivity and between 0 and 9.99 new cases.
If the two indicators suggest different transmission levels, the higher of the two is assigned to the county.
For example, Dale County has a moderate level of new cases with 38.6 new cases per 100,000 persons. But, the county has a high percent positivity rate at 11.8%, so it is considered to have a high risk of community transmission.
Alabama's vaccination rate also continues to improve with 2.04 million people now fully vaccinated and 2.48 million people who have received one or more doses.
Houston County has 38.18% vaccination rate with 40,426 eligible residents who are fully vaccinated against the virus. Henry County has 39.27% of eligible people fully vaccinated while Barbour County has a 38.69% vaccination rate.
Coffee County has 33.43% of eligible people fully vaccinated; Covington County has 34.43%; Dale County has 31.88%; Geneva County has 32.55%; and Pike County has 34.66% fully vaccinated.
The percentage of those who have received at least one dose of vaccine is higher in each Wiregrass county with those rates ranging from 37.80% in Dale County up to 45.53% in Houston County and 48.61% in Barbour County.
Local school districts have also experienced improvement in cases.
The Coffee County School System saw only two cases among its schools the week of Oct. 5-12.
While Kinston School had two cases, Zion Chapel School, New Brockton Elementary and New Brockton High all had zero cases of COVID-19.
"We are making a pivotal turn for the good and will revisit the required masks after next Tuesday, October 19, 2021," Superintendent Kelly Cobb wrote in an Oct. 13 release. "The district will continue to work with school administrators, school nurses, local health officials, and agencies to ensure our schools provide a safe and respectful learning environment."
Statewide, school systems reported 1,167 cases in the weekly update released Thursday. The Alabama Department of Public Health, which releases the updates with the Alabama State Department of Education, noted on the K-12 COVID-19 dashboard that some school systems were on fall break and may not have reported numbers while students were out.
Enterprise City Schools, for example, was on fall break and did not report cases for the latest update.
Like Coffee County, most local districts reported five or less cases. Ozark City Schools reported nine cases and Dothan City Schools reported 13. Elba City Schools reported zero cases as did Dale County, Daleville and Eufaula.
Peggy Ussery is a Dothan Eagle staff writer and can be reached at aussery@dothaneagle.com or 334-712-7963. Support her work and that of other Eagle journalists by purchasing a digital subscription today at dothaneagle.com.