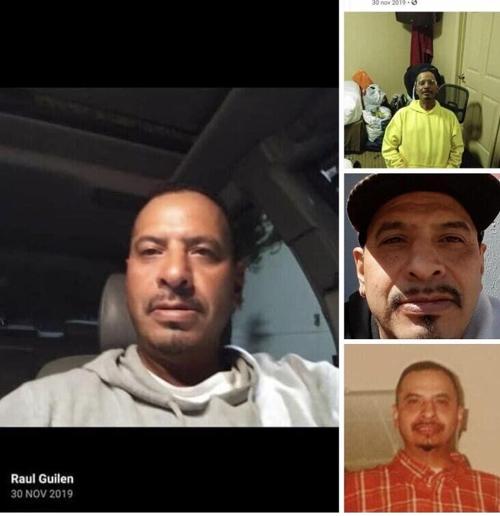 Three area law enforcement agencies and family members are asking the public to help in their investigation of a missing Gordon man who was last seen in Dothan on July 4.
The Jackson County (Fla.) Sheriff's Office, Houston County Sheriff's Office, and Dothan Police Department are reaching out to the communities they serve for information concerning Raul Ambriz Guillen.
Guillen is a 51-year-old Hispanic male is described as 5 feet, 9 inches tall weighing 190 pounds with brown eyes and brown hair.
Investigators say Guillen usually wears a close-cropped goatee, and has several tattoos — a female saint on right forearm and spider web on left forearm, "ROSA" on the right shoulder, and "smile now-cry later" across his chest.
Last reports show Guillen living in Gordon. Before moving to Gordon, he lived near Marianna and worked in the construction field, but relocated to Alabama due to a job offer. He was frequently visiting the Jackson County area before he was reported missing.
Gullien's daughter, Rosa Ambriz, is worried about her father's safety. She says her father has not had any contact with her or anyone since July 4. His telephone number has been disconnected.
Ambriz resides in Texas, and said before her father went missing, he would stay in touch regularly.
"We know my father was in danger," Ambriz said. "My father called my mother, his ex-wife, the day before he went missing and told my mother he was with people he believed to be dangerous, and he needed to get out of the situation.
"He asked my mother for money, but she had just moved, and her mind was focused on other things at the time. She just told my father he needed to get out of the situation he might be in for his safety."
Gullien is a humble and caring man, with a sense of humor, Ambriz said.
"My father is a grateful man," Ambriz said. "He is grateful for everything he has ever had. He taught me to be that way. He is humble. Please, if you know where my father is, contact police. We just want to know he is OK.
"If my father is reading this, please call me. Call your sisters. Let us know you are OK. We are worried and we love you. I love you. Please let me know you're OK."
Houston County Sheriff Donald Valenza said his office is working with the Jackson County investigators in efforts of locating Guillen. Dothan police are participating in the search since he was last seen in Dothan.
"Even though Mr. Guillen was reported missing from Jackson County, Florida, he was last seen in Dothan, and we are hoping anyone with any information regarding his whereabouts will call the Dothan Police Department or their local law enforcement agency," Dothan police Lt. Scott Owens said.