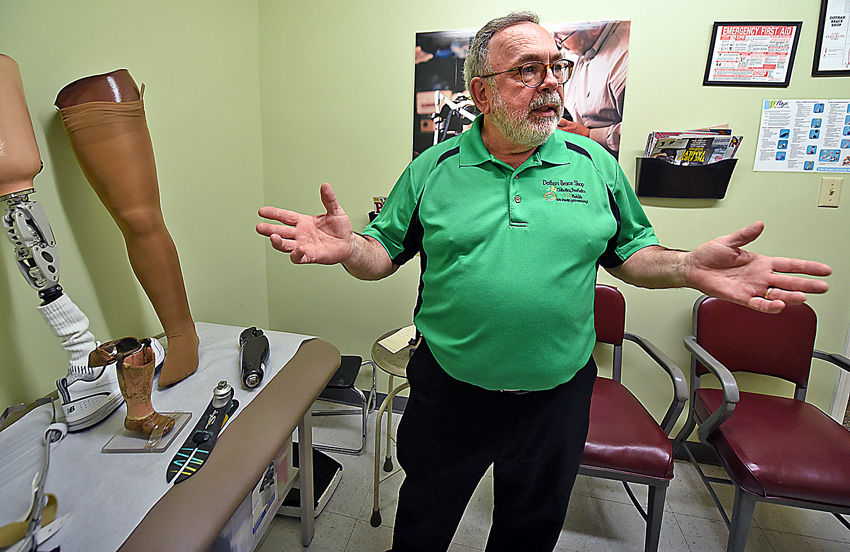 What started as a brace shop evolved over a half century to include a wide range of orthotic, prosthetic, and mobility equipment.
But Willis Smitherman hasn't forgotten the purpose behind the business: serving the customer.
"We're an independent provider," the owner of Dothan Brace Shop said. "We have the power to choose and select what a patient really needs."
Willis learned the business from the ground up. His father owned Smitherman's Inc. of Birmingham and contracted with the Dothan shop in 1972 to provide prosthetic devices and mobility equipment.
According to the company's website, Dothan Brace Shop was the vision of Jim Bottoms and his son Bobby Bottoms, who were active in the medical community and saw the need for a brace shop. They recruited an orthotist, Tommy Hamil, and the three formed a corporation that opened the business in August 1967.
Moody Smitherman, along with his sons M.L. and Willis, began scheduled clinic visits to Dothan in the 1970s.
Smitherman's Inc. was one of the Southeast's leading providers of prosthetic and mobility equipment. Willis went to New York University for prosthetics and orthotics training and started practicing in the family business in Birmingham.
"My dad started coming down, doing prosthetics here, and then I was in school and would come down here at times with them," Willis said.
During that time federal laws and rules were being adopted to improve the living conditions of people with disabilities. Willis said there was a need for more wheelchairs and higher-tech mobility equipment for vehicles.
Willis got training in seating and positioning and power chairs. Smitherman's Inc. also did driving equipment and equipped vehicles for wheelchairs.
"All of that was some of my background," he said. "With that I brought high-tech driving equipment to Alabama and introduced vacuum systems and electronic systems to assist people. I even have people driving around with a joystick in the car. They don't have a steering wheel."
In 1992, Willis acquired the Bottoms' share of the business and began a partnership with Hamil that spring. Willis moved to Dothan in October 1992. Shortly thereafter, Tommy Hamil passed away, leaving his company stock to his wife who had worked at the facility since it opened.
Willis became the company's president and put the business on the path to rapid growth. The company moved into a new facility at 1240 E. Main St. in September 1995.
The shop has relationships with both Dothan hospitals, other surrounding hospitals, physicians, Children's Rehab Services, State of Alabama Vocational Rehabilitation Services, the U.S. Department of Veterans Affairs, Tricare, managed care groups, and other health care providers.
The shop is a licensed facility certified for prosthetics, orthotics, and durable medical equipment. It works with patients from a prescription order.
"We can assess a patient, we can advise, make recommendations, and often work with physicians and health care providers to come up with a plan of care for a patient," Willis said.
Every three years the shop is reaccredited, and has been since 1980.
"We were meeting accreditation long before it was mandatory, which means you subject yourself to a higher set of standards which is recordkeeping, patient management, just how you run your business in a medical fashion," he said.
The facility isn't involved on the medical equipment side such as hospital beds, oxygen, and things like that.
"We basically stick to the products that are basically referred to as complex rehab, providing the higher technology equipment that requires credentialed people to do that," he said.
Willis said patient-oriented services are needed as more people come off the work rolls.
"Insurance doesn't provide all this stuff anymore," he said. "Mobility is very important for people. We're trying to provide an outlet for a reasonably priced product that people can purchase to extend their mobility."
The shop has three licensed professionals doing orthotics and prosthetics. The shop's mission is to keep people mobile and moving.
Patients range from children to people past retirement age. Over the years Willis has provided services for a lot of amputees, and still sees patients from Birmingham and Montgomery.
"It's a very personalized business," he said. "Once you start with somebody like that you learn that person, what their needs are. It's very much like a physician-patient care."
Because the shop isn't tied to certain manufacturers and suppliers, it has the freedom to find the best options among multiple brands for each patient.
The biggest technological changes have been in prosthetics.
"I've seen it come from the wooden stage to the lightweight carbon materials," he said. "It's gone from an exoskeletal which was an outer rigid wooden frame to an endoskeletal which is a tubular system that has much more adjustability."
Willis said the typical amputee isn't a farmer who lost a leg through a machine accident.
"It's vascular and diabetes, so the amputee today is much older than they used to be," he said. "The people that we treat have different needs because they're dealing more with disease, and how you treat these people has required new type of designs, gel-type inserts instead of hard sockets to manage these delicate tissue issues associated with diabetes and vascular disease."
Management of the patient is critical toward getting them mobile and performing their activities of daily living. "That's the goal that you want to meet and then hopefully get them beyond that," he said.
Because the shop has experience working with a range of patients, it provides feedback for device and equipment developers.
"My father was in the business. He was an amputee, lost his leg when he was 14," Willis said. "There's a lot of history in our family and a lot of respect in the industry. People have known us for years and years so we often end up with a lot of input from manufacturers and such."
A few years ago Willis brought in a competitor, Rick Scussell, as a business partner. The two have a lot of plans for the shop and want it to remain independent.
Willis said he has worked with big companies over the years that focused more on number than patient care.
"Patients are very important to us and we can give them better options and choices and meet their needs in an independent facility," Willis said. "The big deal of taking care of the patient is explaining to them what's going on in the body, why they need certain equipment."
That connection is what Willis likes about his business.
"I want to take care of the patients," Willis said.