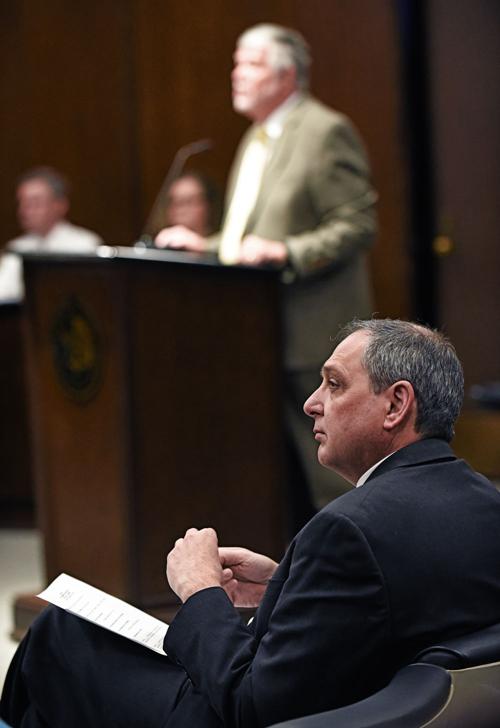 As the Dothan city manager's contract is set to expire in a few weeks, commissioners will likely offer him an extension.
The topic was brought up during the administrative portion of Tuesday's commission meeting, but was quickly green-lighted to be placed on next meeting's agenda without any public discussion.
After the meeting, Mayor Mark Saliba gave City Manager Kevin Cowper a glowing review as he nears his two-year anniversary in the city's top non-elected position.
"He's done an excellent job learning who we are as a city, getting to know the people and meeting with them," Saliba said. "He took the rest of the time to help organize the departments and get us in a good position of being a city that prides itself on excellent service.
"I appreciate his efforts in identifying capital project and service needs… I think moving forward, it's going to be extremely important to reinvest, and I think the city manager is doing a good job of looking ahead."
Cowper's initial contract with the city paid him $190,000 in base salary and another $700 per month in automobile benefits. The initial contract term was set for two years, set to expire on April 29, but includes include two one-year extension options.
Finance Director Lisa Reeder gave an annual report on Dothan's financial position, including the mid-biennium budget, and concluded the city is in tip-top financial shape with a sufficient amount of reserves, growing stream of sales tax revenues, and adequate amount of money set aside for future capital projects.
Cowper gave a follow-up presentation to show a more tangible picture of the city's present and future needs and focus areas, based on the city's strategic plan and long-range goals.
Top priorities for the city include meeting infrastructure needs as Dothan grows and develops, meeting quality of life needs with particular attention to recreation and leisure, maintain existing city facilities, redeveloping downtown, maintaining healthy neighborhoods and providing affordable housing, maintaining the financial health of the city, promoting economic and workforce development, providing for proper growth management with planning, and creating a city organization that provide all of the services to citizens in a friendly manner.
"We are doing a fabulous job with our strategic planning," Cowper said to commissioners. "We are staying ahead of the needs of the community… This isn't just to talk about the future, this is 'let's plan for the future and budget for the future.
"And as we move forward, we'll continue to make those connections and cooperate with you… and that'll result in us, I believe, providing excellent city services to our residents with exceptional value for the taxes that we pay, the things that we get in return a match made possible by the investment in our city staff."
He reviewed major road projects, highlighting the upcoming Honeysuckle Road project, 84 West lane addition projects, and a future plan to widen Flowers Chapel Road to Windmere Drive.
He noted continued improvements to the city's sewer and water systems; updates to Water World, Doug Tew, Rip Hewes Stadium, and other recreational facilities; progress in revitalizing Dothan's downtown; plans for a new fire station to accommodate the shift in population growth patterns; continued government and community investment into declining neighborhoods; and hinted at exciting new industrial projects on the horizon, noting a need for another industrial park as businesses come to Dothan and grow.
In other business, Saliba proclaimed April "Child Abuse Prevention Month" alongside Child Advocacy Center representatives.
Cowper honored Chris Chitty, who works in the aquatics division of the Leisure Services Department, with the "Employees of the Month" award.
Entered into a professional services contract with Poly, Inc. for for the rehabilitation of Westgate Tank (Tank No. 7) for an amount not to exceed $38,000.
Approved change order #1 (final) with L and K Contracting Company, Inc. for the 2020 Redwater Watermain Replacement Project A to add $4,111.50 to the original contract amount, resulting in a final contract price of $772,177.
Ordained and established that all ordinances, resolutions, franchises, and pole attachment agreements relating to the permitting of small cell wireless facilities and poles in the rights-of-way of the City of Dothan are hereby modified to be in compliance with applicable federal laws, orders, or regulations within 90 days from a final non-appealable federal order, rule or regulation relating to small wireless facilities.
Entered into an agreement with Fireblast Global for annual maintenance at a cost of $15,566.46 to furnish all maintenance, calibration, and safety checks of the Fireblast simulator, and appropriated funds for said agreement.
Accepted a deed with conditions from CDP Mendheim Enterprises, Inc. for two donated parcels of real estate located adjacent to Wiregrass Park.
Entered into a contract with the Wiregrass High School Umpires Association for two certified referees to officiate during the Dothan Diamond Softball Classic at a cost of $60 per game.
Entered into a contract with the Southeast Alabama Softball Umpires Association for two certified referees to officiate during the Dothan Diamond Softball Classic at a cost of $60 per game.
Accepted the proposal and service agreement of McGriff, Seibels and Williams, Inc. for Specific Stop Loss Reinsurance for the City of Dothan's Health and Accident Insurance Plan from May 1, 2021 through Sept. 30, 2021, as quoted by Lloyd's of London.
Appointed Shaun Cunningham as a member of the planning commission and Derek Preston as a supernumerary member of the planning commission.
Awarded bids and approved other purchases over $15,000 by the city.
Announced the appointment of Donna Clemmons as a member of the Dothan Housing Authority Board.
Sable Riley is a Dothan Eagle staff writer and can be reached at sriley@dothaneagle.com or 334.712.7915. Support her work and that of other Eagle journalists by purchasing a digital subscription today at dothaneagle.com.