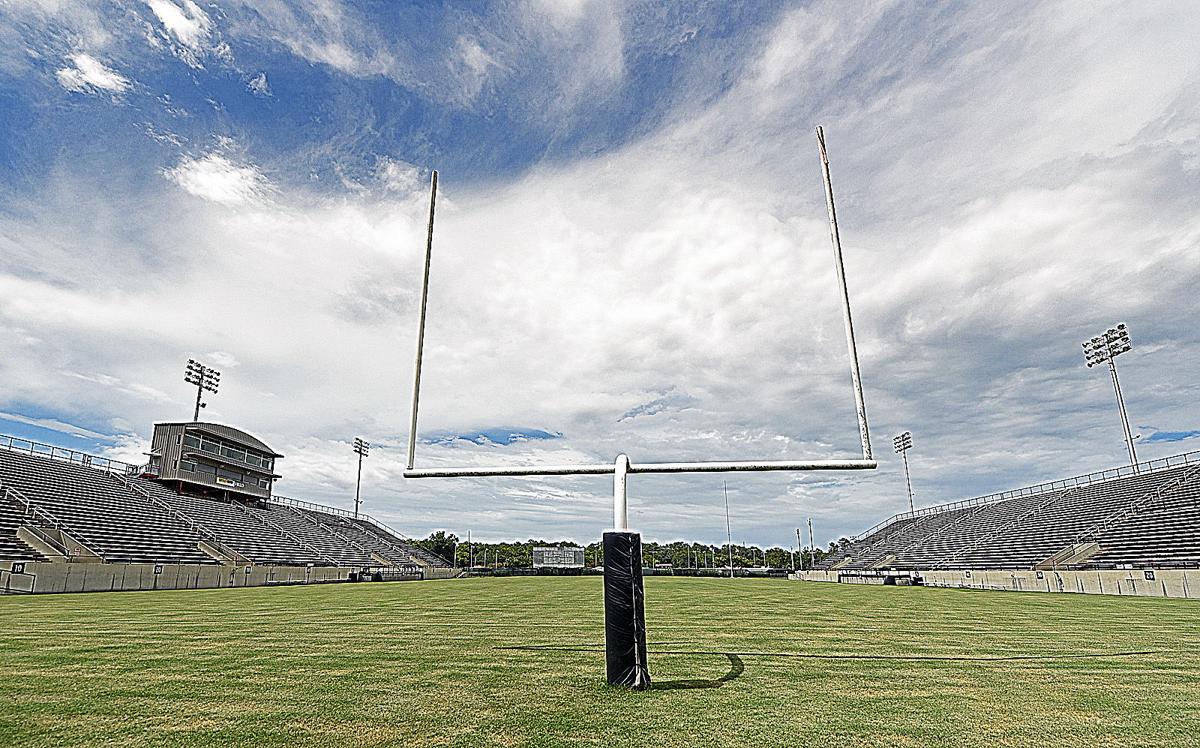 Amid a season of optimism surrounding the COVID-19 vaccine and new changes brought on by the school board, Dothan's governing body will be deliberating funding priorities for 2021 capital projects this week.
At the frontline of discussions will be future road projects and recreational facilities improvements.
Rip Hewes Stadium enhancements, estimated to cost $6-8 million, will be a hot topic after a fall work session in which city commissioners and Mayor Mark Saliba agreed to prioritize the project.
A $542,400 contract with a local architect firm to provide design and construction administration services to complete renovations and additions to the football stadium will likely be approved at Tuesday's commission meeting.
Expanding and updating locker rooms, repaving the parking lot, gutting concession stands, remodeling bathrooms, and laying new turf for the field topped the list of needs for the city's 57-year-old football stadium during the most recent discussions.
Friday's strategic planning meeting will give commissioners a chance to nail down how much they're willing to spend on the project, exact improvements to be accomplished, and timelines for each phase of the project.
"For me, and I think for the commission as well, this is our opportunity to look at the 10,000-foot view from above," Saliba said. "We have to consider fiscal stewardship, watching over the monies, looking at what we've made decisions on in the past, what's going to be part of that strategic plan. This kind of gives us a big picture of where we are and where we're going."
More immediate ventures also include the Honeysuckle Road Expansion and Extension project that will widen the existing Honeysuckle Road and extend it to a planned roundabout at Campbellton and Taylor Roads.
The estimated $30 million project is currently unbudgeted and commissioners will need to decide how to pay for it – whether to pay for it outright with reserved local funds or float a bond.
The Wiregrass Pet Adoption and Rescue Center, sewer and storm drainage issues, and other future road projects will also be discussed, as well as future improvements to Water World.
Large capital improvements to Water World will likely not happen before this season because the city is still unsure whether it will open this year due to the tumultuous nature of the COVID-19 pandemic.
Dothan Leisure Services is currently hiring for seasonal workers for the water park in anticipation of opening, but a date has not been set.
Millions of dollars were poured into upgrades to the facility last year on new slides, new carpeting, restroom renovations, and a new kiddie pool – features that much of the public have yet to experience because of the brevity of the 2020 season.
Second phase improvements, which include a lazy river, six-lane "mat racer," and a family raft slide feature, will likely be discussed as part of a long-range plan.
The meeting is also a chance for department heads, city commissioners, and the mayor to introduce other potential needs and their urgency.
Financially, the City of Dothan is in good shape, Saliba said, with the primary debt dealing with the Environmental Protection Agency's consent decree regarding the city's sewer system.
"We're in good shape to pay that off with no problem over the next 15 years," Saliba said, adding that the debt is nowhere near the constitutional limit for municipalities. "The city has a lot of reserves and we continue to fund a lot of our projects with reserve funding. We're not going to stick our necks out so far."
Saliba said he is looking forward to sitting down with other city leaders to determine the future of Dothan.
The strategic planning meeting will be held at Eastgate Lodge from 8 a.m. to 5 p.m. on Friday and on the second floor of the Dothan Civic Center beginning at 8 a.m. on Saturday for as long as needed. The public is invited to attend, but will not be allowed to participate in discussions during the meetings.