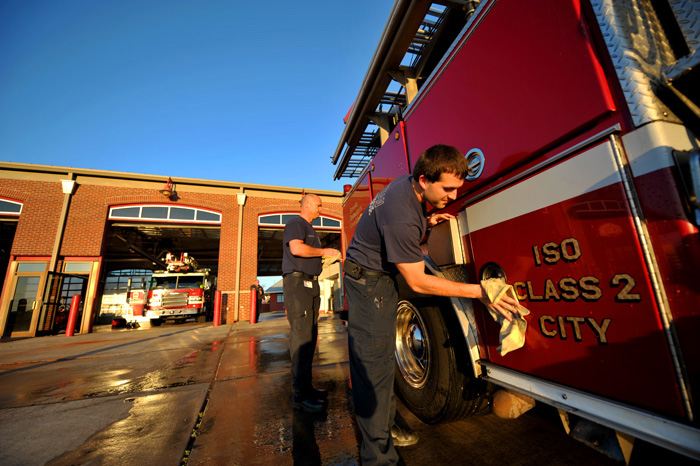 The City of Dothan is expected to take the first step Tuesday toward fixing a mold problem at its Central Fire Station that has led to the displacement of some of its firefighters.
The Dothan City Commission is expected to accept a bid of $18,000 from Gosselin Design to draw plans for a renovation of the Central Fire Station on Columbia Highway.
The station has been primarily vacated for more than three weeks due to a severe mold issue.
According to a preliminary analysis, the cause of the mold was high humidity in the station due to a heavy infiltration of air from the outside. The infiltration was so heavy that the station's HVAC system could not regulate humidity levels inside the station.
Additionally, Peach Engineering of Headland is assessing the HVAC system to determine if improvements are necessary to regulate the humidity. Peach Engineering's proposal for engineering services is $7,600.
General Services Director Randy Morris said most of the mold has been detected in the station's locker room and storage room. However, Morris said some mold was detected in places throughout the station.
Morris said he doesn't know what may have caused the infiltration.
"A good bit is probably due to age, and possibly different construction practices then compared to now," Morris said.
The station was constructed in 1999.
A detailed cost estimate for total remediation and renovation has not been completed, but Dothan Fire Department and General Services officials believe the entire project will probably cost between $290,000 and $410,000.
Morris said renovation could include the replacement of tile and sheet rock as well as an industrial strength cleaning of affected areas.
"It will have to be done by a company that has that specialty," Morris said.
Firefighters stationed at the Central Fire Station have been distributed to other stations. According to a release from the Dothan Fire Department, the displacement is not expected to affect response times.
The city has dealt with mold issues at other fire stations in the past. Almost 10 years ago, the city was forced to remediate mold issues at four fire stations.