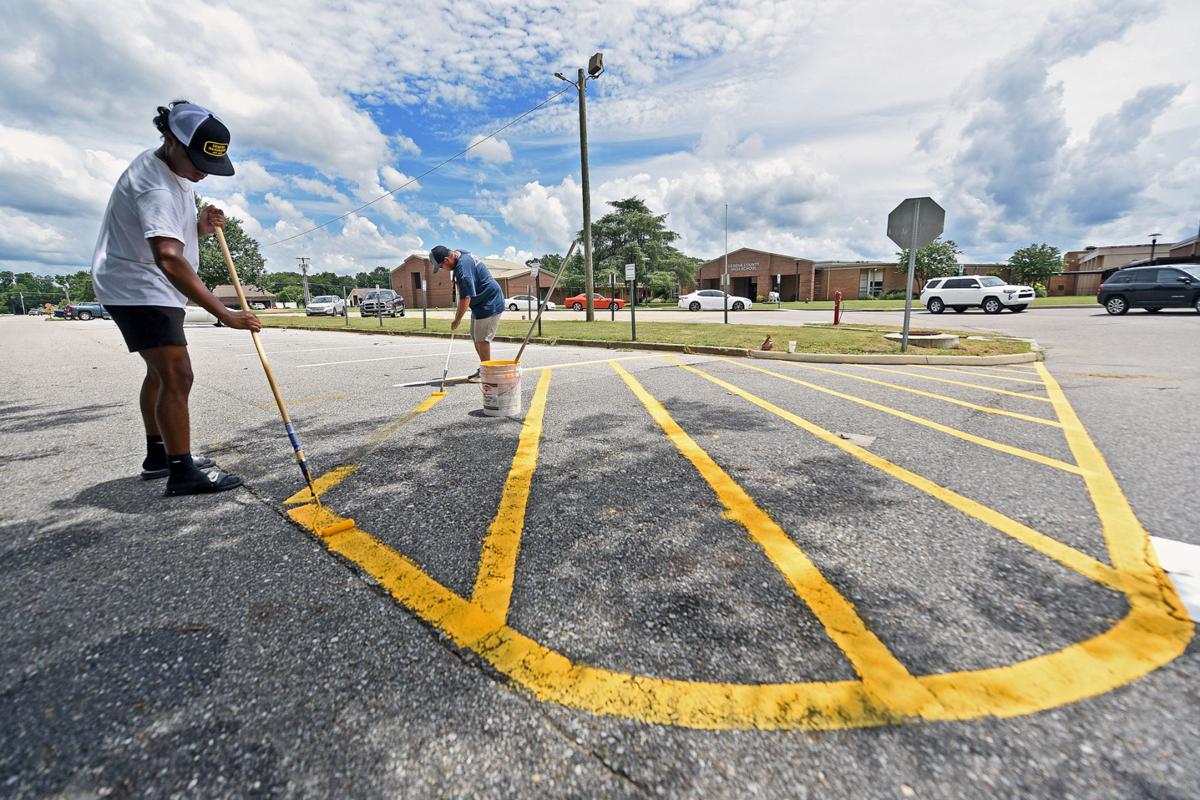 As Wiregrass schools prepare to reopen soon with both traditional and virtual class options, some parents living in rural communities find their children are on the wrong side of what can be described as a "digital divide" with high speed internet service either not available at their residence, unreliable or cost-prohibitive.
"Children who have access to high speed internet obviously have a leg up on children who don't have any access. One of the things we've tried to do is create remote access points," Alabama Superintendent Eric Mackey said Friday during a Facebook Live event with Sen. Doug Jones.
Parents and teachers alike are also nervous about children returning to school as uncertain reopening plans paint an unclear picture of what to expect of the school's ability to protect students and staff against the potentially fatal coronavirus that has been contracted by 76,314 state residents, including 1,413 who have died as of Saturday.
While Dothan City Schools weighs its options with public sentiment about whether to go entirely or partially digital as cases continue to rise significantly in the area, rural school systems find themselves leaning toward the bottom half of the digital divide serving student populations without reliable internet access.
As counties surrounding the Wiregrass' primarily urban area introduced their plans to reopen, an important element of the plans is noticeably missing: how will the schools offer instruction to students without the technology or internet access at home if they cannot attend school?
Houston County Schools Superintendent David Sewell admitted limitations to what they can provide for families struggling with internet reliability and technology in the more rural areas of the district.
"We're trying to do our best to safely reopen," he said. "For students not coming back, we want to make as much available to them as possible, but it's going to be difficult to make everything available to them."
Even with more state dollars to help provide distance learning, some of the obstacles to overcome like providing internet service to every home without it are not feasible, he said.
"Remote access points" that Mackey discussed in his message are being considered, but Sewell said school officials are nervous about allowing outside access to the school's network due to a malware attack that crippled the system's servers before the start of 2019 school year. The attack was a financial burden and delayed the system's start date.
"We're trying to get a good solution to this problem," he said, noting the technology department has considered installing Wi-Fi hotspots on buses and portable towers in broadband-deprived areas, but hasn't received much feedback.
Even if the technology department could put Wi-Fi on buses, there are limitations in rural areas without strong cellular service.
The school system is still fine-tuning its plan in preparation for an Aug. 20 start date, but the lack of protocols in place are leaving teachers worried about their own health, the safety of students, and being able to provide their students a high level of quality education.
"Starting to school, first of all, has ignited a lot of anxiety in me because there's no good way to social distance in a classroom with 25-plus children," Megan Nelson, a fourth-grade teacher at Wicksburg High School, said. "I also have a newborn, so my emotions are on overdrive. I'm also in a high-risk category because I have asthma."
She is also concerned that many students don't have internet capabilities at home.
Malaena Martin, a parent of two Geneva County School high-schoolers, said she felt her upper-class children will be at a disadvantage learning at home without a teacher to guide them through difficult classes.
"I feel like it's very important they're in front of a teacher with the teacher demonstrating and doing hands-on teaching and that they're able to collaborate with their peers," Martin said.
If students have to move to virtual learning because of a COVID-19 outbreak, especially at a specific school, or if they were quarantined due to exposure or a positive test result, it would be difficult to learn from home, Martin said.
"We do have internet access, but we're way back here in the country, so on good days, we have it," Martin, a Hartford resident, said. "It's connected to our satellite dish, so on bad days, we don't have it and we have to use our cellular hotspots, but we don't even have enough bandwidth to watch Netflix. We wouldn't be able to livestream a lesson or watch videos."
At Geneva County Schools, instructions in its reopening plan note that students will be expected to provide their own device and internet connection at home and would not be provided technical support.
Students will also not have a teacher assigned to help students with classwork. A comment from Geneva County Schools on a Facebook post said there will be a designated person at each school who will load lessons into an online platform and will be available to answer questions.
Most school districts have in their plan that all students would transition to virtual learning in the case of an outbreak at their school, but don't have a plan for how instruction would be facilitated for those who don't have the technology or reliable internet access.
Sewell said in a worst case scenario, the school system could provide paper packets, similar to the packets they sent out during the initial shutdown of all schools in March. However, the assignments and lessons would be more "robust" and would be graded this time.
Henry County Schools, which serves a largely rural area, has fairly strict guidelines on families choosing virtual school as an option, requiring that the student remain in virtual school for the remainder of the semester and have an adult "learning coach" at home, though they do provide a certified teacher as a facilitator.
Dale County Schools also requires students have access to technology and internet, but said in its reopening plan that it is possible to get access to technology through the student's counselor, but didn't provide any guarantees.
In contrast to many rural county school districts, Dothan City Schools, serving an urban area, indicated in its reopening plan it will provide a Chromebook with data service pre-installed on the computers, if needed, so every student has the option to attend school virtually.
While city school districts have an advantage with broadband access, rural school districts may be woefully unprepared to take on the task of transitioning to online — a consequence of Alabama's slow-growing progress to expand broadband access.
Wiregrass families are now weighing the in-school or virtual learning options as school and health officials make final decisions based on the coronavirus statistics, especially since the state has seen a recent rise in COVID-19 cases. However, for many families on the wrong side of the digital divide, the option is limited.
Concerned about COVID-19?
Sign up now to get the most recent coronavirus headlines and other important local and national news sent to your email inbox daily.