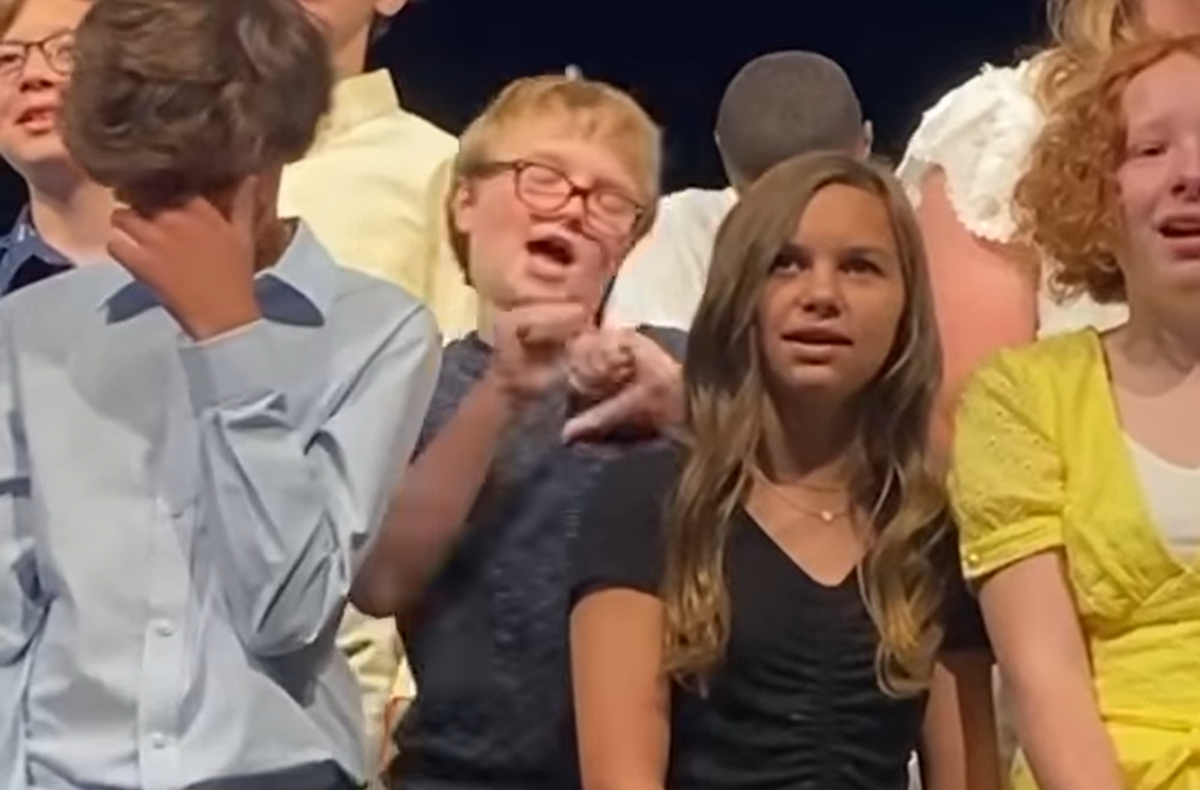 A 12-year-old at Highlands Elementary School has gone viral on social media for his impromptu dance moves at his graduation ceremony.
While the entire graduating 6th grade class was reciting the hit song "I'm Good," Trevor Bolling's expressive faces and theatrical dance moves captured the attention and hearts of those watching him.
His mom Gemma Bolling said the video simply showcases Trevor's theatrical personality.
Trevor takes drama classes, has been in several local productions, and loves to sing in the shower, Gemma said.
"He's just really silly, really goofy," Gemma said. "But, I didn't know he was going to do that… He just completely improvised that dance routine."
While sitting in the audience, Gemma admitted she was a little embarrassed when Trevor began making the performance his own as several people got out there phones to record. She quickly loosened up and began laughing with others in the crowd enjoying the show.
Tara Singley, the teacher that posted the video, said it captures the awkwardness of 6th grade.
"Some were embarrassed to be in front of people. One was shy while trying to sing and make their parents proud. Some were hiding behind a friend. One was doing exactly what their teacher told them to do," Singley said. "Then, there was Trevor... the one that we all look back on our middle school days and wish we had been courageous enough to be. We all wish we had his confidence and joy during one of the most awkward years of our lives."
One of his teachers, Erin Woodham, said Trevor always gives everything 100% and enjoys making others happy.
"That truly is him. He's such an independent and free spirit," Woodham said. "He was putting his heart into that performance."
She said during presentations, he often uses different accents and dialects to represent historical figures – "always performing."
At the end of the post attached to the video, Trevor's teacher added #belikeTrevor.
As a middle school teacher, Woodham explained that she often sees preteens acting "the same."
"He's one of those rare students that wants to be himself," Woodham said. "It didn't matter if everyone else thought it was cool or funny. He simply wanted to be himself and that's what we want for our students, to be themselves. They don't have to be what they see on TikTok or other social media platforms."
She hopes the video inspires others to be their true self and make the most of every moment.
"When you're imitating other people, you suppress who you are," she said. "God gave us so many gifts and God gave him that gift, making people happy."
Sable Riley is a Dothan Eagle staff writer and can be reached at sriley@dothaneagle.com or 334.712.7915. Support her work and that of other Eagle journalists by purchasing a digital subscription today at dothaneagle.com.