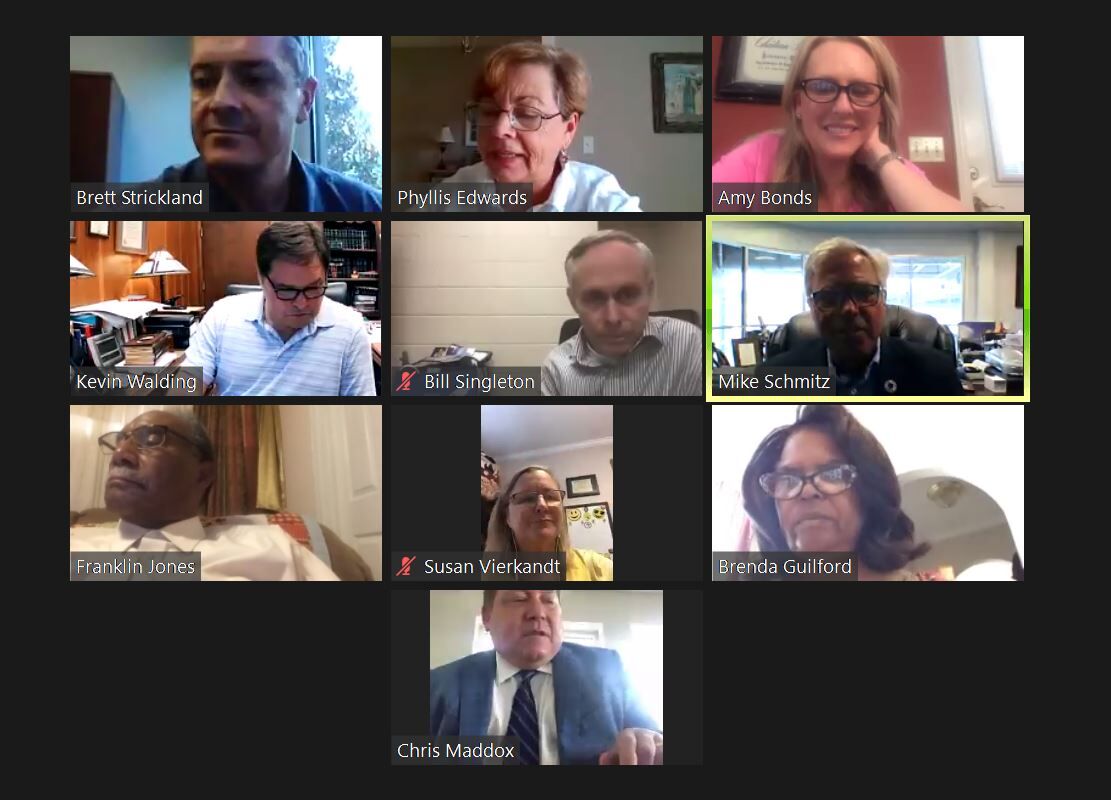 The Dothan Board of Education unanimously decided Thursday to delay school – virtual and traditional – until Sept. 8 as the area continues to combat high COVID infections rates.
Teachers and staff will return Aug. 31. 
The school board voted for Superintendent Phyllis Edwards' recommendation to allow more time for the rate of infections to decrease and the system to install and implement safety and cleaning equipment, in accordance with survey results.
Board Member Chris Maddox had to leave the meeting before voting took place.
In a survey posted on the system's Facebook page, Edwards offered four options for students return to school: open schools as planned on Aug. 17; delay school until after Labor Day; return to school virtually only for everyone on Aug. 17; or allow each student to attend physical campus two days a week and do virtual school the remaining days.
The survey had 4,779 respondents – 3,828 identified themselves as parents or guardians, and 951 identified themselves as staff members.
The majority – 1,689 – voted to delay school for a couple weeks while close to the same number – 1,679 – voted to start school virtually on the original start date.
Edwards told the board her recommendation stems from public input, backordered safety supplies that won't arrive until the end of August, Chromebooks pre-installed with WiFi that won't arrive until mid-September, and more time needed to hire and get the appropriate staff in place with new government funding as more parents have chosen virtual schooling than originally anticipated.
Previously, the school system expected around 1,000 students would sign up for virtual schooling but as of Wednesday, the number was 2,176 – roughly 25% of the student body. Most of the sign-ups are for elementary school students, while about 1,000 are secondary students.
The survey to sign up for virtual learning ends tomorrow. Parents who sign up for virtual learning will be locked into the choice until the end of the nine weeks, at which points they can decide to continue remote schooling or rejoin the traditional school environment. If they choose to remain in remote learning for the entire first half of the school year, Edwards says she is urging parents to keep their kids in virtual learning for the rest of the school year.
Edwards and Chief Operating Officer Dennis Coe outlined several things the school district is doing to prepare for kids return to school, placing an emphasis on health, wellness, and ensuring students have access to technology and internet.
Edwards said her wish it to hire five nurses to help with COVID-19 precautions and screening, and is considering temperature screening equipment using infrared technology for each of the schools.
Director of Curriculum Maria Johnson said during the meeting that she and principals will begin evaluating the needs of each school as the final numbers of virtual students come in.
Johnson said elementary school students will be enrolled in synchronous education, meaning they will have to face-to-face interaction and communication with their assigned teacher using livestreaming software. Johnson suggested there many also need to be a virtual facilitator at each school to help.
Central office staff is researching proper time frames for students at each age level.
At the secondary level, students will have a more flexible schedule using recently-acquired Edgenuity software.
Coe said the school system has ordered a lot of reusable masks, enough that each staff member has several and has ordered more for students as Gov. Kay Ivey extended the mask mandate to include students in the 2nd grade.
The system will have to revise its calendar, but the Alabama State Department of Education has reduced the requirement for the number of student days in a year – from 185 to 170.
Earlier on Thursday, Geneva County's school board pushed back its start date to Aug. 28. And Geneva City announced later in the day it will push its back to Aug. 24, pending board approval. 
Many northern Alabama school systems, like Huntsville and Birmingham, have decided to do virtual learning for the first nine weeks of school.