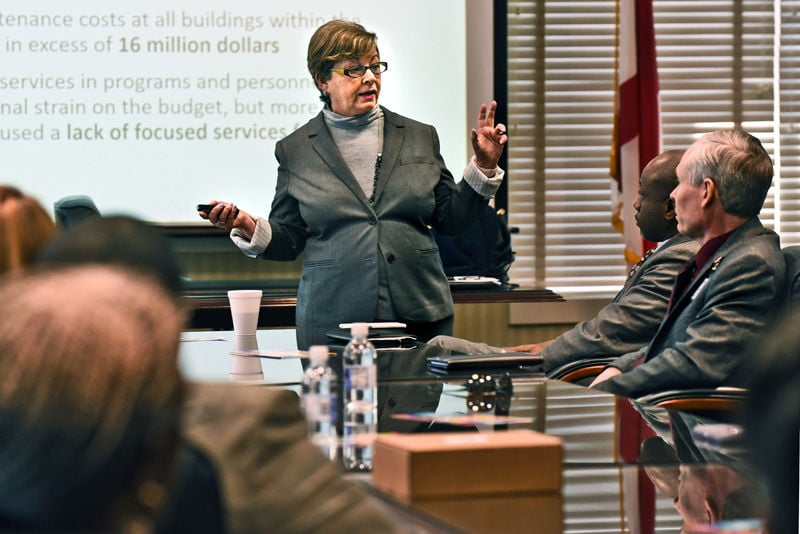 Dothan City Schools Superintendent Dr. Phyllis Edwards is planning to resign, according to media reports.
A special board meeting was called on Wednesday for Thursday night, where a "legal matter in written form" was discussed among board attorney Kevin Walding and all school board members in an executive session, according to a summary of the meeting. No action was taken during the private session or upon resuming to a regular meeting.
Edwards was not present at the meeting and has not immediately responded to attempts to verify the report.
After the meeting, WTVY reported, according to anonymous sources, that Edwards was planning to resign.
The Dothan Eagle has been unable to confirm reports of her resignation as school board members are not allowed to publicly speak about issues with legal contracts.
On Thursday, an unconfirmed report about the superintendent's status was inadvertently posted on the Eagle's website. It was removed within minutes.
Friday afternoon, the superintendent's administrative assistant called another special board meeting for Monday at 5:30 p.m. via Zoom.
Edwards is a little over two-and-a-half years into a five-year contract she signed with the board in January 2018. Her contract does provide the stipulation she can terminate the contract with 120 days' notice.
At a press conference he called on Friday morning, Dothan Mayor Mark Saliba addressed reports of Edwards' resignation and the revolving door of superintendents in the last five years or so.
"So, even though that is worrisome, I think it's something that we will overcome," Saliba said. "I appreciate everything Dr. Edwards has done for our community and it's a lot of very, very hard work. I think we're in a good place and we have a lot of good things ahead of us."
He said he thought consistent leadership is important, but pointed out that he and other devoted public servants are still here to guide the future of Dothan's education system.
"We'll be here to make sure that plans that have been put forth and in motion will continue to do so," he said. "We'll be here to continue to collaborate with other parts of the community to guide and decide what's best for all of our citizens when it comes to public education."
In 2019, Edwards succeeded in executing a massive overhaul of the school system's structure – closing three schools, repurposing a fourth, and consolidating the system's two high schools. Edwards was the third superintendent Dothan City Schools had to propose restructuring, but others before her were unsuccessful in getting the support of the school board and the community.
The system took out a $15 million bond to accomplish capital improvement projects to restructure the schools for their new purpose and make upgrades to schools, including bringing them up to Americans with Disabilities Act regulations. The board later took out another $11.9 million performance bond in 2019 for energy-savings upgrades, like HVAC replacements and LED lighting retrofitting.
Within her first two weeks on the job, Edwards told the Eagle that she acknowledged the fierce competition Dothan's city schools face from private schools in the area and that making the public school system more appealing requires offering a unique educational experience at each school in the system, a foreshadowing of her signature school recommendation later in the year.
Though the system lost 330 students the beginning of last school year, Edwards was confident families would rejoin the school system due to more diverse course offerings and beefed-up career technical opportunities. It's unclear if her prediction came true since the Alabama State Department of Education is still weeks away from posting this school year's enrollment numbers.
Edwards came to Dothan at the beginning of 2018, after choosing to leave Georgia's Decatur City School system in 2015 after about 12 years as superintendent. At the time of her resignation, her salary was $220,000 compared to the $175,000 she earned at Dothan City Schools.
Get local news delivered to your inbox!
Subscribe to our Daily Headlines newsletter.