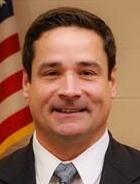 After 121 Enterprise City Schools students were sent home the first four days of class, the system is moving to a blended schedule where junior high and high school students will only attend school physically two days a week.
Superintendent Greg Faught said the change stems from Alabama Department of Health guidelines that forced schools to send 91 healthy students home since reopening last Thursday after they came into contact with 31 students exhibiting COVID-like symptoms. Three students tested positive for the virus.
On Wednesday, Coffee County Schools also reported two students from New Brockton High School were sent home after exhibiting COVID-like symptoms and 30 additional non-symptomatic students were sent home due to ADPH guidelines.
Enterprise students will be divided into two groups: blue and white. Students with last names starting with A through K will be assigned to attend campus on "blue days" on Monday and Wednesday and virtually every other day. Students with last names starting with L through Z will attend campus on "white days" on Tuesday and Thursday of each week and attend virtually every other day of the week.
"This is going to provide us more distance and cut our numbers drastically," Enterprise High School Principal Stan Sauls said. "We can social distance outside of that six-foot range; we can spread our classes out. That's going to be a huge thing for us."
All elementary school students will remain on their regular schedules.
The blended scheduled will take effect Friday, Aug. 21 during which time the school will be deep-cleaned. Teachers and faculty will be on campus every day.
Because this is a new option that was not available when parents had to pick between distance and classroom learning this summer, distance-learning students will have the ability to opt-in to the blended schedule. A deadline for the decision will be announced at a later date.
Bus transportation and daily meals will continue to be provided as normal, and connectivity issues will be addressed in-depth in an update later this week. Extracurricular activities like athletics, band, and cheerleading will continue to meet on-campus at designated times.
Faught stressed that contrary to rumors circulating online, there is no outbreak at the schools. A majority of students being sent home had another illness or were one of those in close proximity to someone displaying symptoms.
More information regarding the blended schedule will be released on the Enterprise City School's website at enterpriseschools.net.
This story was compiled using reports from Enterprise Ledger Reporter Savanah Weed.
Concerned about COVID-19?
Sign up now to get the most recent coronavirus headlines and other important local and national news sent to your email inbox daily.