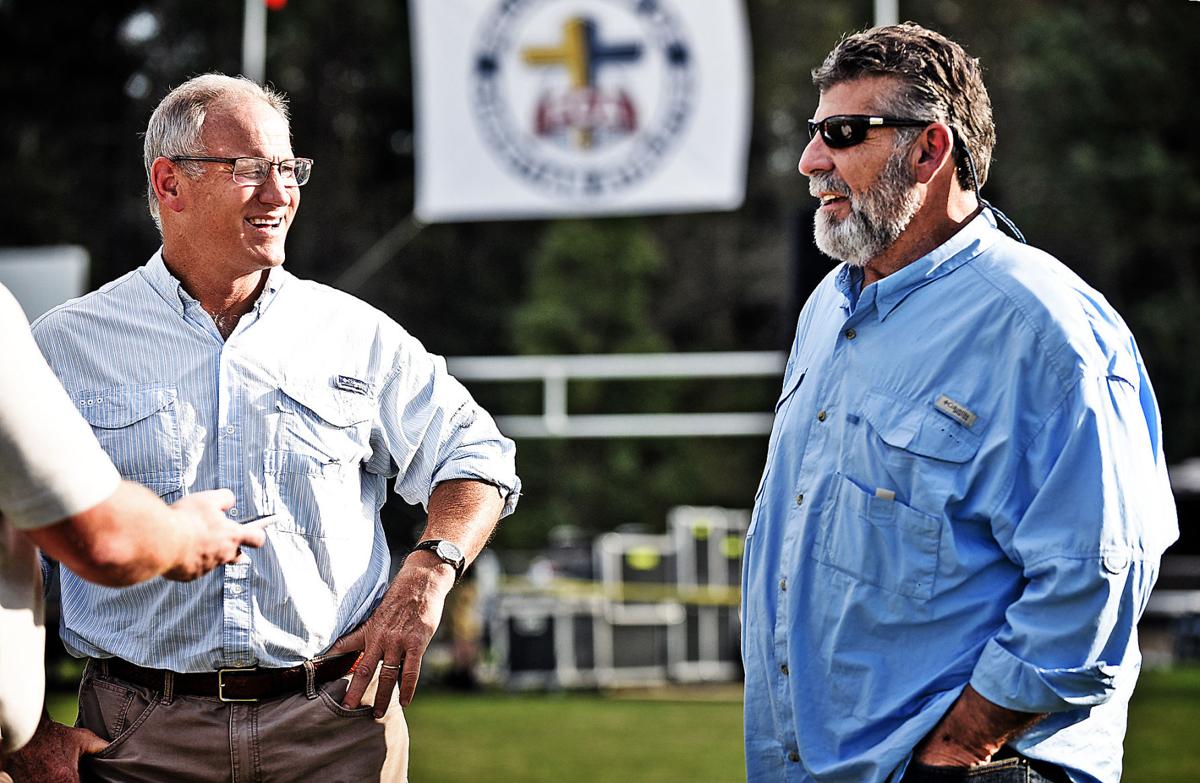 As members of the 1978 Alabama Crimson Tide national championship team, Rich Wingo and Bill Searcey established a tradition of making key plays on the football field.
Even though their college and professional football careers ended three decades ago, the former roommates have continued that custom. At times one can find them speaking at Fellowship of Christian Athletes events like the annual Fields of Faith that took place Wednesday at Dothan's Northcutt Field.
Wingo and Searcey both said the work they do with FCA carries a different weight than any other play they made on the gridiron.
"Nobody really cares that we played football anymore, but it gets us to events like this so we can talk about what's important, which is Jesus, which is their eternity," Searcey said. "We just enjoy being with these young people, and we know today they need all the leadership they can get. Hopefully something we say will help them to take the right path at some point."
Both men took similar paths through football, but life varied wildly afterward. Wiregrass FCA director Mike Phares said Wingo decided to follow Jesus Christ ahead of a game between his Green Bay Packers and New York Jets, while Searcey battled with addiction and was even homeless before turning his life around with Christ as a guide.
Searcey said while his and Wingo's stories differ, they lead to the same place – a message the former teammates love to share at speaking engagements.
"My story is one more of addiction, homelessness, those kinds of things after football. Rich has had his hurdles," Searcey said. "The most important thing is that Jesus brought us through both areas to bring us right here today."
Searcey believes those stories of deliverance occurred to serve a greater purpose.
"There's somebody here that I'll reach that he can't reach. There will be somebody out here that he'll reach that I can't reach," he said. "Luckily for us, football was a big part of our lives, so we're able to use that part of our life to reach others."
Wingo, a commercial developer and a member of the Alabama House of Representatives, said the football field serves as a perfect place for him and Searcey to share their message.
"Bill and I are comfortable out here. We're comfortable inside the lines. This gives us a feeling of where we belong," he said. "We're followers of Jesus Christ, and (it's) just a great opportunity to share our faith with other people that maybe don't know Christ as their Lord and Savior. That's our motivation."
Searcey agreed, noting sports in general serve as a conduit that allows youngsters to understand the message they share.
"I think you learn a lot of life lessons in sports as far as overcoming hardships, overcoming things you didn't see coming at you and how you handle wins and losses," he said.
Phares said about 2,500 people attended this year's Fields of Faith event, and 61 people made decisions regarding Christ and his teachings.