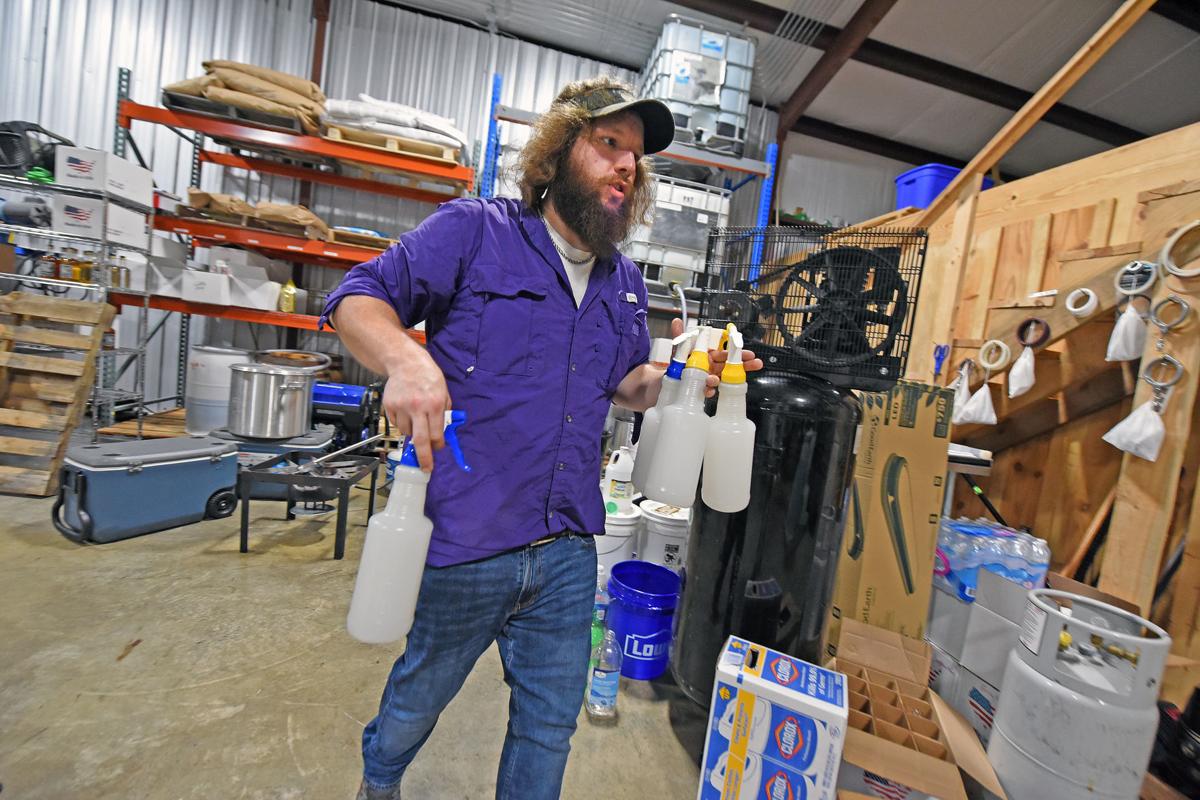 HEADLAND — A local distillery is brewing more than just whiskey these days. It's also mixing up hand sanitizer.
Since COVID-19 was declared a pandemic and cases began appearing in the region, finding hand sanitizer has been a challenge. With its supply of alcohol, however, Gibson Distillery in Headland decided to make hand sanitizer and give it away.
"We saw on the internet and through a couple of people reaching out to us that distilleries were making hand sanitizer, and we figured, 'Hey, this was something pretty cool we can do,'" said Drew Keel, whose family operates the distillery. "We decided to give it a whirl to see what happens, and the response was overwhelming, so we decided to continue on as long as we can with it."
Last week, the distillery handed out 125 gallons of hand sanitizer made with 190-proof grain alcohol (95% alcohol by volume).
Gibson Distillery, at 115 W. Church St., is open Wednesday through Saturday from 1-8 p.m.
Anybody who wants hand sanitizer can get 8 to 16 ounces with a donation that will go to help first responders in Henry County. You do have to bring your own bottle. Amounts above 16 ounces will be handled on a case-by-case basis, and there will be a charge, Keel said.
"We're just asking people to reach out to us ,and we'll talk on a deal-by-deal basis on how much each person needs," Keel said. "I've had several people reach out today from Columbia and all the way up to the far northern end of Henry County. People are wanting between a gallon and 20 gallons."
COVID-19 is the highly-infectious respiratory illness caused by the newest human coronavirus first identified in Wuhan, China, in late December 2019. It has since appeared in other countries around the globe. More than 33,000 cases in the U.S. have been reported to the Centers for Disease Control. Alabama's number of cases has surpassed 167.
The CDC recommends washing hands often with soap and water for at least 20 seconds, especially after you've been in a public place or after blowing your nose, coughing or sneezing. However, if you don't have soap and water, the CDC recommends hand sanitizer with at least 60% alcohol, covering all surfaces of your hands and rubbing them together until they feel dry.
While alcohol is no problem at Gibson, Keel has had trouble finding the additional ingredients added to the alcohol to make the hand sanitizer — hydrogen peroxide and mineral oil.
"I'm still waiting on some hydrogen peroxide, but I've got some that a buddy of mine drove around town the other day and collected up for me, then I just got some mineral oil from the Home Oil Company, so that will allow me to make some more of it," Keel said. "… People are starting to realize that hand sanitizer is something you can make. You don't have to go buy it from Purell or somebody, you can make it."
Concerned about COVID-19?
Sign up now to get the most recent coronavirus headlines and other important local and national news sent to your email inbox daily.