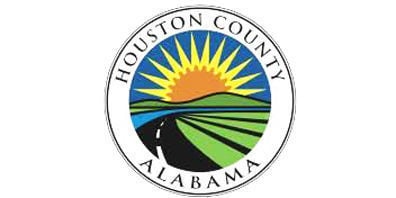 Houston County's employees will receive the remaining 1.5% of their cost-of-living increase under a budget approved Monday by county commissioners.
The Houston County Commission approved the 2021-2022 budget during its regular meeting following a presentation by Chief Administrative Officer Peter Covert. The budget – $49 million in projected revenues and nearly $59.9 million in expenditures – includes one-time money and expenses that are the result of both COVID-19 relief programs and Rebuild Alabama projects.
"As we've talked about in the past, this has been a very unusual year," Covert said. "This community has dealt with many things that were unplanned, many things that were unexpected. And some of that, the impact of those unexpected, unplanned items, are presented in the budget."
Revenue, such as property and sales taxes, are projected to increase over the current budget, and Covert said the budget forecast would put the county with a $9.5-million fund balance at the end of the fiscal year.
Salaries and benefits account for about 43% of the county's budgeted expenditures with department operations making up another 42%. The remaining expenses include money for capital projects, paying debt and allocations for agencies.
Some one-time expenses and revenue streams include $3 million for Rebuild Alabama road projects through Houston County Road and Bridge, another $2.5 million for critical repairs of county facilities and $650,000 to renovate the Five Star Credit Union building for the Sheriff's Office.
Commission Chairman Mark Culver said while the 2022 budget is higher than past budgets, he expects the county to return to normal operating expenses next year. The county was cautious in budgeting one-time money for things that needed long-term revenue, he said.
"There's not any doubt there are areas that we need additional staffing," Culver said. "But until we can figure out exactly where we're going to level out and how changes both that we are working on and other entities are working on affect our staffing, we didn't feel comfortable adding those expenses, knowing that budget you just looked at is going to be significantly less than it is now this time next year."
Culver said he was glad employees will get the remainder of their pay raise. And he hopes it will better position the county to attract potential employees to fill open positions.
The additional 1.5% pay increase will bring the total cost-of-living adjustment for employees this calendar year to 5.8%. The commission previously approved a 4.3% increase that went into effect in July.
"I think our employees deserve that in order to stay in step with the cost of living," Culver said
Commissioner Brandon Shoupe said he would not be surprised if the county has to consider another mid-year cost-of-living increase for employees.
"I just want to remind people that the people who work for the county, they're not indentured servants, and we don't pay them just to be gracious employers," Shoupe said. "In a free society, we compete for people in an open labor market, and we've got to pay people what they're worth or they'll go somewhere else."
In other business, commissioners:
- Appointed Malone Garrett to the Houston County Port Authority and Bob Woodall to the Industrial Development Authority of Houston, Henry, and Geneva Counties.
- Passed a policy change regarding work requests for Road and Bridge from the Houston County Board of Education. Under the policy, the school board may be asked to share in costs on larger projects with higher labor costs.
- Approved a lease for a mobile health unit to the Alabama Department of Public Health. The mobile unit, purchased by the county with grant money, should arrive by the end of September.
Peggy Ussery is a Dothan Eagle staff writer and can be reached at aussery@dothaneagle.com or 334-712-7963. Support her work and that of other Eagle journalists by purchasing a digital subscription today at dothaneagle.com.