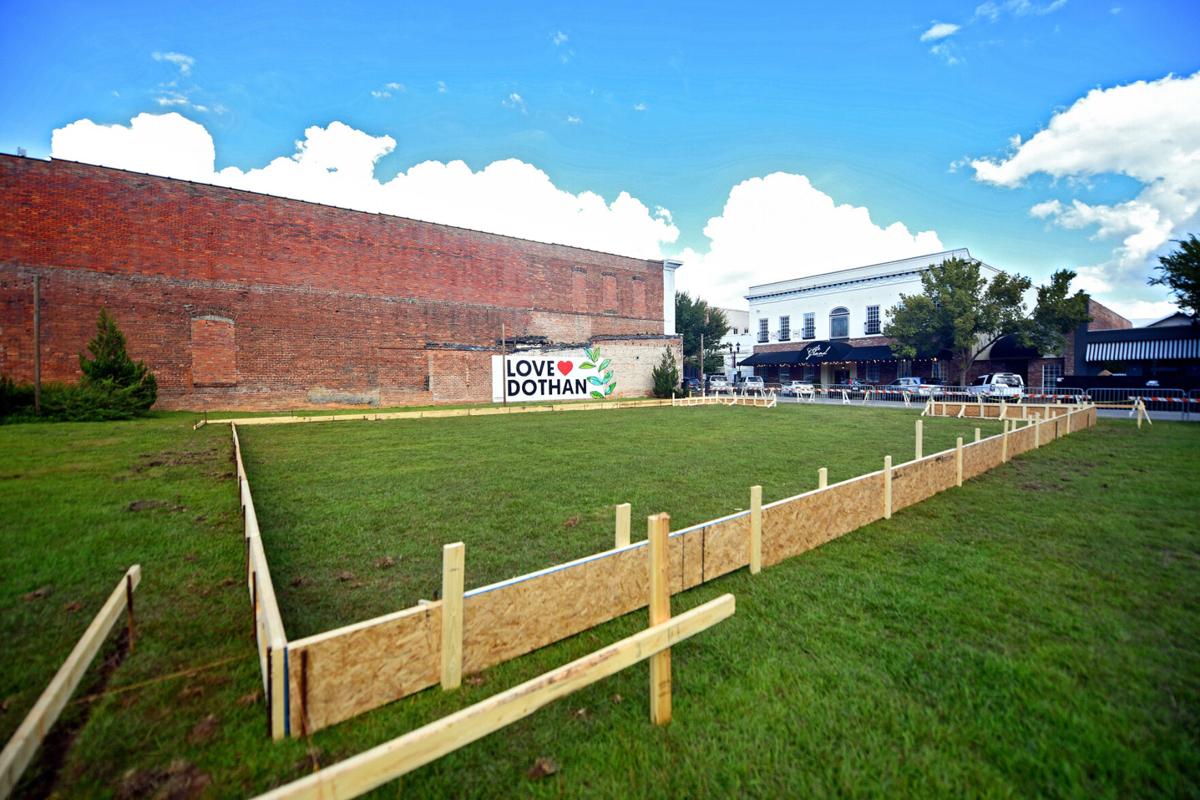 Pedestrians walking along Foster Street can now see the beginning of preparations for Ice & Lights, Dothan's first-ever ice skating rink.
This week, a committee with officials from Downtown Dothan, Dothan Leisure Services, and the City of Dothan finalized several details for the coming attraction and discussed event opportunities for downtown.
"We're really just excited to have something fun, and family-friendly and affordable downtown," Jamie Bienvenu, Dothan Downtown Redevelopment Authority executive director, said. "We're also excited to have an attraction that will help bring foot traffic to our downtown merchants.
"People can come for dinner, stay for skating, go shopping, get a hot chocolate after – it could become a whole full experience for the family."
Ticket prices will be $10 a person, which includes the cost of skate rentals that will be available on-site. The ice rink will open on Friday, Nov. 26 and stay open until Jan. 9. It will be closed on Mondays for maintenance and private parties, but will be open on Christmas and New Year's.
The ice rink will be open from 10 a.m. to 9 p.m. Tuesday through Thursday, 10 a.m. to 10 p.m. on Friday, 9 a.m. to 10 p.m. on Saturday, and 1 p.m. to 8 p.m. on Sunday.
Skate time will be available on a first-come, first-serve basis without time restrictions unless the wait time becomes excessive, Bienvenu said.
The committee is considering special movie nights on Tuesdays, and holding events on Friday nights with entertainment that will capture the atmosphere of Christmas season in downtown Dothan.
Bienvenu said she is working with vendors to have food trucks during scheduled events.
In Wadlington Park, next to KBC, a large area is blocked off with plywood and wooden stakes as Saliba Construction begins site preparations for the installation of the ice rink. Select parking was blocked off on Foster Street near the work area this week with city officials estimating it will be reopened by Nov. 15.
The rink will be 48-feet by 68-feet of ice surrounded by walls for support.
Bienvenu said the ice rink company will have a manager onsite and will look locally to hire seasonal employees to staff the venue.
Sable Riley is a Dothan Eagle staff writer and can be reached at sriley@dothaneagle.com or 334.712.7915. Support her work and that of other Eagle journalists by purchasing a digital subscription today at dothaneagle.com.