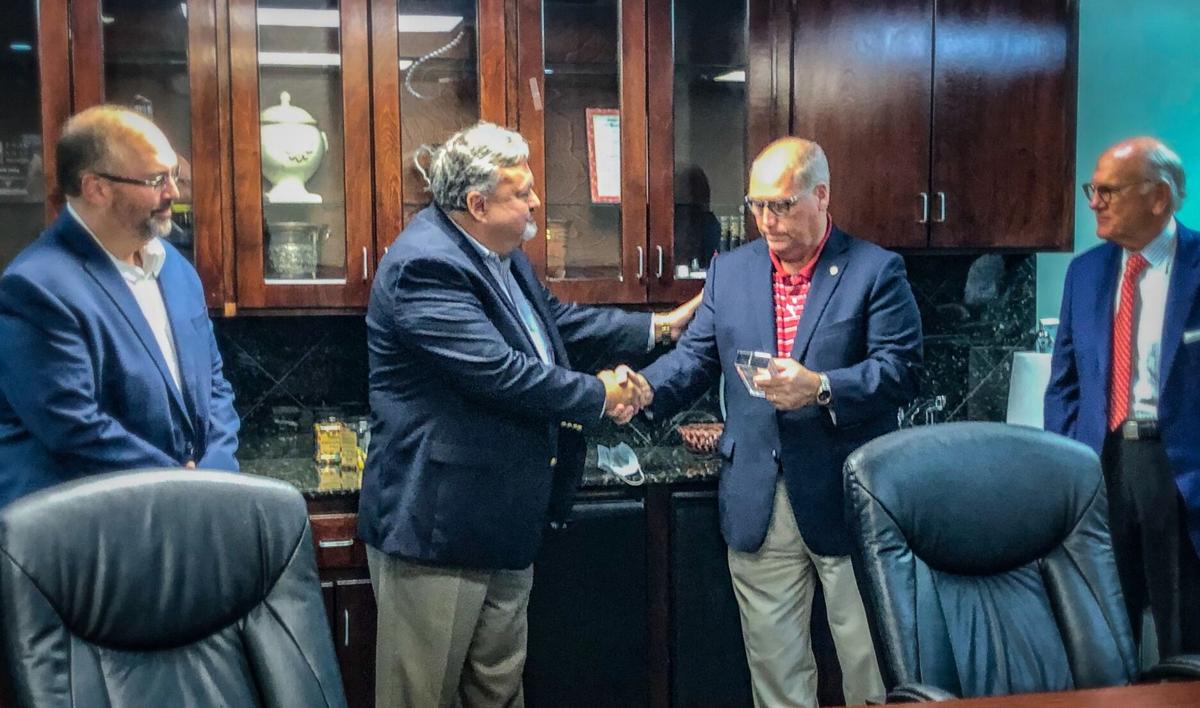 State Rep. Paul Lee doesn't want to see people with intellectual and development disabilities get swept to the side, which is why he advocates for them through his positions as Wiregrass Rehab Center's executive director and as a member of the Alabama House of Representatives.
His advocacy has earned him the "Representative of the Year" award from the Alabama ID (Intellectual Disabilites) 310 Association.
"Not only do you advocate for funding for programs for them, but you advocate for accountability for those folks to make sure they're actually impacting their daily lives, and that's just remarkable. So we give you this to say thanks for all that you do and to show our appreciation," Alabama ID 310 Association President Arvy Dupuy III said as he presented Lee the inaugural service award at WRC Monday morning.
Dupuy said Lee was chosen because of his efforts assisting the organization with a massive system change. Lee facilitated a meeting in Montgomery to help different parties work out significant issues regarding the association's impact on those it serves during the change.
"Rep. Lee has championed our effort to make sure that that change is one that will not impact people we serve negatively, but will do what we all want, which is enhance and improve their lives…," Dupuy said.
The Alabama ID 310 Association works with disabled people across Alabama, serving as a single-point of entry to families and individuals seeking services. The group serves babies from birth to three years old and individuals starting at age 21 after they exit the school system. Dupuy said there are thousands of people served by the organization and a long waiting list of people requesting services. The change has been difficult.
"These folks don't' have a lot of people to support them and back them up, so we'll do what we can when we have the opportunity," Lee said.
Lee said advocacy for disabled persons is important to him because it affects nearly everyone. He said everyone knows someone with a disability or knows someone with a family member that has a disability.
"Doing what I do here every day, it's brought it more to light, the importance of independence for not only the person with the disability, but for their caregivers and how we can make a difference and not leave them to the side and just kind of forgetting about them," Lee said. "We have to remember they have a soul, they have a mind, and they have a heart and we've got to take care of all three."
Dan Zapata, Vice President of the Alabama ID 310 Association and executive director of Dothan's Vaughn Blumberg Services, and consultant Ferrell Patrick joined Lee and Dupuy at the award ceremony.
The service award will be presented annually.
Get Election 2020 & Politics updates in your inbox!
Keep up on the latest in national and local politics as Election 2020 comes into focus.