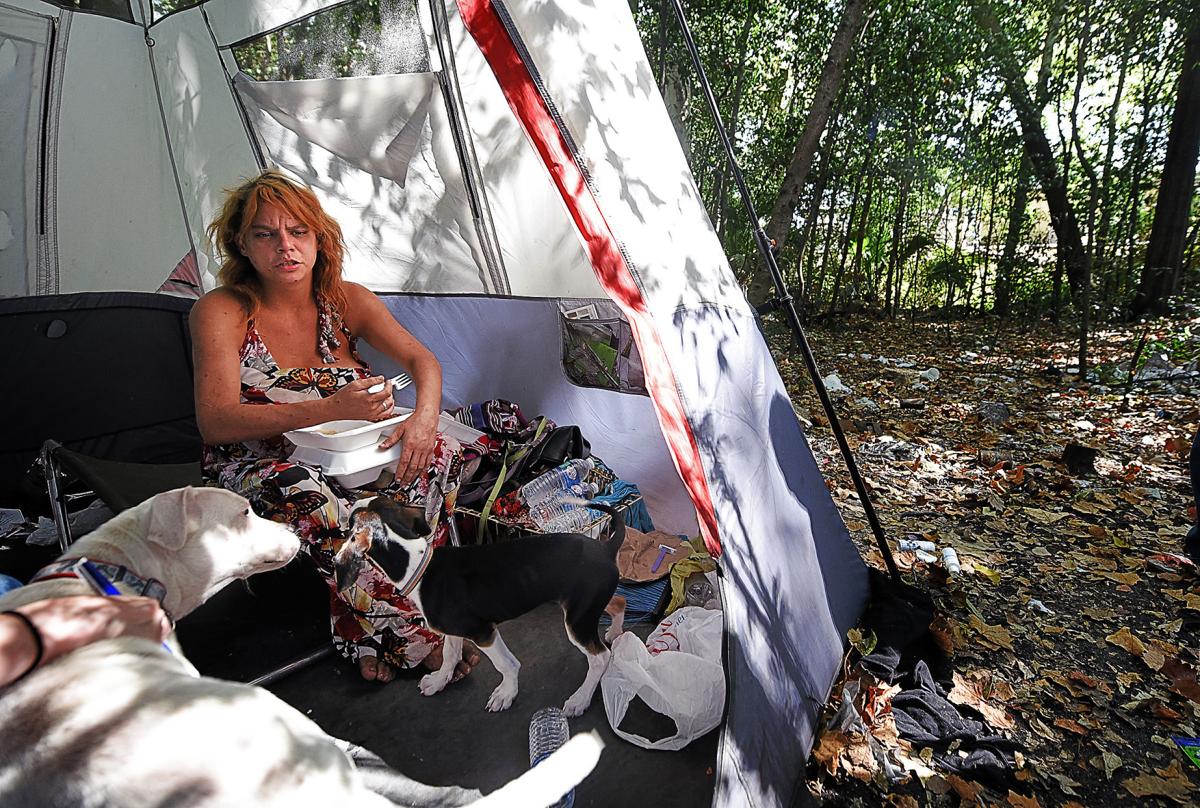 Kacee Smith's feet were covered in dirt from hiking over a steep trench in the woods off one of Dothan's main roads. She was headed to her home – a tent – just beyond the tree line.
Nearly eight months pregnant, Kacee, 27, has more to worry about than sore ankles. She has been homeless for almost a year.
Although she said she will have to find a home when she has her baby next month, she was unable to articulate her plans. Unable to form complete thoughts or stay focused, Kacee suffers from mental illness and history of drug abuse after growing up in group homes from the age of 13.
Many of Dothan's adrift end up in "tent cities" like Kacee's, concealed in the woods or in abandoned homes.
Like Kacee, many in Dothan's rising homeless population suffer from mental ailments and drug addiction.
Linda Warren, 41, said she was living fairly well over three years ago in Dothan, her hometown. She was working as a waitress and shared a home and three vehicles with her husband, who was a truck driver at the time.
Life began unraveling when she decided to leave the 13-year marriage, which she said was "toxic."
She lost nearly everything in the divorce except her two pit bulls and one of their vehicles. When she lost her vehicle, things made a turn for the worst.
"That was the clincher," she said. "Then I lost my job. When you don't have transportation in this city, you don't have a life. I tried walking, but it's a big circle and it's not pedestrian-friendly, so it was not ideal here."
Although Linda has been homeless for nearly three years, Friday was her first day back to the outdoor community after living with a friend for several months. Her friend began using drugs again recently and Warren said being homeless was a better option for her.
There are many shelters in the Dothan area, but Linda said she could not bear to give up her two dogs, which protect her and give her the hope she needs to face the day. Finding a job close to downtown Dothan has been difficult due to her bipolar and dissociative identity disorder diagnoses and her reluctance to leave her dogs unattended.
Despite diagnoses from her doctor, she has been denied Supplemental Security Income benefits for her mental disabilities, she said.
She choked back tears as she described her life in a tent in the woods.
"It's hard. There's no water. You have to really go the mile to get a shower," she said. "It gets old quick."
Lonnie Vaughn, 41, became homeless after getting clean in rehab, he said. Upon returning home, his family turned him away because of his past. His friends turned him away because he was no longer using.
Now, he's found himself homeless for five years, unable to find an employer that will hire a felon. He struggles daily with the emotional guilt of disappointing his family.
"I can't get over it," Lonnie said. "The hardest part about being homeless is being away from my family and children."
Lonnie is living in a tent in Dothan separate from the main homeless communities and says he has been unable to find a shelter for him to stay, but has hope he will find work soon.
He left Enterprise for Dothan two months ago and immediately found "Love in Action," a ministry serving low-income and homeless people.
"It was an opportunity for me to become a person in society that people look up to," he said. "Being in Dothan has led me to finding Christ, and hopefully getting on the job and off the street."
Although Lonnie is without work, he contributes by helping "Love in Action" deliver hot meals to other displaced people. He wants people to see the humanity in the homeless.
"We're people, too," he said.
Many people living day-by-day depend on meals and food from service organizations. Before "Love in Action" showed up to the parking lot of the Dothan-Houston County Library in downtown Dothan, a truck full of people was waiting.
As they arrived, many began appearing from inside the library and nearby neighborhoods, either walking or on bikes. Parents walked to the mobile food truck with children in tow. Many were obviously physically handicapped using wheelchairs and canes and several had mental impairments. All joined executive director of "Love in Action" Ken Tuck and his team in prayer.
Some took multiple meals with them to bring back to other family or to keep for dinner.
One of the volunteers, Brad Alford, 38, recalled his experience in homelessness that was not too long ago.
"I know all these people because I was around them all the time," Brad said. "These people need help. People drive by them every day."
Brad, who fell into homeless through drug addiction, said he found hope when he came to Dothan and found Tuck. He's recently obtained stable work and an apartment and said he's glad to finally feel "normal," and wants to help give others hope that he has found in the "Love in Action" ministry.
Many life obstacles have forced those who grew up in Dothan and elsewhere into homelessness. Some have lived in the woods for years and have grown accustomed to existing on the outskirts of society. Others, like Linda, Kacee and Lonnie are eager to move forward from their current lifestyle.