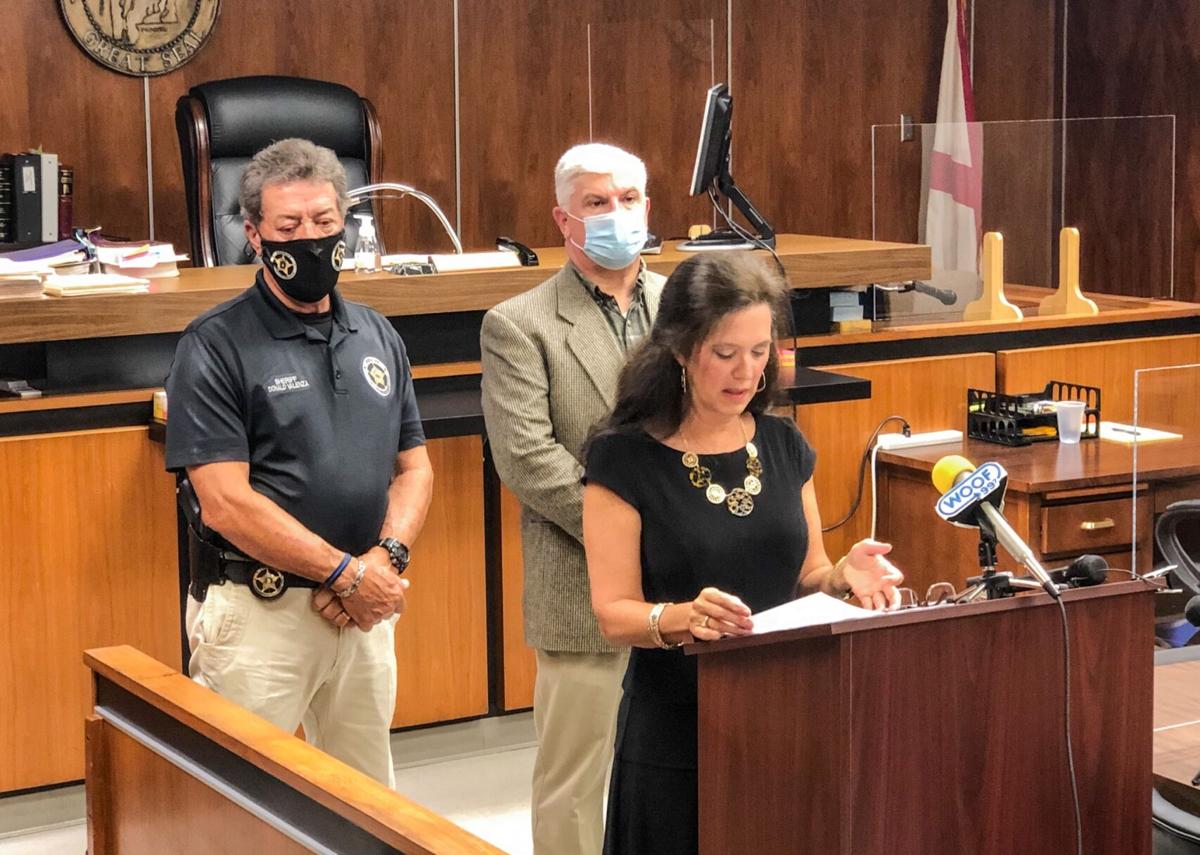 The Houston County Sheriff's Office is looking for individuals going door-to-door pressing voters to sign blank absentee ballot applications and provide personal information.
"It has been reported that these individuals are leading the voter to believe they are election officials and communicating to the voter that they will return to their home to assist them with voting, notarizing the ballot, and can then take the ballot and mail it for them," Houston County Clerk Carla Woodall said during a Friday press conference.
The first complaint of the suspicious activity came to Woodall's office last week, and several more were reported this week.
"The absentee election manager's office has received multiple complaints from voters expressing concern for their vote, unwanted pressure, uneasiness, being scared, and regretting signing applications and turning over identifying information," Woodall said.
Houston County Sheriff Donald Valenza said his office is searching for the perpetrators based on descriptions and complaints from targeted residents. He said he is pursuing leads and those caught could face misdemeanor and/or felony charges.
Victims of the purported crime range in age, but most are older, Woodall said. The motive is unclear, but is likely tied to solicitation of personally identifying information for fraudulent use.
By law, submitted applications requiring identifying information such as full name, address, driver's license number, whole or partial Social Security numbers, and signatures are confidential information and if not protected, could lead to issues related to identity theft, which has also been reported to have possibly occurred.
"The public is strongly encouraged to take extra care to protect this confidential information from fraudulent use and use caution in giving it to other people, in particular those knocking on doors," Woodall said.
The Absentee Election Manager's Office does not go door-to-door soliciting absentee voters or distributing applications. Only under extenuating circumstances would an election official perform duties outside of the office, and a certain procedure would be followed with state-issued employment identification being produced.
"Do not fall prey to scams or illegal activity," Woodall said, adding that she, Valenza, and Houston County Probate Judge Patrick Davenport are working to protect the integrity of this election as absentee votes are expected to reach an all-time high due to the coronavirus pandemic.
To report suspicious activity regarding voting, contact the election manager's office at (334)-671-8700 or the Houston County Sheriff's Office.