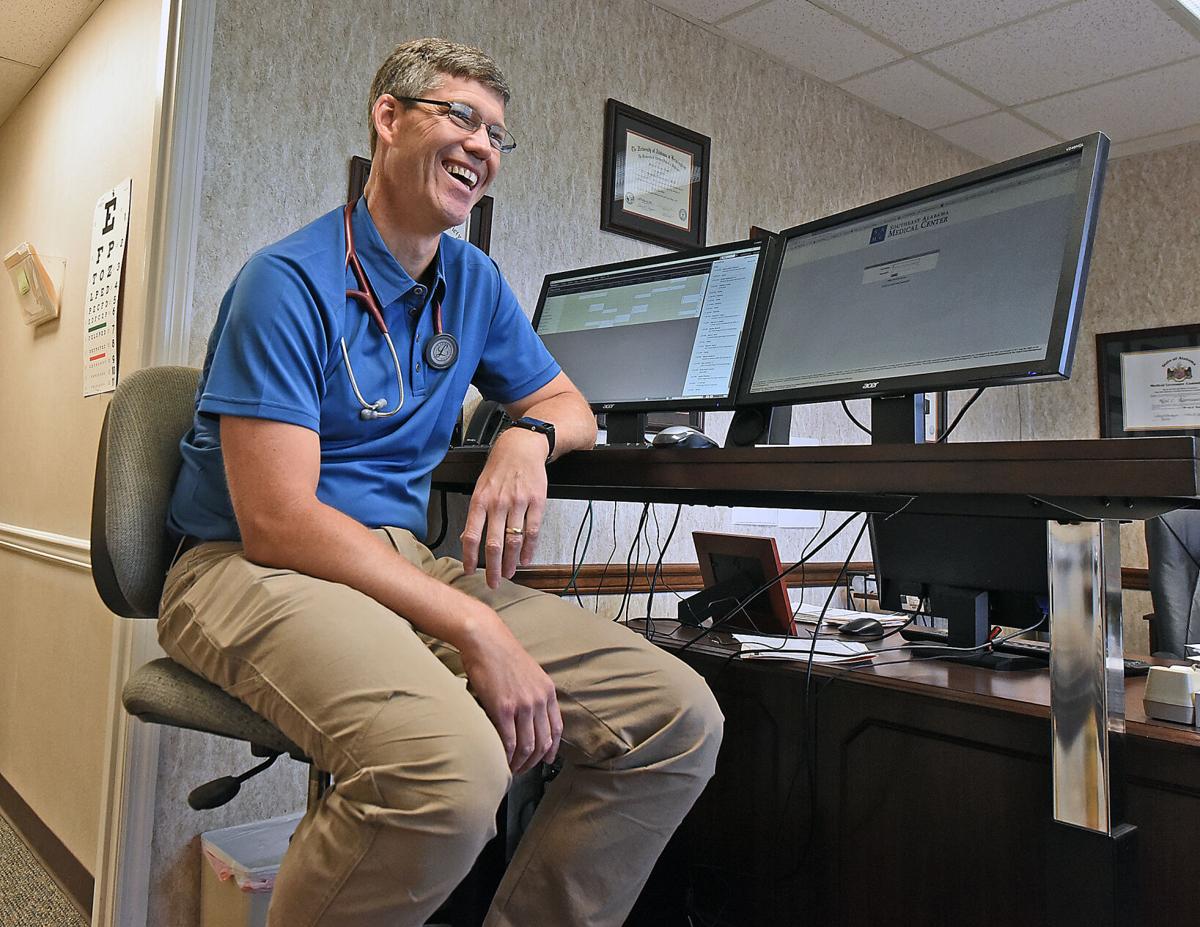 Local medical practices have faced numerous challenges during the coronavirus pandemic this year, and one practice's approach is being highlighted in a national campaign for healthcare company Athenahealth.
Headland Family Medicine is featured in the company's video docu-series "Thriving on the Frontlines: Stories of Resilience and Resolve," which takes viewers inside the stories of physician offices as they chart new paths in the midst of the COVID-19 pandemic. The second episode follows Dr. Niel Rasmussen, his wife Amy, and their staff as they navigate the pandemic and help their high risk rural patient population stay safe and healthy.
"Being picked was an honor. We were floored and, if I'm being honest, a little intimidated about the filming process," says Amy Rasmussen, office manager. To get the full picture, the production company spent a few days with the Rasmussen family and their office staff. "They filmed us at our practice and doing our day-to-day, like eating as a family and running on the Forever Wild trail. They did a great job capturing our work-life balance."
Headland Family Medicine was chosen to be featured mainly because of their response to COVID-19.
"We essentially had to redo how we did care," says Rasmussen. "They picked our practice because we've got a rural population. But since we're not a clinic that tests for COVID, we chose to attack it differently. Our game plan was to push a healthy lifestyle. That was our outreach through the pandemic. And though we've treated our COVID positive patients through telehealth, our focus through this has really been to maintain wellness."
Headland Family Medicine's episode, "The Full Picture," can be viewed on headlandfamilymedicine.com and is used throughout the country to demonstrate best practices during a pandemic and beyond.
The episode opens with familiar scenes of Headland farmland before focusing on local farmer Sam White. He's wearing a cowboy hat, has a long white beard and refers to his cows as his babies. White begins talking about family, genetics and diabetes – a disease that many in rural South Alabama are familiar. After being diagnosed, Sam did not want to go on insulin. Dr. Rasmussin encouraged him to change his lifestyle through diet. After receiving guidance from Rasmussen's clinic, he lost 40 pounds and never went on insulin. Sam's success story is just one of many patients who have improved their lives through lifestyle change, and not solely through medication.
The episode also takes an in-depth look into their office's ability to adapt in the midst of a crisis.
The COVID-19 pandemic forced the healthcare industry to immediately pivot, leaving many practices across the country to fend for themselves.
"Our mission is to truly partner with our patients and help them take control of their health and well-being," said Dr. Niel Rasmussen. "Since we serve a rural population that is high risk for COVID-19, we knew we had to find a way to continue providing that personalized care even if the experience looked a little different,"
Also featured in the video is Deaaron Jones, customer success manager at athenahealth, discussing the impact of COVID-19 on Headland's operations. Additionally, when the state shutdown occurred, they quickly began using athenahealth's embedded virtual care solution, ensuring patients were receiving care regardless of location. Headland also was easily able to offer educational materials and important information to patients through the patient portal.
"When I think of empowering my patients, I want them to believe that they have the ability to make their health better and reach their health goals themselves. To take back control of their health," Dr. Rasmussen said.