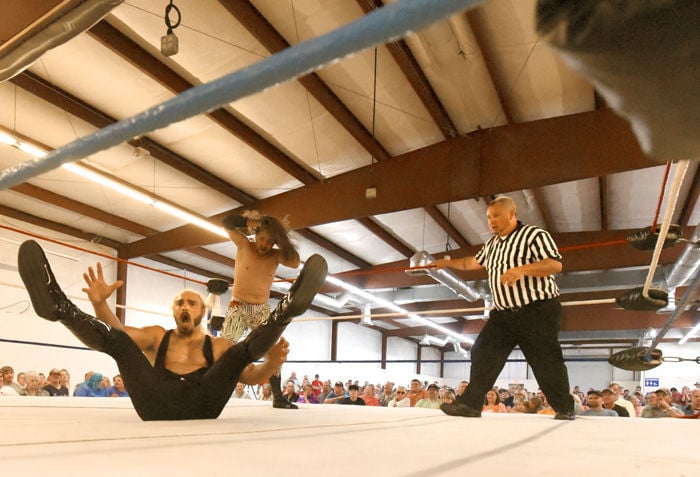 You had to be tough to make it in the Dothan wrestling circuit.
The environment at the Houston County Farm Center was oppressive on a good day – searing heat, dirt inside the ring and smoke in the air.
It was an arena that would seem to drive talent away, yet whether it was Gulf Coast Championship Wrestling, Southeastern Championship Wrestling or Continental Championship Wrestling, top stars kept returning and fans kept filling the stands.
"You could walk in that back door in Dothan and it was just like momma had opened her oven and she was taking her pie out," said Robert Fuller, a longtime star and promoter in Dothan throughout the 1970s and '80s. "You'd get in there and it was hot. Man, it'd be 110 degrees in there, and a little smoky because they'd let people smoke, and you had the gravel in the ring. But then you've got those fans there, and they are just incredible. It's just a different kind of place."
The heat was a recurring memory for several Dothan-area legends who convened at the farm center for a Continental reunion Saturday night.
Robert's brother, Ron Fuller, who was a major star as "The Tennessee Stud" and also owned the territory for years, remembers losing 22 pounds over the course of an hour-long match.
"You'd sweat," he said. "You'd sweat like crazy. You'd sweat in the dressing room. It was a tough place. The heat was bad, but the crowd was good."
One of the area's top stars in the early '80s was "Universal Heartthrob" Austin Idol, who recalls conditioning being essential when wrestling in the farm center.
"You had to be an athlete. Really, you had to be an athlete," Idol said. "You had to be in shape. I was always in good shape. (Ric) Flair was in good shape. All those guys were in really good shape. It was excruciating. No (air conditioning) in the arena, no AC in the dressing room, either. That was the only really bad thing about that farm center – the conditions, not good."
Despite the conditions, the fans never seemed to stop turning out to watch wrestling every weekend.
Don Fargo, who wrestled as one half of the Fargo Brothers among other colorful characters, first came to Dothan in 1956.
"Dothan was a great place at that time for wrestling, especially on TV," Fargo said. "I had a lot of wild fights here. The fans, they just loved it. The fans were great here."
Ron Fuller said Dothan was so profitable at its peak that it was considered one of the most successful territories in the U.S.
"For its size, it probably had the largest crowds per capita out of any place in the country," Ron said. "We were one of the biggest-drawing territories in the country. Small state, small population, big crowds. Sometimes you'd see as many people here in Dothan as you would in Birmingham. It's always been a great wrestling town."
Robert first came to Dothan for horse shows around 1969, but soon he and his brother began wrestling in the area.
Robert wrestled in Dothan for 12 consecutive years after relocating to Pensacola, Fla., so his mind is full of great memories in the Circle City.
"Dothan's got such a history and it always did," Robert said. "Being at the farm center, I had the wrestling match Friday night and the rodeo on Saturday. We just got out of high school, and we came down here and wrestled Don Carson and Eddie Sullivan. We went for a 45-minute time limit draw. He and I were young kids, and they were older guys, (but) we needed hospitalization when it was over."
Idol was working in Atlanta on Ted Turner's upstart TBS station when he first got the call to come to Dothan.
He was hesitant, to say the least.
"They asked me to come down to Dothan and wrestle, and I had no interest in it," Idol said. "I said, 'I'm not going to Dothan, Alabama.' The more I thought about it, I (figured) they've got those pretty beaches not too far away. I said, 'You know what, I'm gonna do it and maybe make a mini-vacation out of it.'"
But things didn't go the way he planned.
"I came to Dothan and it was a really interesting deal. It was electric," Idol said. "I said, 'Wow, this is pretty cool.' Fans: phenomenal. Talent: phenomenal. The timing: phenomenal. It's just the timing of it. It's just one of those eras, you know? It was a perfect storm."
When it comes to favorite memories, several of the legends had a hard time narrowing it down.
Fargo looks back fondly at an "X-rated match" he had at the farm center against Nick Kozak.
"I did a spectacular match here once that was really classic. I didn't want to do it," Fargo said. "At that time it was called an 'X-rated match,' where we went into the ring with our clothes on and the first one that was embarrassed was the loser, and I got stripped naked. It got over so big we did it again in Mobile."
Ron Fuller and Idol share fond memories of wrestling WWE Hall of Famer Ric Flair for the National Wrestling Alliance World Heavyweight Championship.
"I think one of the biggest matches was when I wrestled Flair one night," Idol said. "I wrestled Flair for the title, and they actually counted Flair out 1-2-3, gave me the belt, and I must've had the belt for 30 seconds and they took the belt away from me. But it was a memorable night."
Ron counted Flair and Harley Race among his favorite opponents in the area.
"I wrestled Harley Race here for the world championship in an hour draw," Ron said. "I wrestled Ric Flair in a 45-minute match here. I actually wrestled two or three world championship matches here in Dothan, and those are probably my all-time favorites."
But when it comes to Dothan's wrestling legacy, the fans are perhaps the most memorable aspect.
"You know what it was? It was the people," Robert Fuller said. "These people don't come to just be here. They come to have a great time. People get out of their seats and they get excited and they enjoy it. When you're in the ring, it's just like a football game. When you're running a touchdown and the whole crowd stands up and cheers, you get a rush in your heart that really makes you feel good. And Dothan produces an awful lot of that."