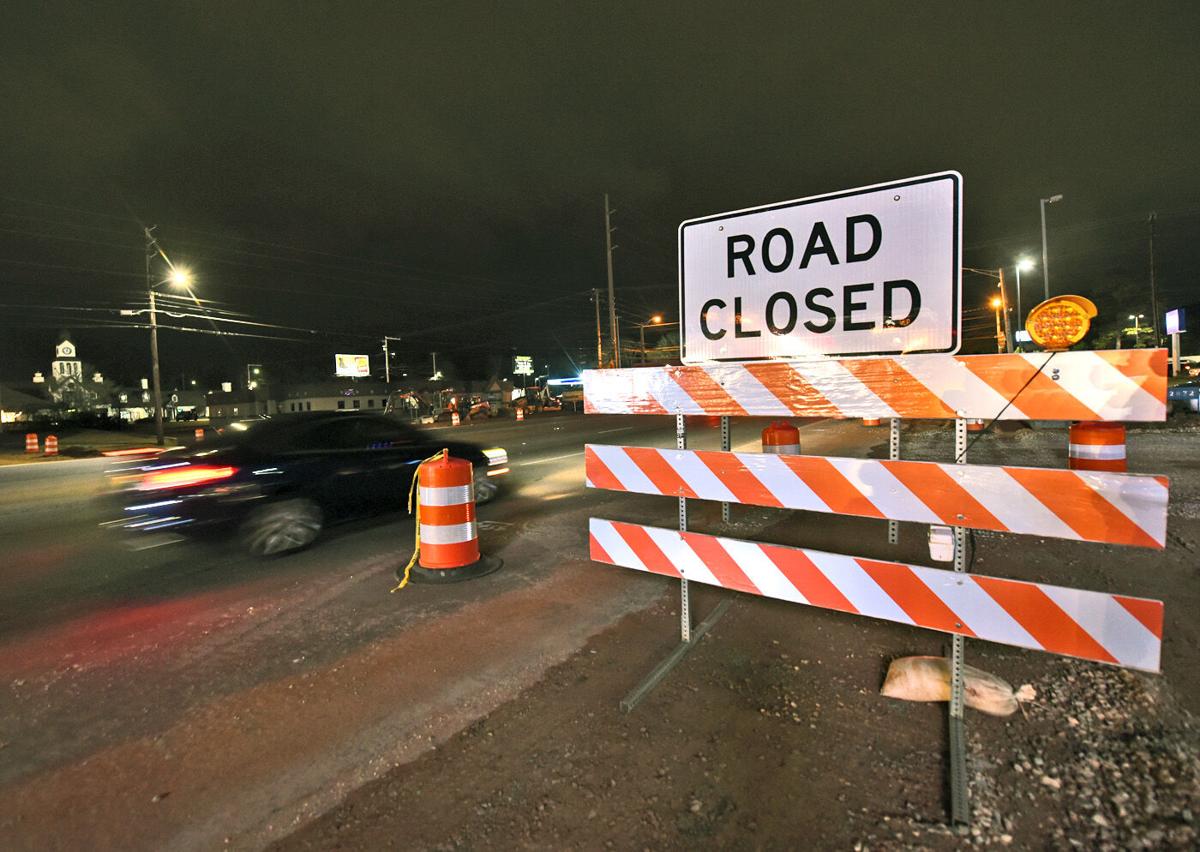 Love your orange barrels or hate them – they're not going away anytime soon.
Contractors can be seen drudging on along Dothan's major thoroughfares laying asphalt, moving storm drains and utilities to prepare for road construction while plans for future projects are still in their infancy.
The Denton Road widening project, which will broaden Denton Road from two lanes to five lanes from Ross Clark Circle to Westgate Parkway, will likely be done in April, according to Public Works Director Charles Metzger. New sidewalks will be installed along both sides of Denton Road and intersection and signal improvements will take place at the junctions of Ross Clark Circle and Murray Road.
Metzger said part of the idea of the $7.5 million project, paid mostly by federal funds, is to help improve the flow of cars coming to and from the Dothan Regional Airport.
In the same timeframe the Denton Road project is expected to end, the Alabama Department of Transportation will likely open up the Highway 84 West Lane Addition and Access Management project for contractor bids.
Metzger added it will be "a lot more work" on the heavily traveled highway, but the work may not be as disruptive to motorists as some other projects because of the road's wide medians.
"A lot of work can be done in the median; it's not as tight a construction area," Metzger said.
The road project aims to add a third westbound lane from Flowers Chapel Road to John D. Odom Road and improve access between roads with several U-turns and completely redoing the signal system at Woodburn Road.
The project will be paid with $2 million – the maximum amount administered through the Alabama Transportation Rehabilitation and Improvement Program (ATRIP), which is funded by gas tax revenue. The city of Dothan will likely have to pay the rest, which is estimated to cost somewhere between $2.5-$3 million.
It's an important project, as the additional lane will help improve traffic on the west side of town, where Dothan has seen an "explosion of growth" over the last decade, Metzger said. The changes to median access points are aimed to improve safety and reduce accidents.
However, the start date for construction relies in part on progress of work still going on at the convoluted intersections of West Main Street, Ross Clark Circle and Honeysuckle Road/Westgate Parkway as part of ALDOT's Ross Clark Circle Widening Project.
"We're not trying to make a big mess by adding construction and congestion out that way, but work's got to get done out there," Metzger said. "Hopefully, we'll be winding down Phase 2 of the Circle project so traffic will be kind of straightened out."
The $60 million Circle widening project is moving forward, much to the chagrin of daily travelers on the aforementioned convoluted intersection and businesses in the area.
"We've gotten a number of calls and complaints of cars backing up around that area… There's going to be delays and inconveniences," Metzger said, adding a recommendation to avoid that area during rush hours if possible.
The second phase of that project is a little over halfway completed. Starting this week, MidSouth Paving workers will be doing some of the paving work near Walgreens at night. That work will take about a month to do, Metzger said.
Shortly after that's completed, he said there will be an entirely new configuration for the traffic signals in that intersection to account for the additional lanes.
Meanwhile, more work will be taking place along medians on the Circle to improve access across lanes, which means some may close temporarily and others could have limited access for a period of time.
Metzger said ALDOT is hoping to bid out Phase 3 of the widening project at the end of the year, so construction can begin sometime in 2022. That phase, which includes two-way service roads and continued widening of the Circle to Montgomery Highway will likely take three years to complete.
While all of the above-mentioned road projects are state-funded to some degree, the city of Dothan is working on one locally-funded project to better connect Dothan's northwest side to its south side.
The city is currently buying rights-of-way for the two-phase Honeysuckle Road project, estimated to cost $30 million, to prepare for widening the existing road and extending it to a roundabout at Campbellton Highway and Taylor Road. The project is aimed at improving traffic flow to a road travelers often use to bypass Ross Clark Circle and helping spur more development on the south side of Dothan.
Metzger said officials plan to move forward with construction sometime in 2022, but have not yet decided whether to have the projects move forward concurrently or separately.
Further on the horizon, Metzger said he has been in discussions with city leaders about future road projects.
After the Highway 84 westbound lane addition project is bid out sometime in the spring, officials can start to plan their next application for ATRIP II funds.
The plan in consideration is a lane addition for Highway 84 from John D. Odom to Flowers Chapel eastbound and reworking the intersection of John D. Odom Road and Highway 84 West, similar to the plan for Woodburn Road, to have a more efficient signalized crossing.
There have also been discussions with ALDOT and Houston County leaders about roundabouts for the intersection of Cottonwood Road and Saunders/Forrester Road on the south side of Dothan and the intersection of Bethlehem and J.B Chapman roads on the northwest side.