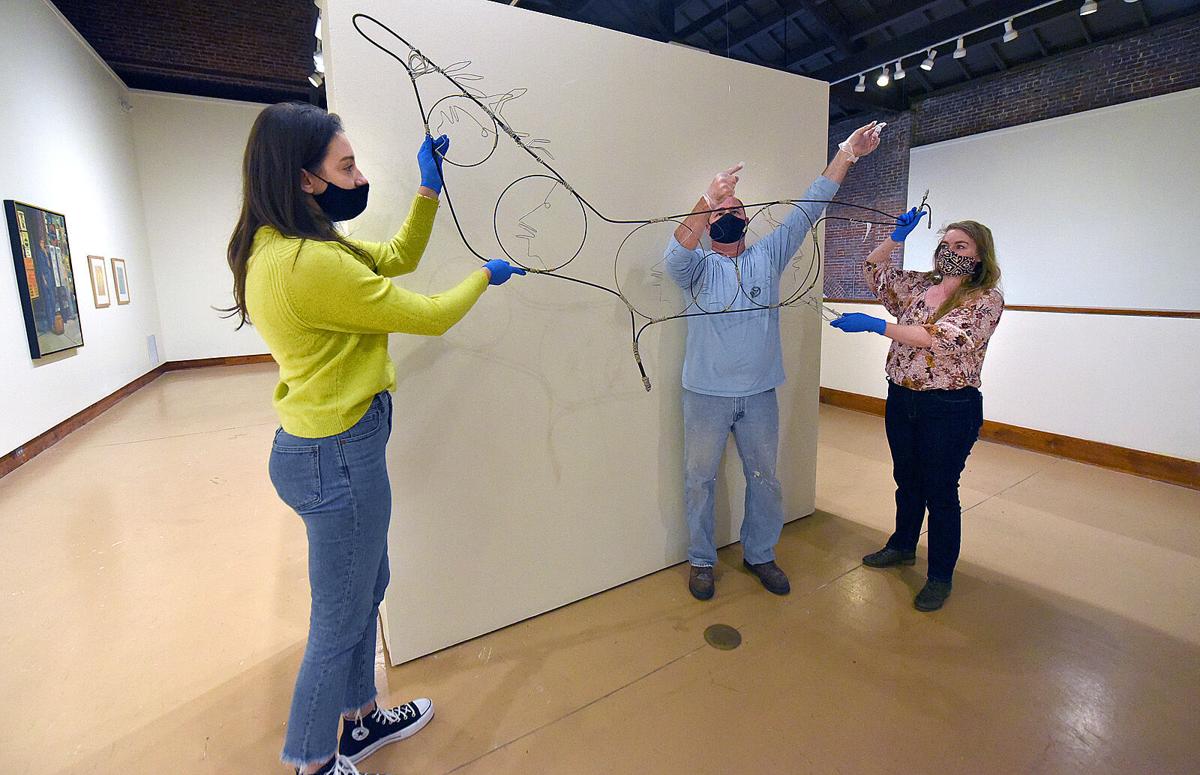 Suspended from clear wire, the human faces emerge from the metal and wire sculpture by artist Charlie Lucas.
The piece, titled "Trojan Horse," once hung on the home of the late Alabama storyteller and author Kathryn Tucker Windham. Now, it belongs to the Wiregrass Museum of Art. It is one of the more recent additions to the museum's permanent collection and will be on display as part of the new exhibits opening Jan. 20 during the museum's Art After Hours.
Along with "Selections from the Permanent Collection," new exhibitions include work by artist Sara Bowen as well printmaking pieces by Troy University students.
Art After Hours will be from 5:30-8 p.m. and will include live music from singer-songwriter Cam Stephens, hands-on art activities, and a cash bar. The event is free for museum members and $5 for non-members. Attendees can join at select membership levels for half-price during the event. Masks are required to be worn unless actively drinking.
Bowen's exhibition "The Witch Doctor's Chapel" is a mix of ceramics, fiber, lighting, and poetry. Bowen, a potter from Huntsville, created the pieces to deal with complicated feelings about her late mother and childhood trauma. Images and written words connect the pieces, which debuted along with the artist's first book of poetry called "The Witch Doctor's Hymnal." The exhibit will be at the Wiregrass Museum of Art until June 25.
"Explorations Through Printmaking by Troy University Students," will be on view at the museum until March 19. The exhibit features prints from students in Troy University's Introduction to Printmaking class. The pieces are in a variety of techniques: monoprints, relief and intaglio.
Along with the new exhibitions opening, the work of photographer Sydney A. Foster is also still on display. Foster's "Realities and Reflections" highlights the work the photographer did during a year-long residency at the Wiregrass Museum of Art. Foster's work will be up until March 22.
The Wiregrass Museum of Art, located in downtown Dothan next to the Dothan Civic Center, is open to the public Wednesday-Friday from 10 a.m. to 5 p.m. and Saturday from 10 a.m. to 3 p.m. General admission is free during these times.
Peggy Ussery is a Dothan Eagle staff writer and can be reached at aussery@dothaneagle.com or 334-712-7963. Support her work and that of other Eagle journalists by purchasing a digital subscription today at dothaneagle.com.