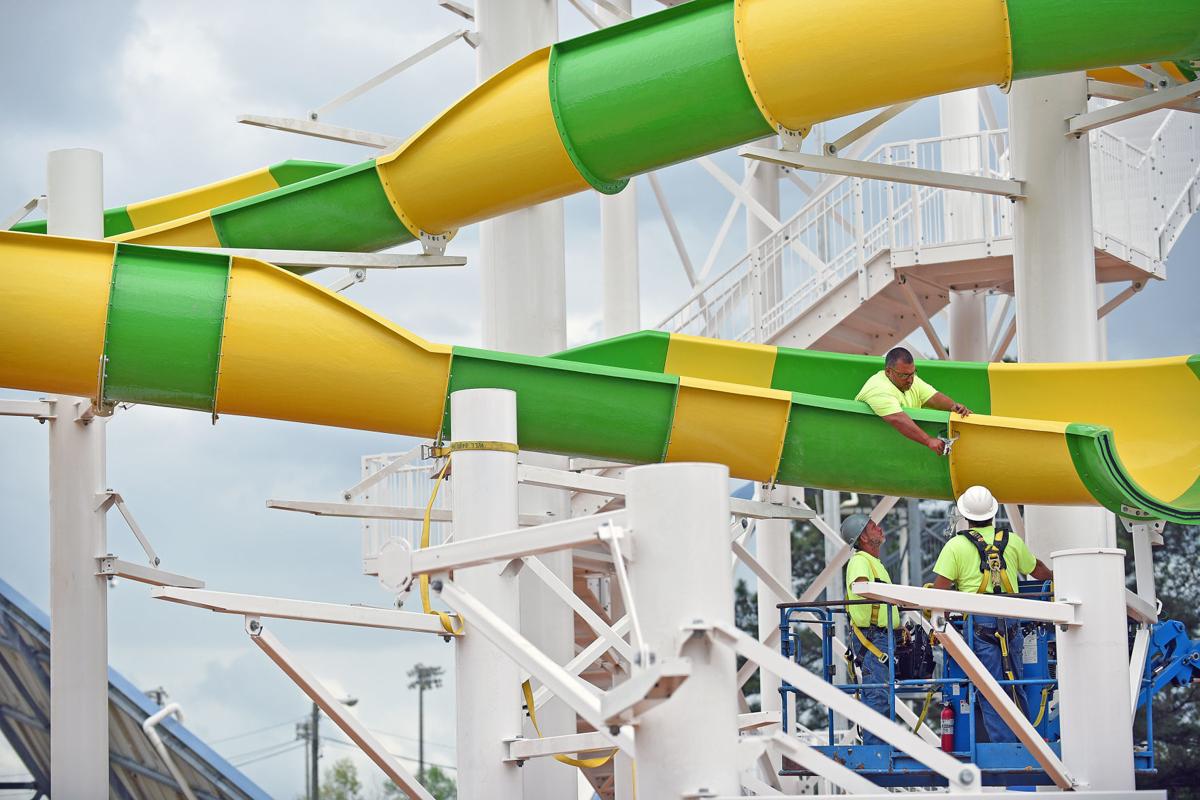 Water World is looking more colorful these days as a number of capital improvement projects, at various stages of completion, are becoming more visible to the public.
As part of the park's newest attraction, workers are affixing multi-colored fiberglass triple-flume slides and a bowl slide to a structural tower over the next couple weeks. Workers are finishing the relocation of utilities to make room for a new $1 million kiddie pool, and are also currently installing new carpeting around the wave pool.
City officials say the entire project is on schedule to open the park for Memorial Day weekend.
"We're taking it day by day," aquatics manager Kelly Carter said. "Everyone's working really hard to get it up. Of course, the coronavirus puts a question mark on everything, but as of right now, everything is on schedule."
The contract for the new kiddie pool designed by Barge Solutions was awarded to Lewis Contruction at a March 3 city commission meeting. The contract includes the installation of SplashTacular-made "gusher jets," "splash blasters," and a six-way "tippy tree" that sprays water.
When the waterpark does open this summer, residents could feel like they're entering a whole new park as a series of multimillion-dollar projects have brought more park features — including the large slide attraction and new kiddie pool — closer to the forefront of the park.
"I think it's going to be a really exciting summer, probably the most exciting summer we've had since the opening of it," Dothan Mayor Mark Saliba said at a March 3 city commission meeting. "I'm excited about it. I think it's going to bring a lot of new people into town. I think it will bring a lot of the ones that have kind of quit going because they were tired of the same old thing and they'll be looking forward to what it looks like."
The current project includes demolishing the former kiddie pool, adding cabanas and seating areas, and remodeling the restrooms.
Saliba said the improvements underway are just the first step of a five-year long-range plan to revamp the water park.
Public Works Director Charles Metzger said plans are reviewed by his department to ensure that the next phases of the project — including a lazy river, six-lane "mat racer," and a family raft slide feature — will fit in with layout of the new amenities.