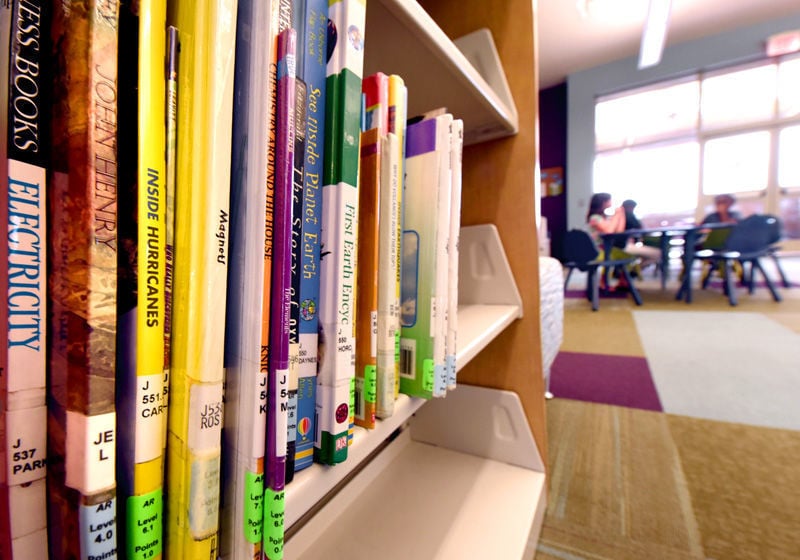 TikTok, livestreams, and operational alterations – the COVID-19 pandemic has pushed libraries and government offices to change the way they interface with the public to provide vital services.
Chris Warren, Dothan-Houston County Library System director, said libraries had to adjust to balance safety with access.
"For public libraries, it's been a particularly daunting challenge because our entire business model is built on people sharing things," Warren said. "But this has been a real opportunity for us to kind of rethink what we do and to try some new things we've never tried before."
Circulating books, laptops, and Wi-Fi hotspots and providing activities for children to stay active and engaged are fundamental to the services that public library systems provide to the community. When restrictions and safety precautions kept workers and children at home for a long period of time, those services became more important than ever.
In responding to the pandemic, in-person programs were suspended and the library shifted many of those programs – story times, how-to lessons, and craft activities – to Facebook Live, Youtube, and TikTok.
Activities that would normally be done in special programs or after story times in the library went grab-n-go style and were advertised to parents online and along the walking trail at Kiwanis Park – a common gathering place for families seeking a reprieve from isolation last summer.
The libraries also began allowing people to borrow items via a curbside pickup option that Warren believes will continue even after COVID-19 no longer remains a serious threat to public health.
"We're gotten a lot of appreciation from our patrons as far as our dedication," Warren said, saying the initiatives have been successful in keeping the community connected as well as helping the library stay relevant.
Borrowing hard-copy books is still an important function of the library and it continues to provide that service, but Warren says there's been a dramatic rise in the number of people borrowing e-books instead.
"I'm a little bit excited about the fact that when things do eventually go back to some semblance of normal, we'll have learned a lot of lessons from this past year," Warren said.
Libraries are starting to see more foot traffic as people begin to feel safer getting out and about. Warren some patrons are using the library's computers to register for vaccine appointments. However, even as restrictions ease, he believes the public can expect to see Dothan-Houston County's library system continue to embrace digital interfaces.
The Dothan-Houston County Library System, its governing board, and other city leaders are currently working on the library system's strategic plan for the next five years. Warren said it's a good time to re-evaluate how the library system operates to ensure it continues providing value to the community.
The City of Dothan's government has also maintained public services throughout the pandemic, thanks in part to early investment in technology.
City Manager Kevin Cowper said making government more accessible was a goal identified in the city commission's strategic planning talks and was in the beginning stages of making public meetings more available to city residents.
However, when meetings could not be held last spring, the City of Dothan ramped up those efforts and invested in technology and camera and audio equipment to broadcast those meetings live on Youtube.
"In the bigger picture, this has really kind of helped us focus on technology as a customer service tool and I think going forward, this COVID-19 event has helped focus our attention in that direction," Cowper said.
Dothan Utilities has encouraged more adoption of the MyUsage app that allows people to pay their bills online and pushed their payment kiosks located at the Dothan Civic Center and Westgate Park to encourage no-contact payment.
Dothan has also pushed people to submit development plans and apply for permits and business licenses online.
If people still need to submit plans or talk to city staff, they can go to the first floor of the Civic Center, which has been recently renovated to accommodate the city's new semi-permanent customer service center. People can purchase civic center and opera house event tickets, apply for business licenses and building permits and drop off development plans.
While the pandemic has pushed many public institutions to embrace technology as a way to continue providing important services, many of these changes will influence how they operate moving forward.
"We're going to continue to invest in the technology," Cowper said. "We appreciate our citizens and their patience through this process. It's been a big change for everybody... People have understood and offered suggestions. We're happy with where we are and the services we've provided in this environment."
Sable Riley is a Dothan Eagle staff writer and can be reached at sriley@dothaneagle.com or 334.712.7915. Support her work and that of other Eagle journalists by purchasing a digital subscription today at dothaneagle.com.