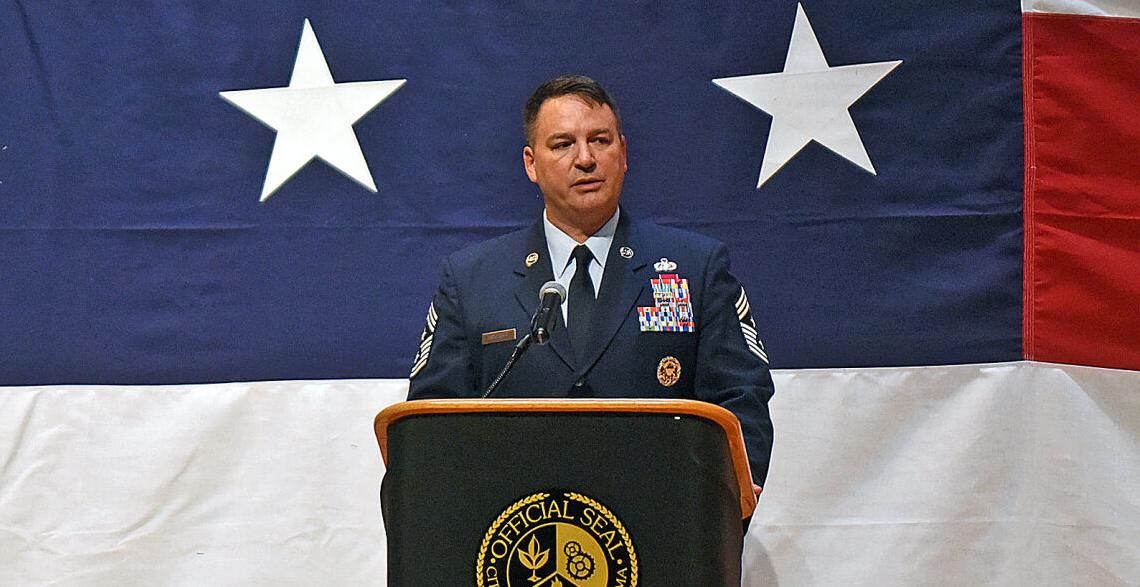 Chief Master Sgt. Brian Bischoff was a staff sergeant about to turn 30 when he arrived at the Pentagon the morning of Sept. 11, 2001.
He parked as usual, walked into the building and grabbed some coffee, thinking about how nice the weather was outside and what a great day it would be for a run.
He would normally go at lunchtime for a run to the Lincoln Memorial and back.
Bischoff got to his office, checked some email, and had a conversation with his supervisor, where he found out he needed to pick up some supplies at the supply office.
He also needed to pick up some paperwork from the Defense Information Systems Agency headquarters. Bischoff figured he'd make that drive, then come back and go to the supply office.
He left the sub-basement of the Pentagon and got to the main floor, where there seemed to be a lot of hustle going around.
"I didn't know what was going on," Bischoff said. "The Pentagon is always busy but this seemed to be different."
He got to his car, started up the engine, and the radio came on. That's when he heard that the twin towers of the World Trade Center in New York City had been hit by planes.
"I couldn't believe it. This was happening in our country, on my turf," Bischoff told the crowd at the Patriot Day event held Saturday at the Dothan Civic Center. "I figured I'd better hurry up because it was probably going to be a busy day."
As he left parking and started making his way up Columbia Pike toward DISA headquarters, he saw a plane.
"It was coming from the wrong direction to land at Reagan National on the other side of the Potomac," Bischoff said. "It was low, too low. In a flash I knew where it was going and what was going to happen."
When the plane flew over him, he could have thrown a rock and hit the bottom of it.
"I instinctively hit the brakes, I swerved to the side and looked over to see what would happen," he said. "Just then I saw the wing dip and it collided with the Pentagon."
He ducked down, expecting a massive concussion, waiting for his windows to blow out, but they didn't.
"The building sustained the impact of the explosion," he said. "I knew right where it hit was where I was supposed to be at that very moment, picking up supplies."
Bischoff said there was no way of getting back to the building, so he went to a gas station across the street.
"Everybody was running from the building," he said. "We helped those that we could and made sure we weren't adding to the problem."
Instantly firefighters, police officers and other first responders engaged, he said, trying to save lives, trying to extinguish the fire.
"After a couple of hours the senior leader arrived and told all of us to go home and make contact with our supervisors," Bischoff said. "Was my supervisor even still alive? Did he go to the supply office in my stead? I didn't know."
He went home and tried making phone calls to his parents and other family members to let them know he was still alive, but the phone lines were jammed.
For 12 hours he sat there and watched television, waiting to be able to make contact. He finally reached his supervisor, who told him he needed to be at the Pentagon the next morning.
When he arrived, the Pentagon was still on fire. He walked in, got his ID checked, and found his supervisor.
"The first thing he asked me is, have you contacted your family? I said no, sir, I couldn't get out," Bischoff said. His supervisor told him to find a dedicated line and call them now.
When he got ahold of his sister-in-law he said "I've only got a minute, I'm OK, let everybody know."
Then he walked out into the Pentagon's five-acre courtyard, where he looked over something he never expected to see in his life.
"Firefighters valiantly fighting the fire in the building that I was standing in, from the outside, from the inside," Bischoff said. "Two firefighters that had been there all night fighting the fire, they were sitting down to drink some water before re-engaging. Body bags as far as I could see and more than I could count. First responders, many still pulling people from the rubble."
He was in that building the next three days, while it continued to burn until the flames were finally extinguished.
"After that people returned to the Pentagon but it wasn't the same," he said. "It was much more difficult."
There were whiteboards at the entrance that he came in every day. "I made sure I was going to read them," he said. "There were pictures and small bios of the people that had been in the Pentagon and on the plane that hit the Pentagon."
He'll never forget two of them.
One was a Navy lieutenant commander that just a week earlier had been called to the White House to give a briefing.
"Unfortunately he was not in his service dress though he had it with him," Bischoff said. "He didn't have time to drive home. Luckily one of his coworkers was roughly the same size, so they swapped uniforms. And he went and delivered the briefing with the wrong name tag on."
There was also a little girl on the plane going with her class on a National Geographic field trip. "She was so excited because this was her first trip, her first ride, on an airplane. The pain burned deep, and I vowed never to forget," Bischoff said. "This would never happen again, not on my watch."
"We as a nation took a hit," he said. "We extinguished the flames from the Pentagon, Shanksville, and the twin towers. We buried and mourned our dead.
"But then something unintended happened, something the bad guys did not expect. We came together and rose as a nation from the ashes. We dropped our barriers and stopped focusing on what made us different but instead focused on what made us the same."
Bischoff's keynote address was the centerpiece of the Patriot Day ceremony held at the conclusion of a 24-hour stair climb that began in the civic center on Friday morning.
Dothan area first responders held the American flag walking in 10-minute shifts. The climb represents the ascent first responders made while attempting to rescue people trapped in the twin towers.
The event was a joint effort by the City of Dothan and Houston County. The program included Houston County Sheriff Donald Valenza, Dothan Fire Department Chaplain Alan Singley, Dothan Police Chief Will Benny, Dothan Police Officer Michael Hannon singing the national anthem, State Rep. Paul Lee, State Sen. Donnie Chesteen, General Services Director Col. (retired) Andy Love, Dothan Police Department Chaplain Sgt. Sean Morgan, the Dothan Fire Department Honor Guard, the Dothan Police Department Honor Guard, Dothan Fire Department Chaplain Capt. (retired) Mike Shiver, Charles Arney playing "Amazing Grace" on bagpipes, Houston County Sheriff's Office Chaplain Mark Pickett and Battalion Chief Stephen Messer playing taps.
In closing comments, Dothan Mayor Mark Saliba said that on any ordinary day those who serve in the military, who work in law enforcement and fire departments, and in emergency management services "encounter smaller doses of tragedy in our community each and every day, and on any given day you are called on to do extraordinary things for our city, our county and our Wiregrass area. You are truly our patriots."