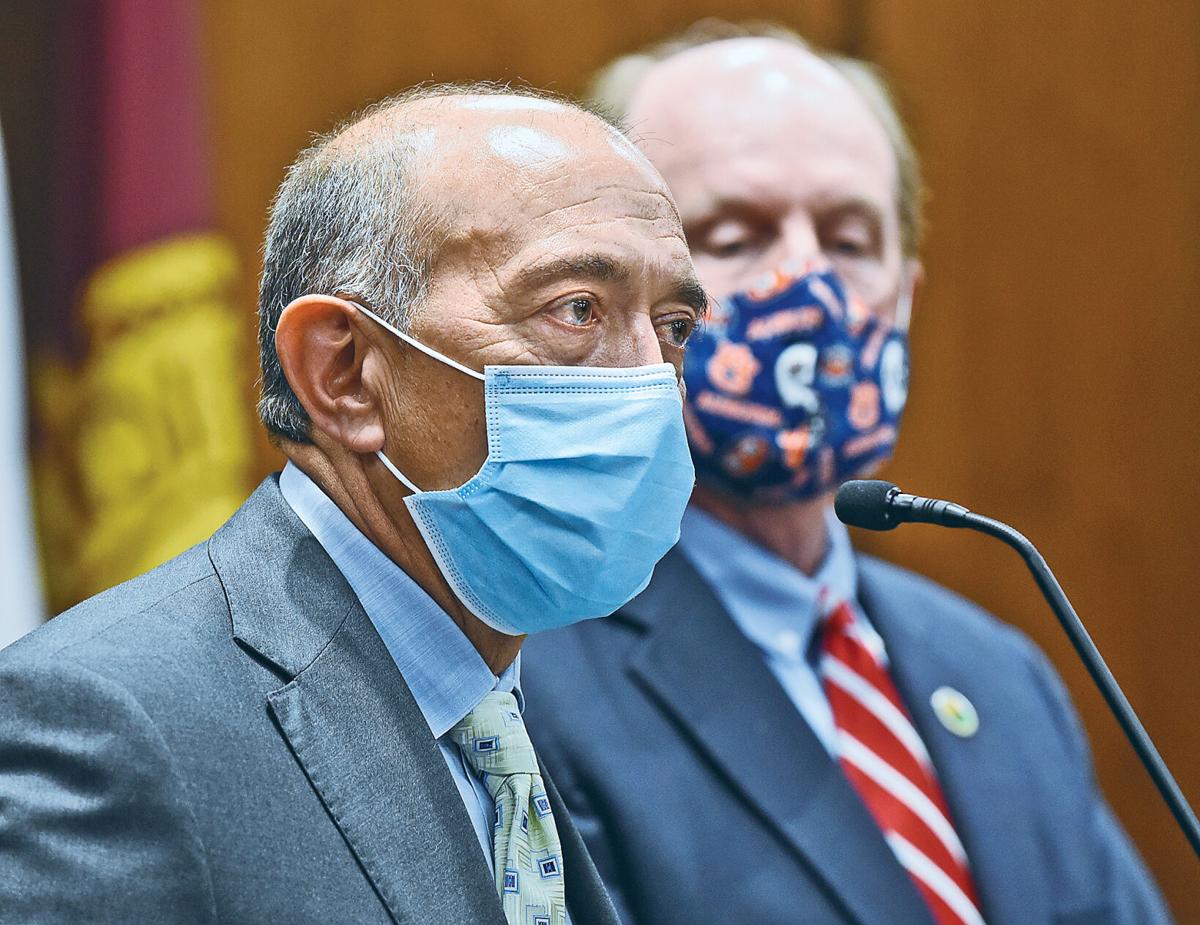 Wear a mask. Wash your hands. Keep your distance when in public. Be kind to others.
As the number of people with COVID-19 jumped over the weekend, local leaders asked residents to do their part to keep the spread of the coronavirus illness at bay. Basically, they asked, take care of one another.
"This is a very serious time we live in," Houston County Commission Chairman Mark Culver said during a Monday press conference. "We've never experienced a time like this where we can't plan for what's going to happen two weeks from now because we don't know what's going to happen two weeks from now."
Houston County reported 116 cases of COVID-19 over the weekend and neighboring Dale County had 94 new cases. In all, Wiregrass counties – Barbour, Coffee, Covington, Dale, Geneva, Henry, Houston and Pike – saw an increase of 374 confirmed cases of COVID-19 based on numbers released by the Alabama Department of Public Health between Friday and Monday.
As the pandemic continues, governments have grappled with how to keep residents safe without going too far with restrictions.
"There's no playbook for this," Dothan Mayor Mark Saliba said.
Saliba and Culver were joined by representatives from Flowers Hospital, Southeast Health, and the Alabama Department of Public Health for an update on the local response to COVID-19.
With Dothan home to two hospitals, people from around the tri-state region come into the city for medical care, such as cardiac and stroke care, Saliba said.
"We want to continue to take care of them because they are your family, they are your friends, they are those that you know every day," Saliba said. "When you throw on top of (that) a pandemic like COVID-19 … it is a challenge. It is continuing to, increasingly, stress and strain staffing and capacity."
While officials said capacity is adequate now, the worry over hospital capacity led local leaders to identify spaces for alternative patient care sites – Surgery Center South; Eye Center South, and the Westgate Recreation Center gymnasium – should the need arise.
Opening such alternative medical sites is an option officials said they hope won't be needed.
Saliba and Culver said they understand people are feeling COVID fatigue and want their normal lives back. But, Culver said, the virus has become a polarizing issue, and he said he has seen tense interactions between people who disagree about measures taken to slow the spread of the virus or question information released about the coronavirus.
"We do want people to continue to wear a mask. We do want you to social distance. We want you to continue to sanitize," Culver said. "We would like to encourage businesses out there to adopt a policy of not allowing people into your business unless they have masks. A lot of the larger places have, and we think that's a good practice."
Arguments over numbers being reported are not as important as the patients represented by those numbers, Culver said.
"Let's do our part, let's do it right and to me, most importantly, let's be kind to one another." 
As of Monday, the eight Southeast Alabama counties had reported a total of 4,676 cases since COVID-19 first appeared in Alabama in March. There have been 66 deaths among Wiregrass counties. Out of the total number of positive cases in the Wiregrass, 1,548 have been confirmed in the last 14 days.
Alabama loosened restrictions earlier this month but is currently under a mask mandate set to expire July 31.
On Monday, the Alabama Alcoholic Beverage Control Board (ABC) passed an emergency order limiting the hours of operation for restaurants, bars, and other entities that sell alcohol. The rule, effective immediately, requires all license holders to stop selling alcoholic beverages for on-premise consumption between the hours of 11 p.m. and 6 a.m. and for all on-premise consumption to cease by 11:30 p.m. Enforcement of the emergency order is set to begin Aug. 1.
"Our hope is that reduced hours of alcohol service will decrease social gatherings and the transmission of COVID-19," ABC Board Administrator Mac Gipson said in the statement. "Our number one goal is to protect the public and our license holders. We believe this emergency order will reduce the exposure to and spread of COVID-19."
Concerned about COVID-19?
Sign up now to get the most recent coronavirus headlines and other important local and national news sent to your email inbox daily.