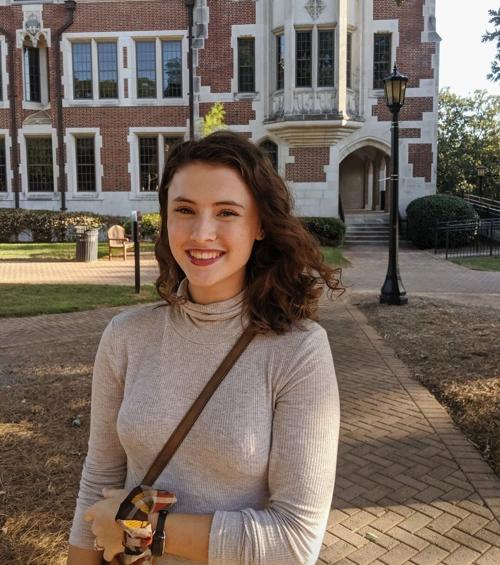 Katherine Blank knew at a young age she would be in charge of paving the path for her future and breaking generational struggles, including the financial burden of paying for her education after high school.
After Blank's mother passed away as a result of the opioid epidemic when she was 13, being one of eight siblings required her to take on responsibilities beyond her age. After moving from Ohio to Enterprise in 2014, she became very financially conscious. During her senior year of high school, she toured and fell in love with Agnes Scott College campus in Decatur, Georgia.
"This school was absolutely something I wanted to have in my life," Blank said. "I started applying for scholarships like it was a part-time job. I'm currently the recipient of about 15 scholarships, I believe."
Blank said during this time writing scholarship essays became like a sort of therapy for her to tell her story and begin building the future she wanted for herself.
Currently 20 and a sophomore at Agnes Scott studying neuroscience and public health, Blank has accumulated roughly $250,000 worth of scholarship money since graduating high school.
Her most recent award is the Scholarship America's 2021 Dream Award, where Blank received $10,000. The Dream Award is a renewable scholarship given to 22 students with financial need who have overcome significant barriers to attend college.
According to Scholarship America, 70 percent of Dream Award scholars are the first in their families to attend college; 80 percent contribute financially to their families' income; and nearly one-third serve as caregivers in addition to being students.
After the pandemic began in March of 2020, two days before she was set to leave on a study abroad trip to Belize, Blank found herself kicked out of her dorm and back in Enterprise. This began a long summer of constant moving—eight moves total— between Troy to be with her fiancé, and multiple moves throughout Ohio to help family members during the height of the pandemic.
Like many all across the world, Blank has experienced loss and hardship throughout the past year. She has been working to get back to normal since accepting a position as a Resident Assistant and moving back on campus.
"This year has been unfortunate all around," Blank said. "Getting this scholarship and knowing I can take a breath of fresh air and relax a little bit knowing this will basically cover my junior and senior year is all I could have asked for."
Blank said she feels validated by receiving the Dream Award, in that all her endeavors and hardships, as awful as they are, have paid off in enabling her to create the life and future she wants.
Along with her RA position, Blank is currently working as a lab assistant for the Biology Department, a research assistant for the Science Center for Women, and is involved in many other campus activities. She hopes to continue her education after her undergraduate degree to study intraoperative neuromonitoring and become a neurophysiologist.
Blank hopes to use her interest in the human brain and nervous system to, in her words, be the "voice of the patient and their nervous system to the neurosurgeon during surgery."
Sydney McDonald is a Dothan Eagle staff writer and can be reached at smcdonald@dothaneagle.com or 334.712.7906. Support her work and that of other Eagle journalists by purchasing a digital subscription today at dothaneagle.com.