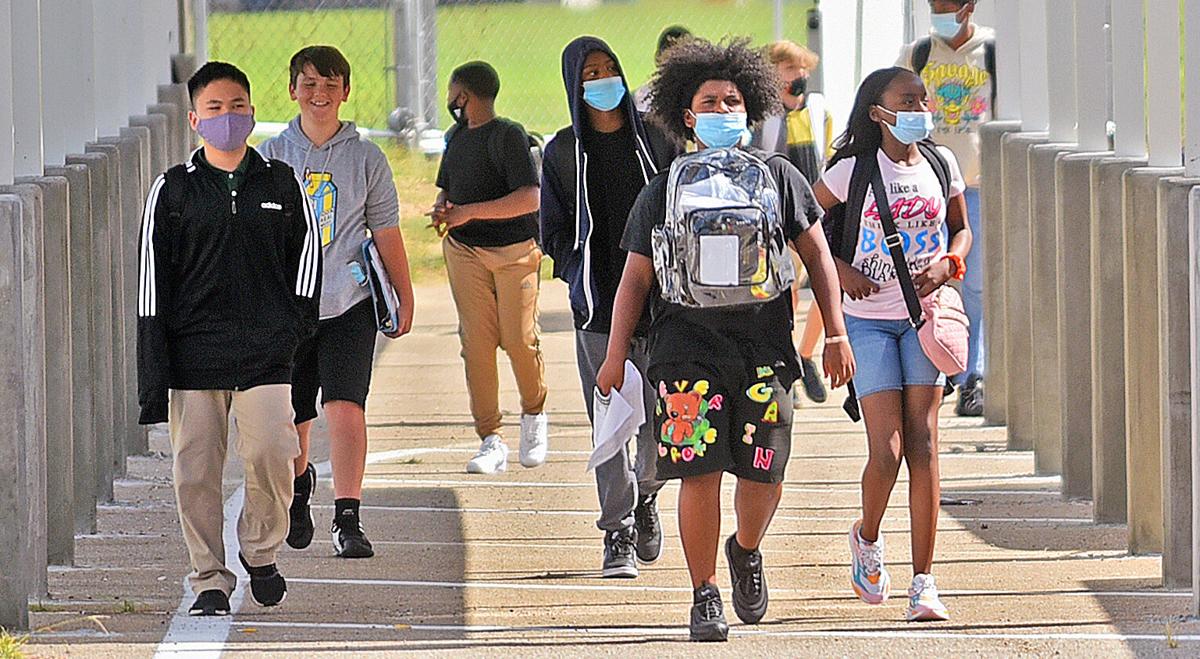 Cases of COVID-19 among Alabama's school-age kids have climbed more than 600% compared to the same time last year, according to the state's health officer.
This past week, 138 out of 143 school districts reported 8,400 cases of COVID-19.
"We continue to see very high numbers of cases in our schools," Dr. Scott Harris said Friday during a news briefing. "… That number compared to a year ago, this same week a year ago, is about a 605% increase in COVID-19 cases among school-aged kids."
Since the school year began, districts across the state have grappled with having to send students home either because students tested positive or they were in close contact to someone who tested positive.
"It is very important to us that we keep kids in the classroom settings for face-to-face instruction as long as we can do that safely," Harris said. "It is vitally important that our school take the measures that they need to take in order to keep kids and educators safe."
Many local districts started the new school year with no mask mandates and were forced to send hundreds of students home to isolate as close contact exposures. Within a week of the school year starting, most local districts adopted mask requirements.
"I know that's not without controversy; I know there's a lot of debate about that," Harris said. "But it is clearly a very easy, straightforward way to reduce infections in our schools."
Students 12 and older are eligible for the Pfizer vaccine, and Harris said as many students as possible should be vaccinated as soon as possible. The full benefits of vaccination are not seen until about six weeks after the initial shot.
"If you want to have a normal school semester, or as close as we can; if you want to have a good holiday season with Thanksgiving and Christmas coming up – this is the way that we do it," Harris said. "We get people vaccinated now so that two to three months from now we can try to get back more or less to normal, which is somewhere we all very much want to be."
As of Friday, there were 2,620 people hospitalized with COVID-19 in Alabama. And while hospitalizations have dropped below 2,700 for the first time in weeks, Harris said hospitals are still overwhelmed, especially when it comes to ICU bed capacity.
A federal team sent to a Baldwin County hospital has departed for another state, but Harris said a team sent to Southeast Health in Dothan has been extended for several more weeks, and a team that arrived at Dale County Medical Center in Ozark this week has been approved for an extended stay.
The U.S. Department of Health and Human Services is doing assessments at five other hospitals in the state, including two in the Wiregrass – Flowers Hospital in Dothan and Troy Regional Medical Center.
Harris said travel nurses should help with staffing issues in hospitals thanks to a reallocation of $12.3 million in COVID relief money. The state will be working with the Alabama Hospital Association, which has contracted with Texas-based healthcare labor company Vizient Inc.
Travel nurses, he said, are expensive and not without controversy since those nurses typically earn more than local nurses.
"But we really don't know what else we can do to help our hospitals at this time," Harris said.
Peggy Ussery is a Dothan Eagle staff writer and can be reached at aussery@dothaneagle.com or 334-712-7963. Support her work and that of other Eagle journalists by purchasing a digital subscription today at dothaneagle.com.