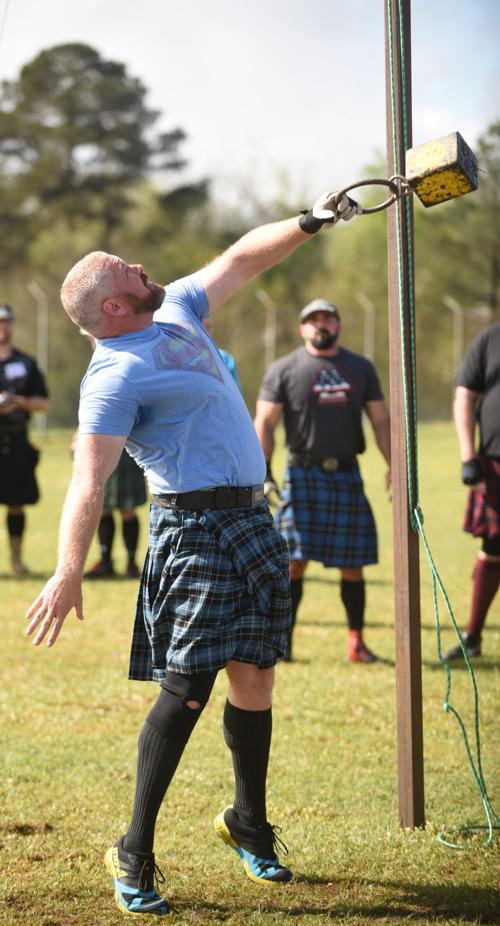 The Wiregrass will once again get its fill of kilts, bagpipes, and athletic events that involve throwing stones, hammers, and light poles.
The Southeast Alabama Highland Games will be held Saturday, Sept. 18, at Culpepper Park in Daleville. This will mark the fifth time the event has been held – it would have been six, but organizers were forced to cancel the 2020 event due to the COVID-19 pandemic.
Organizers said they are following safety guidelines for activities and spacing of vendors. The event is all outdoors.
Gates open at 9 a.m. and the athletic events will start before 9:30 a.m.
The 2021 event was moved from Dothan to Daleville after officials from the City of Daleville approached organizers about partnering on the event, said Chris Bailey, a board member for SAHG. Bailey said the city offered assistance that organizers of the not-for-profit event couldn't turn down.
Daleville's Culpepper Park is located between U.S. 84 and State Highway 134.
"It's a large open area; there are great amenities there," Bailey said. "It gives us enough space that we can make sure we have enough room for everything and create space for all the attendees."
Bailey said most of the vendors and food merchants this year are locals because traveling vendors were difficult to schedule due to the date change from the spring to the fall. But Bailey said there will be kids' activities and plenty of vendors for attendees. Friends of Army Aviation will be doing rides on the group's Huey helicopter and Fort Rucker's Morale, Welfare, and Recreation will also be on site.
Thirteen Scottish clans have registered to attend the event, which includes a Parade of Tartans and opening ceremony at 11 a.m. followed by the popular caber toss – the event that involves athletes lifting and then tossing a large caber, which looks a lot like a light pole or tapered tree.
There are about 40 athletes registered in the different sports and divisions, according to Scotty Johnson, athletic director for the games. There are masters divisions for men and women over age 40 and a junior division for those under 18. The open divisions for men and women also have classes based on experience.
The athletic events are based on traditional Highland games of Scotland and, along with the caber toss, feature the sheaf toss where athletes use a pitchfork to hurl a stuffed burlap bag over a bar positioned above the athlete's head. There's also a hammer throw, the weight for distance and weight for height events, and a stone throw. Athletes are typically dressed in kilts during the events.
Johnson said some of the athletes competing are Highland game champions. And he said this year will feature some events for attendees to get in on the action if they so choose, such as a keg toss and a movie-inspired stone throw.
"One is going to be the Braveheart stone throw which would be a 30-pound stone that they can run up like they did in the movie 'Braveheart' and throw for distance," Johnson said.
The event should wrap up about 5 p.m. and an after-party, called a cèilidh, will follow there at Culpepper Park.
Fans, Bailey said, enjoy the competition and the simplicity of the events. Unlike sports such as football and baseball, the rules are easy for most people to understand without explanation.
"Games like the Highland games, the guy that throws it the farthest wins," Bailey said. "It's a simple concept. I never thought I would see people come out and cheering for somebody throwing a bale of hay over a bar. But you see how hard these guys work, how well they've trained and how athletic they are and you watch them one up each other over and over again, it builds an excitement. It's a simple but challenging sport for people to watch. It's really easy to get caught up in watching these guys compete."