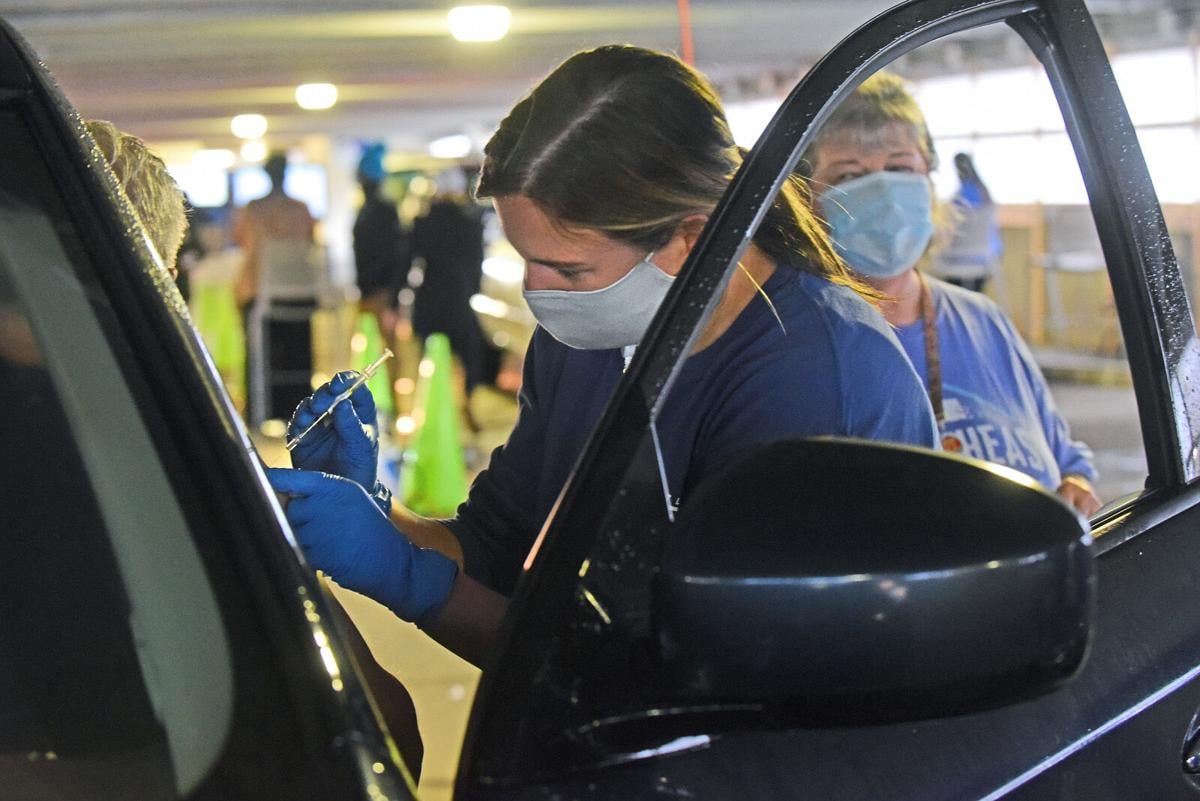 Southeast Health plans to move its COVID-19 vaccine clinic back indoors as demand wanes.
The Dothan hospital announced Tuesday that the clinic will move from the West Parking Garage to the second floor of the Doctors Building beginning Monday, May 10. The Dothan hospital has offered a vaccine clinic since December, administering the first dose of COVID-19 vaccine in Alabama.
The clinic moved from the original indoor location to a drive-thru in the parking garage. Southeast Health was one of several locations around the state used for a week-long mass vaccination effort in February, and the hospital administered more than 6,000 shots in that one week. Southeast Health's drive-thru clinic utilized the first level of its West Parking Garage with those wanting vaccines never having to leave their vehicles.
"Thanks to many volunteers, students, first responders, and Southeast Health employees, we have administered more than 38,000 vaccines thus far," a hospital release stated. "While the demand for the vaccine is beginning to wane, our commitment to provide it to anyone eligible has not."
Alabama Gov. Kay Ivey's office issued a statement Tuesday encouraging people to get vaccinated as soon as possible as the federal government is expected to announce a plan to reallocate vaccine from states where demand is dropping to states with higher demand.
"Today, the federal government announced on the Governors' Only Call with the White House that states with a diminishing demand for vaccines may have their doses shifted to states with a higher demand," Ivey said in the statement. "Y'all, we want shots in the arms and off the shelf. If you have not made it a priority to schedule a vaccine, I encourage you to go get the shot as soon as you are able. If you are hesitant to get the COVID-19 vaccine, please speak to a physician you trust and ask if he or she would recommend it for you. If we don't use it, we could lose it. This is our ticket back to normal. The vaccine is free and could possibly save your life."
Currently, anyone age 16 and older is eligible to get a COVID-19 vaccine in Alabama.
State Health Officer Dr. Scott Harris said that at this time, vaccines are protective against the different variants of the virus. But any time a person is infected there is an opportunity for the virus to mutate.
"Get vaccinated at your earliest opportunity," Harris said in a news release from the Alabama Department of Public Health. "COVID-19 vaccines are safe and effective in preventing severe illness and death from COVID-19, and there is no charge for anyone, regardless of insurance status. Make vaccination a priority for your family, your community and yourself. If you have questions about whether you should be vaccinated, please ask your own doctor or personal healthcare provider."
Southeast Health reported 12 patients with COVID-19 on Tuesday. There were 345 people hospitalized with COVID-19 around the state.
In the eight Wiregrass counties in Southeast Alabama, about 25% of people age 16 and up have completed a vaccine series and around 31% have received at least one dose of vaccine. However, the numbers reported by the Alabama Department of Public Health are somewhat repetitive because the Johnson & Johnson vaccine is delivered in one shot and counted in both categories. The two other vaccines currently available are delivered in two doses.
In Houston County, nearly 29% of the population age 16 and older has completed a vaccine series and more than 35% has received at least one dose. Other Wiregrass counties – Barbour, Coffee, Covington, Dale, Geneva and Henry – range from 23% to 29% completely vaccinated and 27% to 39% having received one dose.
Those who need access to the Southeast Health vaccine clinic in the Doctors Building can come in Entrance 1 and take the "D" Elevator to the second floor. Follow the signage to the vaccine clinic.
Anyone who is already scheduled for a second shot should report to the Doctors Building on the appointed day and time. Those wanting their first dose can come to the clinic Tuesday-Thursday from 8 a.m. to noon. First doses will not be given on Mondays or Fridays.
"Despite now being back in the Doctors Building, we are committed to continue running the vaccine clinic efficiently," the hospital's release stated. "We encourage anyone who has not received the vaccine to do so. If you would like to schedule a vaccine, go to COVID.SoutheastHealth.org/OpenScheduling/covid19#."
Peggy Ussery is a Dothan Eagle staff writer and can be reached at aussery@dothaneagle.com or 334-712-7963. Support her work and that of other Eagle journalists by purchasing a digital subscription today at dothaneagle.com.