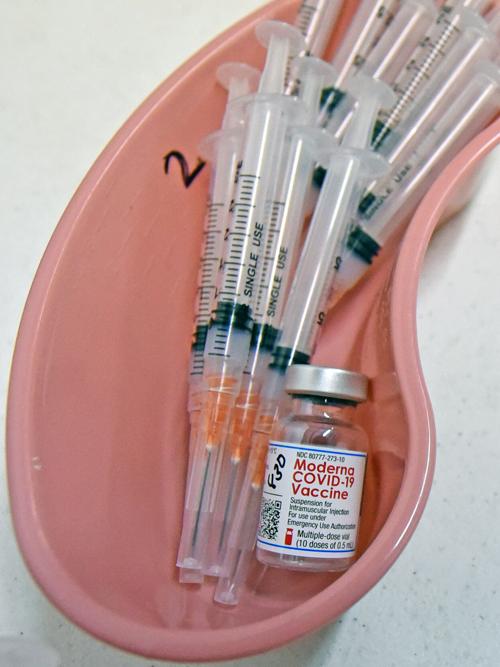 While there may be barriers for some people to get to a vaccination site, the state's health officer said Friday there is plenty of COVID-19 vaccine for anyone eligible who wants it.
"We have a pool that we're trying to reach of about 3.9 million Alabamians that are aged 16 and up; those are the ones for whom vaccine is available at this time," Dr. Scott Harris said during a Friday news briefing. "We've actually vaccinated around 36% of that eligible population so far."
The availability of vaccine is a stark contrast with a few months ago when demand outpaced the state's supply.
"Vaccine is widely available," Harris said. "We don't see that there are big delays or difficulties in getting vaccine. I know certainly there may be people who feel frustrated that they can't find it exactly in their neighborhood, exactly when they want it."
Harris said there have been more than 2.5 million shots of COVID-19 vaccine given around the state, which equates to nearly 1.5 million Alabamians who have received one or more shots. That includes a little over 1.1 million people who are fully vaccinated.
Harris said more than two-thirds of adults age 65 and older in the state have been vaccinated.
The CDC has stated that people who are fully vaccinated can now attend small outdoor gatherings without wearing masks, but Harris said masks are still encouraged for most gatherings.
Harris said the state is addressing vaccine hesitancy among some residents with outdoor advertising, TV and radio advertising, social media posts, and even a group going door to door with informational pamphlets. There are a variety of reasons for people who are hesitant to get vaccinated, he said.
"There are people who are just convinced that the vaccine is somehow more dangerous than the disease itself," Harris said. "That's a false belief that we have to try to combat as often as we can. It's simply not true. By any measurement, the disease is clearly a deadly illness, and statistically you're much more likely to become really sick or even die from the disease."
As of Friday, 320 people were hospitalized around the state due to COVID-19 and there had been fewer than 4,000 cases diagnosed in the last 14 days. In the Wiregrass, Barbour County is currently listed as high risk while Pike County is listed at very high risk. All other local counties are considered low risk for transmission.
Harris said the Alabama Department of Public Health is closely monitoring the percentage rate for positive cases, which has climbed slightly in the last two weeks.
Southeast Health announced that it will begin allowing one visitor to accompany patients in surgery and procedural areas starting Monday. Social distancing will be enforced in the heart and vascular and the surgery waiting areas and the visitor policy will remain the same for outpatient areas where social distancing cannot be maintained.
Alabama is still receiving between 125,000 to 130,000 first doses per week and expects to receive an allotment of about 11,000 doses of the Johnson & Johnson one-shot vaccine this week.
Administration of the J&J vaccine had been paused while the Food and Drug Administration and the Centers for Disease Control and Prevention looked at data regarding 15 cases of a rare blood clot, mostly in women younger than 50, after receiving the J&J vaccine.
With 1,368 sites around the state giving COVID-19 vaccinations, Harris said he knows there are still barriers for some people – adequate transportation, work hours or even access to a provider.
"But in terms of the absolute number of doses we have in our state, we have plenty to go around," he said.
Peggy Ussery is a Dothan Eagle staff writer and can be reached at aussery@dothaneagle.com or 334-712-7963. Support her work and that of other Eagle journalists by purchasing a digital subscription today at dothaneagle.com.