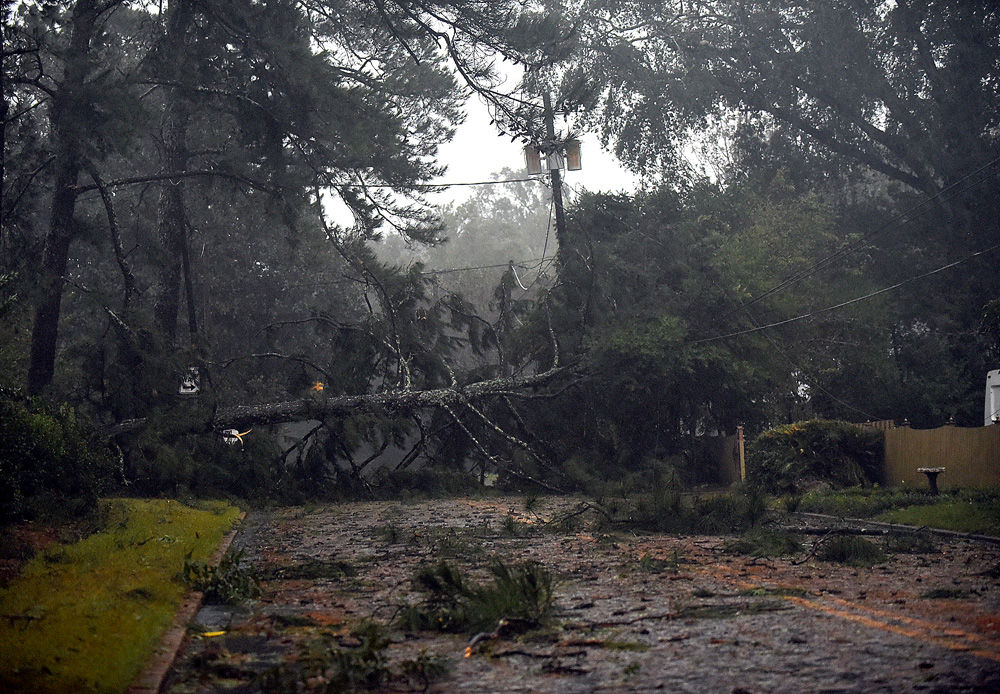 The fury of Hurricane Michael hit the Wiregrass late Wednesday afternoon, less than an hour before the eye of the storm passed near Gordon in Houston County as a Category 3 hurricane.
The storm felled hundreds of trees, caused thousands to go without power and led to flash flooding in several areas. Wind gusts were reported near 90 miles per hour on the east side of the eye and more than 60 miles per hour on the west side.
It could take days before the full extent of the damage is known, but it appears Hurricane Michael is the most powerful storm to hit Houston County in recorded history.
"We have been a part of an unprecedented catastrophic event," Dothan Mayor Mark Saliba said.
First responders were swamped with downed tree calls. Reports of downed trees were coming in to dispatch at a rate of more than one per minute as winds of 50 miles per hour and greater gusts ravaged Houston County.
Calls were prioritized as responders were first dispatched to calls that threatened life. Numerous trees were reported down on and through homes during the storm with at least some residents reported struck and many others trapped. Trees and limbs toppled power lines, causing some of the trees to catch fire and threaten nearby homes.
Dothan Fire Chief Larry Williams said crew members performed 22 rescues during the storm. There was no definitive number of injuries, but spokesperson Chris Etheredge said there were injuries and some were severe.
More than 24,000 were without power in Dothan Wednesday night along with 17,500 Wiregrass Electric Cooperative customers.
"We are dealing with an overwhelming amount of damage," Williams said. The greater damage is concentrated to the east side of Houston County, closest to where the eye wall passed.
A gas line on Roberta Drive broke underground Wednesday afternoon. A gas district crew was unable to respond initially due to high winds but later assisted first responders. Dothan fire crews assisted a nearby resident who had no place to go by taking her to one of Dothan's open comfort stations.
Sustained winds of more than 50 miles per hour buffeted response crews around 4 p.m. Wednesday. A downed power line struck a response vehicle, but no one was hurt. Response crews were taken off the road once sustained winds topped 50 miles per hour and were dispatched to only high priority calls.
However, crews could not stay in headquarters long. One tree was reported down through a residence on Wiregrass Drive, striking multiple residents inside. Responding crews were forced to take an alternate route due to multiple trees across roads along the way. Five were reported injured, one seriously. At almost the same time, a tree fell through a home on Jerome Court, trapping an elderly couple.
Additionally, responders were called to numerous medical emergencies involving patients who were running out of oxygen and had no means to replenish the supply.
Meanwhile, other parts of the Wiregrass sustained significant damage. Marianna reported damage to "institutional level buildings", multiple downed trees and flooding.
Flash flooding was also an issue in flood prone areas. Many areas of Houston County received three to five inches or rain before the eye wall approached and received another two to four inches.
A curfew remains in place for Dothan and Houston County until noon Thursday. Crews will spend the initial hours after the storm passes in rescue operations if needed before moving to the damage assessment phase. Regular public updates are being provided at the Dothan/Houston County Emergency Operations Center.
Dothan Utilities Director Billy Mayes said residents without power will need to be patient. It could be as long as a week before power is restored in some areas. Crews from several other cities in Alabama are responding to assist local crews.