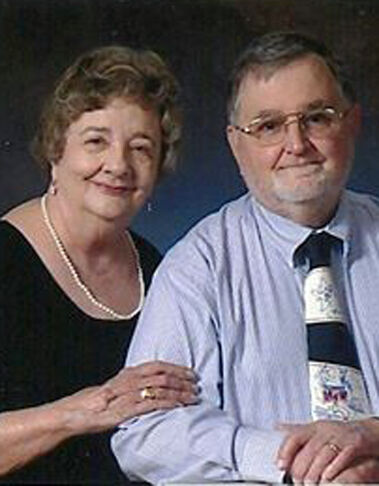 Sharon and John D. Rook Sr. had servant hearts.
Longtime Ozark residents, the Rooks' faith in God steered their lives on Earth and the lives of their four children.
"They were just solid, salt-of-the-earth people," John Rook Jr., one of their children said Friday.
Sharon and John D. Rook died within three days of each other on Aug. 10 and Aug. 7 at ages 80 and 81, respectively, at Dale Medical Center, where they were hospitalized for weeks with COVID-19.
Sherri Bolding, one of the couple's daughters, said even though she knew her parents were having a hard time fighting off the virus, she really thought they were going to beat it – especially when her mom told her she was paying bills from her hospital bed.
"They've been through so many things, I really thought they have come out on the other side of this," Bolding said. "It's still a little overwhelming for all of us."
She said, all things considered, she takes solace in knowing her parents lived a beautiful, full life surrounded by family and friends.
Sharon and John had two biological kids of their own, Angel Joan Crawley and John Rook Jr. They moved away, but had more love to give, so in their 50s they started fostering two young children: Sherri and her sister Candice Rook.
Sherri, who was 5 at the time, remembered that her parents had been told the girls would come and live with them by Christmas. But the process didn't move as quickly as they thought.
When Sherri and her sister, who was 2 at the time, finally came to live with them in March, the couple still had their Christmas tree up. The Rooks still wanted to spend Christmas with their children. Sherri remembered the first thing they did was sit them down and read them the Christmas story.
John Rook Sr., who was adopted himself, and Sharon eventually adopted the girls.
Her parents inspired Sherri to do the same when she got older. She now has two kids she adopted out of foster care.
The girls remembered a good life with a lot of family vacations, their mom's "phenomenal" home-cooked authentic cuisines, and an involved father who could make a joke about anything.
They recalled the wisdom of their parents.
"They taught us to stand strong in what we believe and not just be followers," Sherri said.
Their mom taught them to be proud of who they are – something they said they will always carry with them, Candice said. She got the girls heavily involved in many activities: soccer, piano, dance, tennis, among others.
Candice said her parents weren't just compassionate toward their family, but extended love to anyone they met and would help in any way they could.
"They were just those kinds of people," she said. "They never met a stranger."
Their parents were get-up-and-go type people and stayed involved with their community, their family, and their church.
John Rook Sr., was a Vietnam veteran and retired with the rank of Sergeant Major at Fort Rucker. While at Fort Rucker, he served as the Garrison Sergeant Major. Mr. Rook moved to Ozark in 1984 following retirement, and received his bachelor's degree in Early Adult Developmental Problems/Family Counseling from Troy State University.
After directing SpectraCare for a few years, he opened Counseling Plus of the Wiregrass, a faith-based family counseling center, and continued to operate it until his death.
The couple was active members of the Stonebridge Church of God where John Rook Sr. taught Sunday school and served on the church council.
They were approaching what would have been their 61st anniversary in October.
Funeral services to celebrate the couple's life will be held at 11 a.m. Saturday in the Stonebridge Church of God.
Concerned about COVID-19?
Sign up now to get the most recent coronavirus headlines and other important local and national news sent to your email inbox daily.