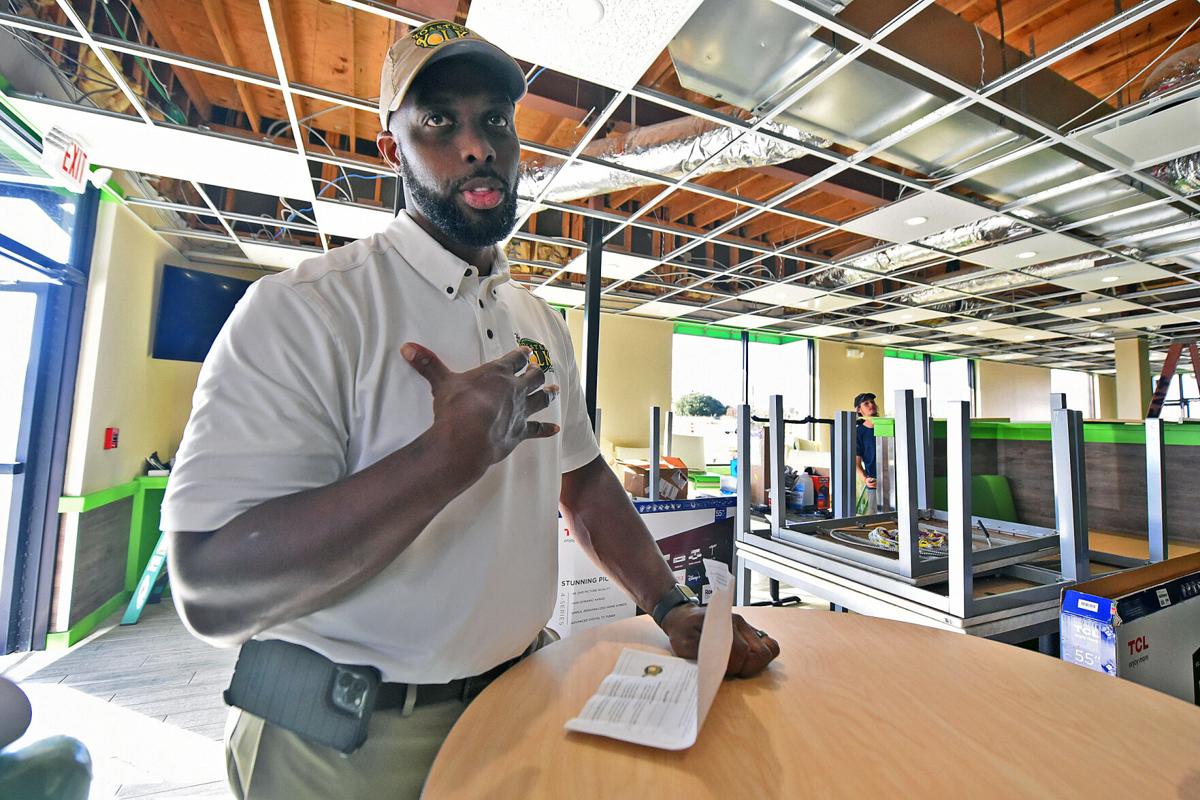 Owning the local Golden Corral wasn't enough for Elri Parker. He wanted to do brunch and offer cocktails.
And so he plans to when he opens The Toasted Yolk Café in Dothan on Dec. 6. With its bright green accents and breakfast and lunch menus, the Dothan restaurant is the first such franchise located outside of Texas for the restaurant company.
"Being the first out of the state of Texas, you know, I had to be a little bougie," Parker said. "This is my home – Love Dothan, right? So, I've got to make sure we're doing our thing."
Parker has been in the restaurant industry for years with Golden Corral. Born in Brooklyn, New York, he grew up in Augusta, Georgia, raised by a single mom.
"We had nothing; raised in the projects – we just had nothing," Parker said. "If it wasn't for basketball and the competitiveness, the coaching skills, and just the rewards at the end of winning championships in school, I don't think I'd be the way I am today."
He began working with Golden Corral in 2008, traveling around to different sites. During a stint closing restaurants he was known as the Terminator. He became a general manager in 2010 for a Golden Corral in Goldsboro, North Carolina.
He and his wife, Kenyatta, who have four children, decided to move to Raleigh where Elri could pursue a new opportunity with Golden Corral – general manager for its flagship restaurant as Raleigh is home to the company's headquarters. While his family was happy in Raleigh, Parker didn't mesh as well with the corporate headquarters being so close. He was told he wasn't the right fit and ended up taking a demotion as a kitchen manager for another Golden Corral in Raleigh. A few months later, his divisional president made arrangements for Parker to take over the Dothan Golden Corral.
In April 2012, he and his family moved Dothan where the local Golden Corral at the time was ranked 500 out of 505 restaurants in the company based.
"That store, I almost walked out of because it was that bad," Parker said. "I had never been to a store that was that bad in my life."
He said he prayed about it and worked nine months straight with no days off to turn things around. The following year, the Dothan Golden Corral was ranked No. 1 by the company. And despite being told he'd never do it, he bought the Dothan franchise in 2016.
Expanding beyond Golden Corral was an idea born during early days of the COVID pandemic.
"Sitting at home two-and-a-half months, knowing that your operation couldn't really work," Parker said. "Golden Corral then wasn't big on take-outs. It's more of a fine casual dining family atmosphere, all-you-can-eat type business. And we were like 'What if this happens again or what if we don't really make it?' It was the up and down."
But he knew there were other opportunities out there. He knew that some restaurant chains were doing fine during COVID, and The Toasted Yolk was one of them. It had a lunch menu that was more take-out friendly. It had shorter business hours without any long night shifts. The restaurants operate with one work shift with manageable hours for employees – it's only open from 7 a.m. to 3 p.m.
And then in the second month of the pandemic, Dothan's Atlanta Bread Company closed. Parker felt certain 3070 Ross Clark Circle was the perfect site for what he wanted to do.
"Long story short, I got super excited about it because it was my wife's idea because she loves mimosas," Parker said.
The Toasted Yolk was founded in Houston, Texas, in 2010. It now has 18 locations in Texas and another 22 sites in development in Texas, Alabama and Florida. The menu features breakfast and lunch items such as omelets, pancakes, breakfast platters, shrimp and grits, biscuits and gravy, hot and cold sandwiches, salads and soup combos. The eatery also offers wine, beer and brunch-style cocktails like a mimosa or a Bloody Mary. Visit thetoastedyolk.com for more details.
Parker has plans for The Toasted Yolk beyond Dothan. He owns the franchise rights for Enterprise and Troy as well as Panama City, Destin, Pensacola and Tallahassee.
The additional sites will depend on securing locations, but Parker hopes to open new Toasted Yolk restaurants every 10 months once he has the Dothan site up and running. The restaurant will host three days of "soft" openings – one for first-responders, one for chamber members and one for the friends and family of employees.
Parker said he wants to give something back to Dothan since it is his family's home and has given so much to them over the years.
"My biggest thing in life is God gave us all a gift … and I found that my gift is giving back to others," Parker said. "That's where my excitement and my happiness come in at."
Peggy Ussery is a Dothan Eagle staff writer and can be reached at aussery@dothaneagle.com or 334-712-7963. Support her work and that of other Eagle journalists by purchasing a digital subscription today at dothaneagle.com.