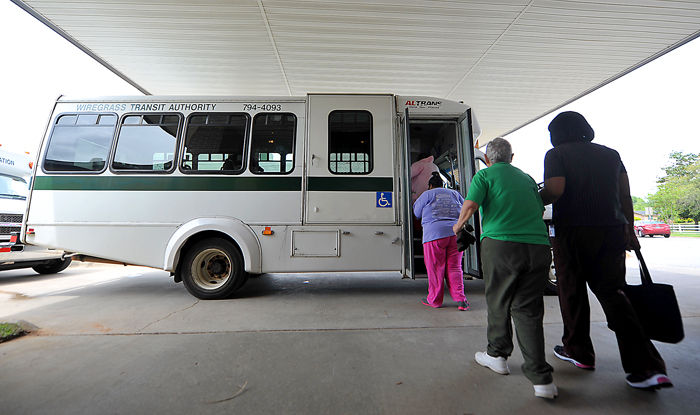 To address the transportation needs of the needy in Dothan, the Southeast Alabama Coalition for the Homeless and the Wiregrass Transit Authority have joined forces to create an established bus route.
Beginning next week, a WTA bus will transport the homeless and the extremely needy to places like local hospitals, clinics, the Social Security Administration office, and the Alabama Career Center on Mondays and Thursdays. The buses will use The Harbor church on North Foster Street as a pickup and dropoff point.
Kody Kirchhoff of The Harbor church and SEACH said it has been a goal of his organizations to provide steady transportation for those in need for several months.
"At The Harbor, we have a bunch of task forces that are looking at different areas of the city," he said. "We knew that was a need. Many people have no automobile."
While WTA is a fairly cheap transportation option, costing $4 round trip ($2 each way), most of its services are used via appointment. Kirchhoff said sometimes people would schedule doctor appointments but would not be able to procure a WTA ride, and taxis can become expensive.
"A one-way trip in the city will be about $10," he said, referencing taxis. "We don't fault cab companies. It's their right to charge that fee. It's not Wiregrass Transit's problem. We're just a city of about 70,000 people without a true transportation system."
But WTA and SEACH officials have been meeting over the past few months to devise a dedicated route, Kirchhoff said. WTA provided data that helped determine what areas the loop would service, he added.
"We wanted to help (people) reach spots that were life-necessary," Kirchhoff said. "Not to say the northside or southside Walmarts are not essential, but there are other options for groceries that are closer. People need to go to the food stamp office, Social Security. Those are actually life-necessary."
Love in Action Ministries provides a variety of services to the needy in downtown Dothan. LIA director Ken Tuck said the new loop will be tremendously beneficial to those in need of transportation assistance.
"So many have to walk or bike to places, and some places are hard to get to, especially outside the (Ross Clark) Circle," he said.
Those associated with his organization have provided rides to doctor's appointments, the Social Security office, and other similar locales on an individual basis, Tuck said. Availability, though, can be sporadic, so a dedicated route will provide those in need with some stability.
The route will operate on a trial basis. If demand permits, it could expand to five days a week and may include large employers like Wayne Farms, Kirchhoff said.
Tuck expressed a desire to see that happen.
"I hope it's a success," he said. "The big issue is that so many jobs are on the circle or outside the circle. If (expansion) happens, I think we'll see that help lift people out of the situation they're in. That's the goal of any organization that works with the homeless and needy."
The routes can be paid through WTA vouchers. For help in obtaining vouchers, contact The Harbor at 790-4031.
Get local news delivered to your inbox!
Subscribe to our Daily Headlines newsletter.